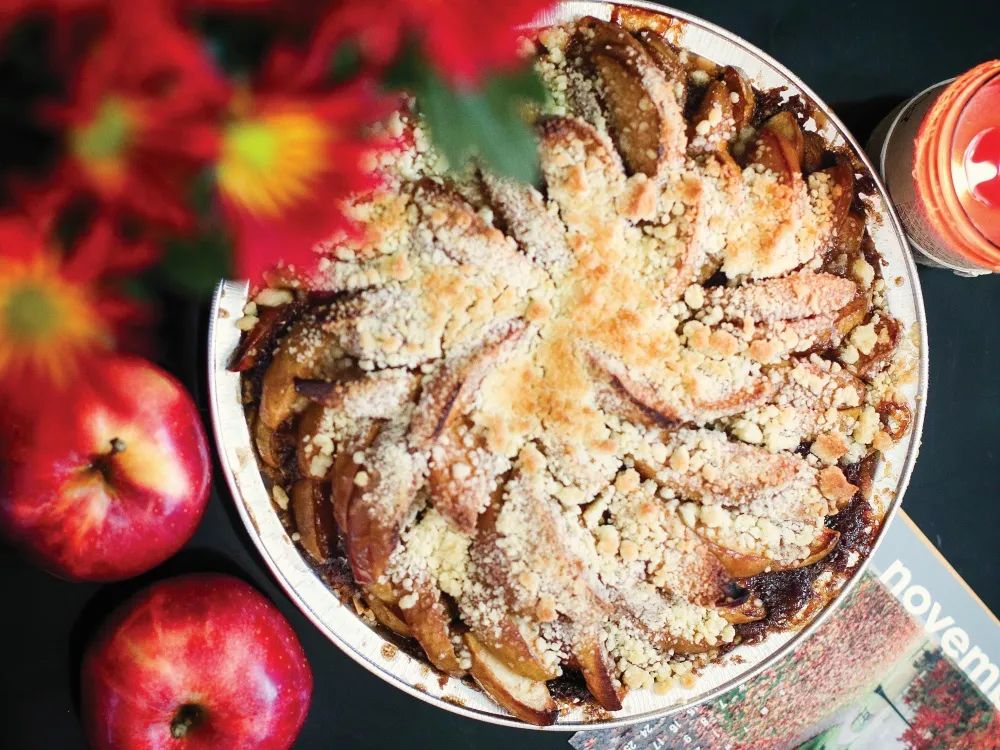 Apple Pie Gets a Makeover
November 2023
article & photos by renata haidle
Traditional apple pie is hard to beat. A staple at many festive gatherings, a slice of this all-American dessert is much anticipated at the end of a holiday meal. For a beginner-friendly alternative to this old favorite, consider this simple recipe: a cross between a Dutch apple pie and an apple tart. It combines a shortbread crust borrowed from a lemon bar recipe with a buttery, caramelized apple filling. The result is an easy pie that doesn't require ownership of a rolling pin or dough stretching skills.
Ingredients:
For the filling:
6 medium apples (about 2 pounds), cored and sliced ¼ inch thick. You can peel the apples if you wish, but it is perfectly acceptable to leave the peel on.
2 teaspoons cinnamon
8 Tablespoons butter
3 Tablespoons all-purpose flour
1/4 Cup water
1 Cup brown sugar
2 Tablespoons lemon juice
For the crust:
1 Cup all-purpose flour
8 Tablespoons butter, softened
¼ Cup powdered sugar
Directions:
Directions
Preheat the oven to 350 F
Step 1
Mix all the ingredients for the crust with your hands and form a crumbly dough. Reserve ⅓ Cup of the crumbs - you will add them on top of the pie later. Press the rest of the dough into the bottom of a 9-inch round pan. Bake the crust for 15 minutes and remove it from the oven.
Step 2
Core and slice the apples ¼ inch thick. Toss the apple slices with cinnamon and lemon juice until uniformly coated. Set aside.
Step 3
In a medium saucepan, melt 8 Tablespoons of butter on medium heat. Gradually add 3 Tablespoons of flour and cook for three minutes, stirring constantly. Add the water and brown sugar. Bring to a boil, then lower the heat and continue simmering for three minutes. Keep stirring to prevent sticking. The result should be a thick sauce resembling molasses in consistency and appearance.
Step 4
Pour the sauce over the apple slices and coat them thoroughly. Arrange the slices in concentric circles on top of the prebaked crust. Sprinkle the remaining dough crumbs on top and return to the oven. Bake for 45-50 minutes, until the apples are soft and the crust turns golden brown.
Originally printed in the November 2023 issue of Simply Local Magazine
Never miss an issue, check out SLM's digital editions here!