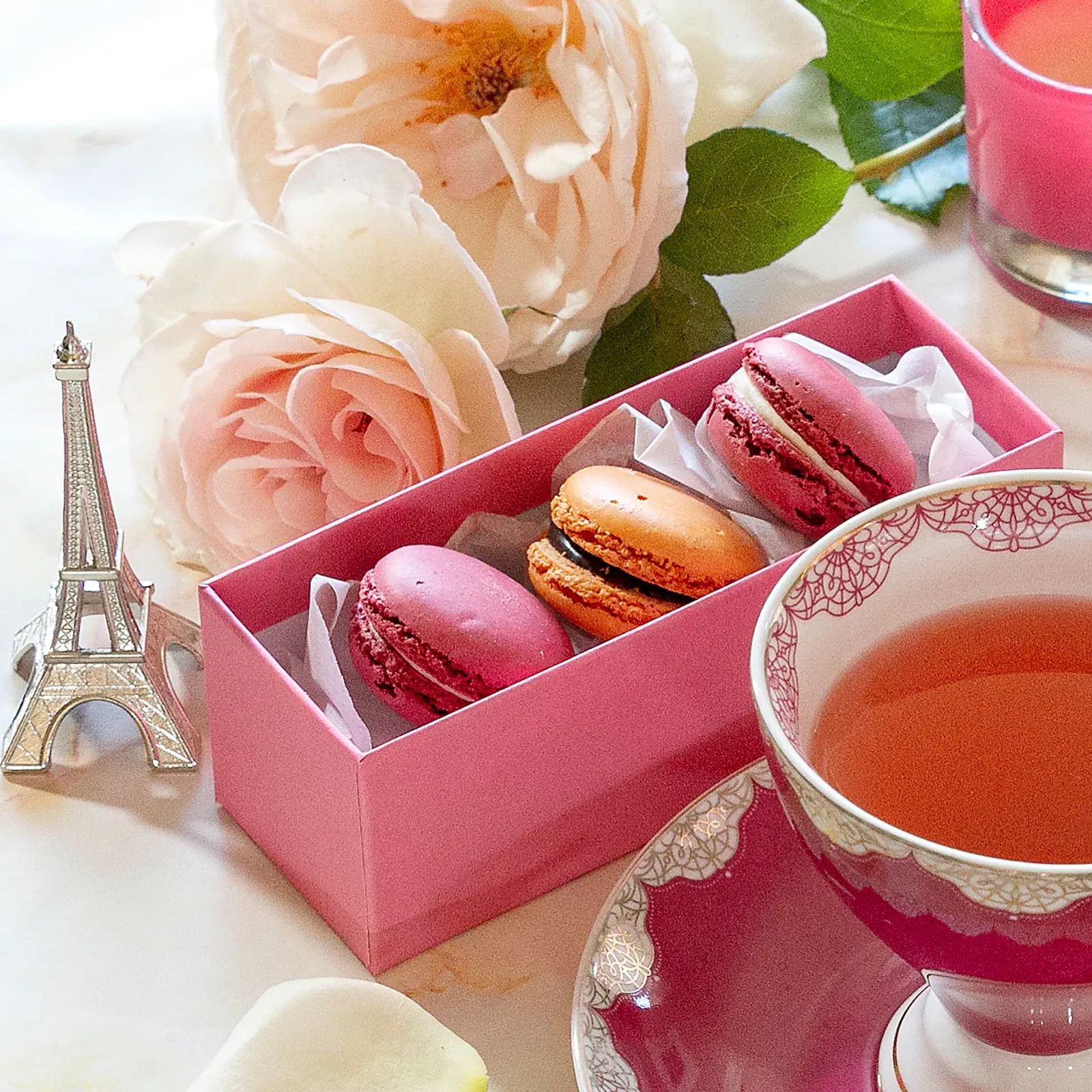 A Few Grams of Happiness: The French Macaron
March 1, 2021
article & photos by renata haidle
It is a lovely October afternoon, and I am enjoying coffee and dessert in a quaint Parisian restaurant with my Instagram friend Jill Colonna. We chat about the pastel-colored pastries on our plates. "It is all about the feet," she says. "Yes, we macaronivores love feet. If it doesn't have a ruffled, frilly foot or pied, it's not a macaron." I look at her a bit bewildered, as I didn't expect a conversation about one of France's finest delicacies to turn to, well, feet. But Jill knows what she's talking about, as she is the author of not one but two successful books about French desserts: Teatime in Paris and Mad About Macarons. There's no better person to guide and advise me in my newfound passion for one of the most popular, photographed, and challenging pastries of the decade: the dainty macaron.
The macaron has been around since the Middle Ages, a light and airy mix of sugary meringue and almond flour. Rumor has it that it was brought into the spotlight by the Italian-born Queen of France, Catherine de Medici, on the occasion of her wedding to the French Crown, Prince Henry. Back then, the macaron looked more like the amaretti cookie we know today - a small disk-shaped cookie without a filling and slightly coarse in texture.
The origin of the name seems a bit uncertain. Some propose that it might have derived from macaroni, a less-than-respectful nickname attributed by the French aristocracy to Queen Catherine's Italian courtiers and staff, no doubt thanks to their love for all things pasta. A more plausible etymological explanation takes us back to Venice, Italy, where the first almond cookies were said to be created. The term ammaccare means 'to crush' in old Venetian dialect, which could relate to the process of crushing the almonds into flour. If that is the correct origin of the name, nobody seems to know for sure. 
Regardless of its royal connections, the medieval cookie would've probably remained a humble one had it not been for the talent and creativity of three Frenchmen. In 1871, Louis-Ernest Ladurée opened a pastry shop and café on Rue Royale, in the fashionable heart of Paris. Ladurée asked Jules Chéret, a famous painter and artist, to help him bring his vision to life. The result was a delightful salon decorated in pastel colors. It was a place where all the elegant ladies of Paris could gather publicly and chat over a cup of tea - a newly-acquired freedom for 19th-century women everywhere. A few decades later, Pierre Desfontaines, Louis-Ernest Ladurée's grandson, came up with the clever idea of sandwiching two almond cookie shells and filling the middle with a creamy ganache (a whipped chocolate sauce). 
The classic French macaron, thusly created, enjoyed moderate success. It wasn't until the third Frenchman, Pierre Hermé, came into play that the macarons rose to worldwide fame. Hermé, a pastry chef and chocolatier who has been called "a pastry provocateur," "a magician with tastes," "The Kitchen Emperor," and "The Picasso of Pâtisserie," was instrumental in turning Ladurée into the iconic brand it is today. He revolutionized techniques and created innovative flavor combinations. His success only increased when he started his own company in 1998, opening boutiques in Paris and Tokyo, followed by pastry shops in Europe, Asia, and the Middle East. Today he is credited with transforming the macaron into a culinary icon of the 21st century. Although their partnership ended decades ago, both Ladurée and Pierre Hermé are now the gold standard in an industry that keeps evolving, with new creations being added regularly.
"Macarons only have a few grams to stir our senses." - Pierre Hermé
Macaron flavors range from unsurprising ones such as vanilla and chocolate to intricate ones that layer tastes and scents to create unique, tiny masterpieces. Take, for example, these offerings from the latest Hermé catalog: mint and bergamot, lovage and pineapple, rose, lychee, raspberry, or candied chestnut and Corsican clementine.
If you prefer savory to sweet, there are plenty of options there as well. Savory macaron flavors include Bloody Mary (tomato purée and celery giving them the familiar taste), curry, wasabi, beetroot, horseradish, and salmon mousse-filled macarons. The possibilities are endless.
Such an exquisite confection does not come cheap. Macarons are notoriously expensive due to their fragile consistency and difficulty creating a flawless product. The main ingredients (egg whites, sugar, and almond flour) need to be weighed precisely, and it takes an experienced hand to pipe the meringue into perfect little discs on the baking tray. The ratio between the meringue shell and the smooth filling is of great importance as well - not one thing can be left to chance.
From exclusive beginnings, nowadays, macarons are everywhere, from birthday parties and weddings to graduation ceremonies. They make a thoughtful gift regardless of the occasion, and they have the added benefit of being gluten-free. There are spin-offs like the macaronut (a cross between a macaron and a donut) and even a maclair - you guessed it, half macaron, half éclair. Yes, they are a bit posh, and one might even call them trendy. Once you try them, though, there is no looking back. You'll want this trend to stay forever.
Where to buy macarons locally:
Batter + Crumb. Owner Amanda Brown specializes exclusively in macarons and has them available most days. They are also on the dessert menu at Walker's downtown and Freshies Café in Bozeman. The best way to place an order, big or small, is via Instagram DM: @batter_and_crumb, or email: batterandcrumb@outlook.com.
Sweets by Sam. You might know Sammy Walter as the owner of a very successful cake and cookie business. She also offers a range of macarons that mix seasonal flavors with popular, well-established ones. A week's notice is required. Online orders via website only (www.sweetsbysamMT.com).a
Macaron or macaroon?
Although the spelling is similar, these are two different cookies. The main ingredient in macaroons is shredded coconut, whereas macarons are made with almond flour. Both products are gluten-free. 
Originally printed in the March 2021 issue of Simply Local Magazine
Never miss an issue, check out SLM's digital editions here!