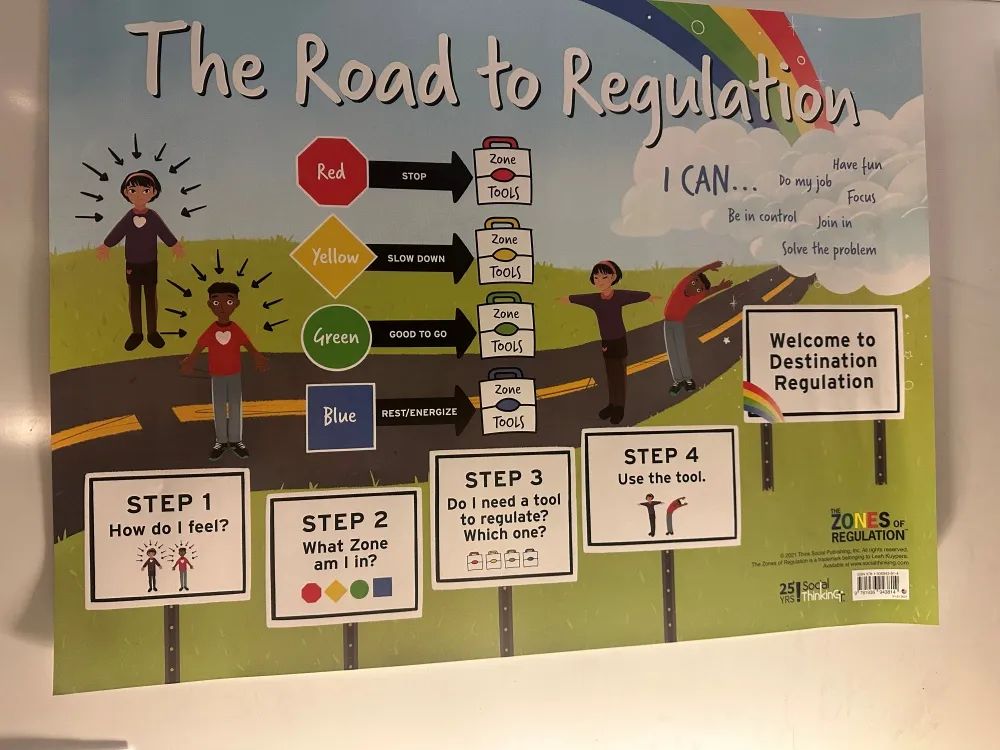 Taking a Proactive Approach at Ponderosa
March 31, 2023
Ponderosa Elementary School is one of 22 public elementary schools in Billings. As with every school I've been to (which is a lot of them!), this school has such a special heartbeat, a unique community feel, and an environment humming with care, compassion, and safety.
Chad Jackson is the counselor at Ponderosa and has been for 12 years. "I think I've been here longer than just about anyone," he said. Jackson shared that he loves Ponderosa and has worked hard over the years to build trust among students and families. His approach to counseling in the school has also completely changed the culture over the years.
"I started by being reactive to any issues that came up," he explained, noting how chaotic it felt putting out fire after fire. Shortly into his tenure at the school he decided to try a proactive approach to working with the students. "I worked with the teams here to develop insight into what our population needed and what we could be doing differently to impact learning."
His proactive approach takes commitment. Jackson, who shared honestly that his methods don't work for all counselors or all schools, takes it upon himself to volunteer to be in places where he'll see the students frequently. "I teach weekly classroom lessons and I also volunteer to welcome kids off the bus each morning and commit to being out on the playground for all of lunch recess each day. Not only do I see the kids all the time, but they always have access to me – and they don't lose class time to work on something with me."
The shift resulting from this approach has been seismic. Problems are almost always solved when they occur. For example, the staff at Ponderosa realized that many challenging behaviors were happening in the mornings as school began. A little investigation showed that there were problems happening on the bus rides to school. With Jackson now meeting kids as they get off the bus, he's able to notice problems and work with the kids on processing them before the school day even starts. And, the kids know he'll be there when they arrive, too, so they can come to him for help if they're unable to resolve an issue on their own.
"I talk a ton with our kids about resiliency. They can be a glass ornament or a rubber ball. With that visual in their minds, I can ask a kiddo if they're shattering or bouncing back from a tough morning or a hard recess. We can create strategies for how to bounce more like the ball and avoid shattering like the ornament," Jackson explained.
The cultural change has been huge for the school. Where they used to have fights and bullying, these issues are now nearly non-existent. The current policy school-wide is that no one comes inside from recess until any problems or issues are resolved. Teachers and support staff are on board with the process, and students across the school know and understand the expectations. "The kids are proud to be part of something. They know they are part of the Ponderosa Family," Jackson said.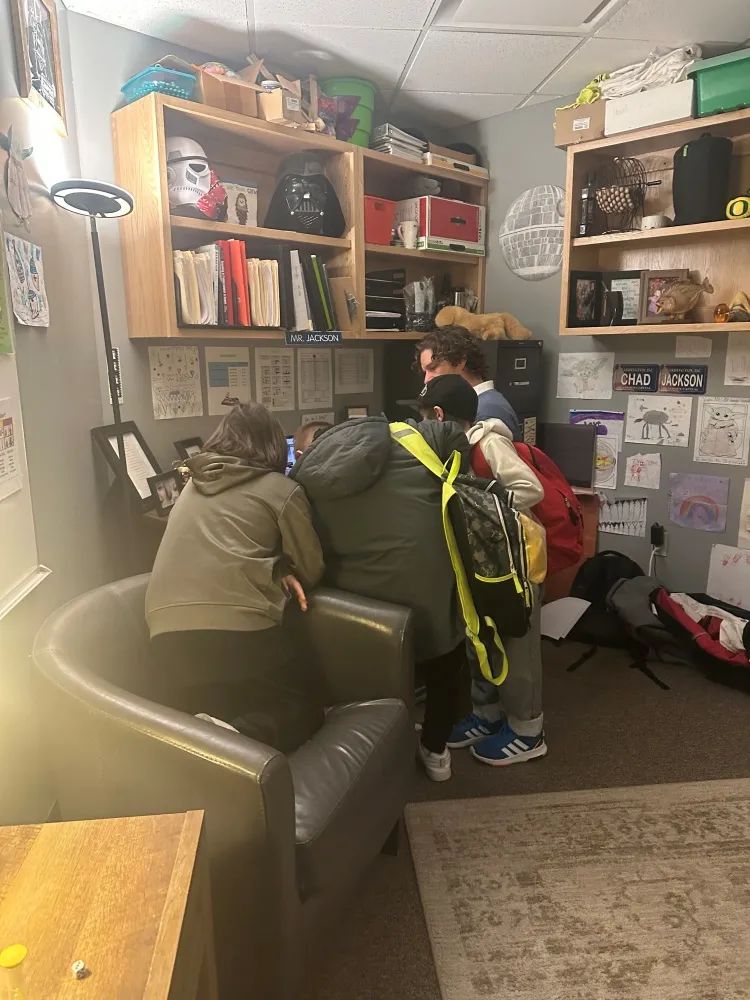 Students crowded around Jackson's desk
While I was talking with Jackson, dozens of kids came in to visit him. With a welcoming space and an obvious rapport with all the students, he was giving out hugs, high-fives, positive comments, and genuine pride in students. "I work hard to teach the kids that they can always bounce back. A bad morning doesn't mean a bad day."
One student stopped in to share with Jackson about having a better day than he had the previous one. Before Jackson could respond he said with a huge smile, "I know Mr. Jackson. It doesn't matter if I have a good day or a bad day. You're always my buddy."
Safety, security, positivity, encouragement. These consistent offerings help build purpose for the students, encourage accountability for their choices, and pride in the work they do to grow. Jackson's approach was celebrated this year when he received Montana Counselor of the Year as well as School District 2's Golden Apple Award. He expressed that awards or not, the security, respect, kindness, and growth he sees in the students is what's worth celebrating.