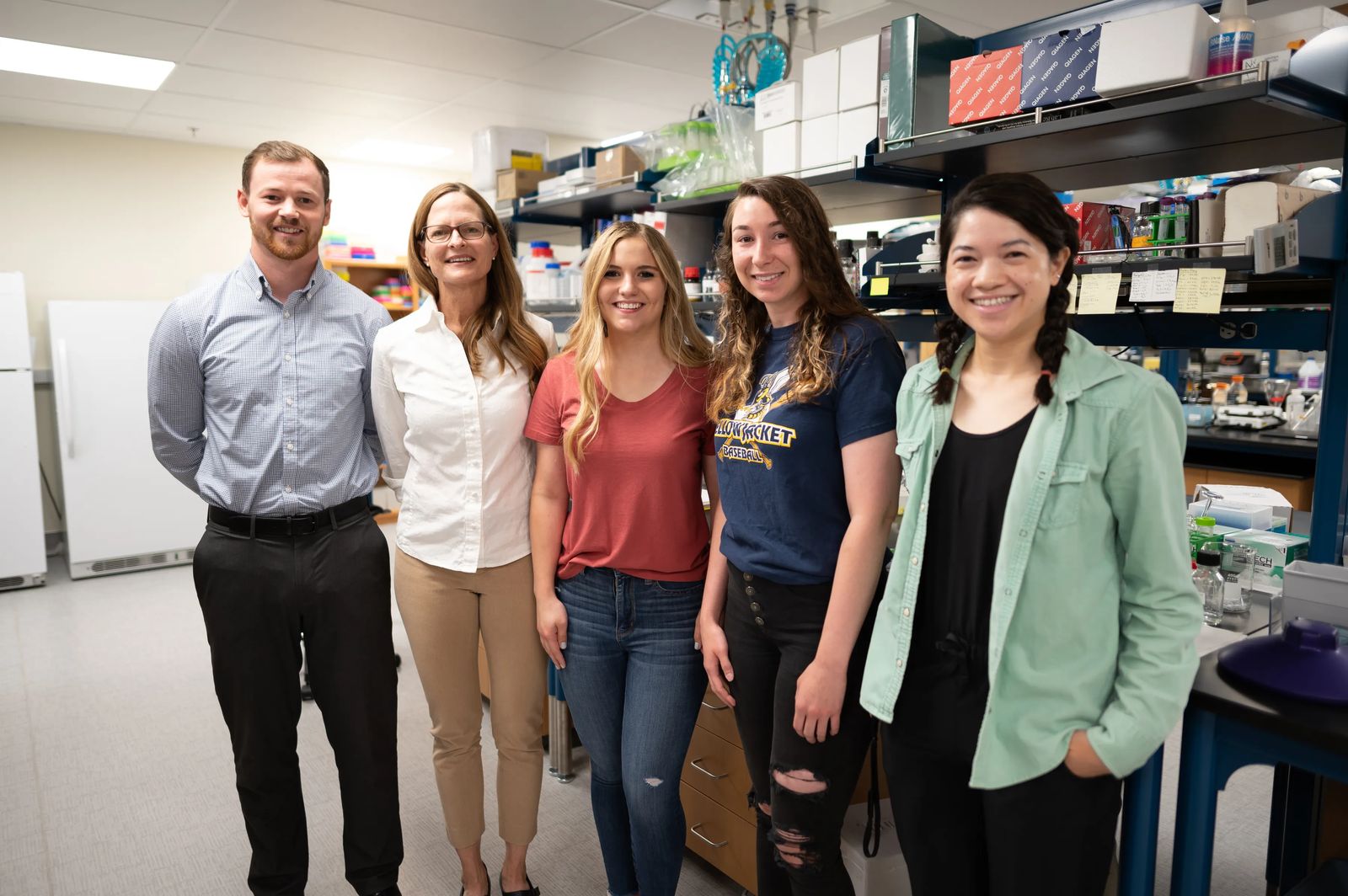 Pictured from L to R: Joseph Walters (former student), Lynn George, Renzie Pond (current student), Magge Snow (current student), BreAnna Cameron (former student). | photo courtesy of MSU Billings
MSUB Professor Pioneers ALS Research with Undergrad Students
December 13, 2022
Montana State University Billings Associate Professor of Molecular Biology, Lynn George, Ph.D., was recently awarded a National Institutes of Health Academic Research Enhancement Award (AREA) from the National Institute of Neurological Disorders and Stroke. This three-year $385,000 grant will support George's efforts to continue and expand her research on Amyotrophic Lateral Sclerosis (ALS), also known as Lou Gehrig's disease. George's grant proposal scored in the top one percentile, which is commendable given the highly competitive nature of NIH funding.
The grant's intent is to expose undergraduate students to research early in their academic careers. George shares that providing students with an opportunity to learn cutting-edge scientific techniques, conduct their own experiments, and to be part of the research process, gives them hands-on, real-world experience.
This is the third NIH AREA grant George has received in the past nine years, and she is currently the only MSUB faculty member with an active AREA award. George has also secured other types of NIH funding, and secured funding from a private donor honoring children affected by Familial Dysautonomia (FD), a childhood onset neurodegenerative disease related to ALS. Overall, George's research has brought in over $1.3 million dollars. In 2018, her research on FD was published in Nature Communications, a highly renowned and international open access journal that publishes high-quality research in the biological and physical sciences. In 2021 and 2022, George published two additional primary research articles, which included six undergraduate co-authors.
George's new grant focuses exclusively on ALS, which is the most common motor neuron disease worldwide. About two years ago while studying FD, George and former research students Joseph Walters, Cody Walters ,and DJ McGee - all three of whom are now in medical school - discovered the presence of a novel protein in motor neurons that had not been previously recognized. George says that their work on FD laid the groundwork for discovering this protein, which has the potential to identify important new pathways for ALS treatment.
Over the last nine years George has trained and mentored close to 30 students, many of whom have contributed data to her grant proposals and publications. Many of her former students have gone on to medical school, dental school, and other graduate programs. One of her former students, Aurora Krebs, shares that she gained a true appreciation for her time with George when she started her first day as a junior research scientist in a Montana-based biotech company. "I told my co-workers about my experiences in Dr. George's lab; from writing proposals and planning projects to trouble-shooting experiments. They were in awe that I gained this level of experience as an undergraduate since many students aren't afforded these opportunities even in graduate school."
"Instead of learning about science in the classroom, they get to actually perform science at the bench—they get to run their own experiments and participate in asking questions that have never been asked before, and sometimes they even get to be part of finding an answer," shares George.
Learn more about MSUB's College of Health Professions and Science. Read the full story about Dr. George here.