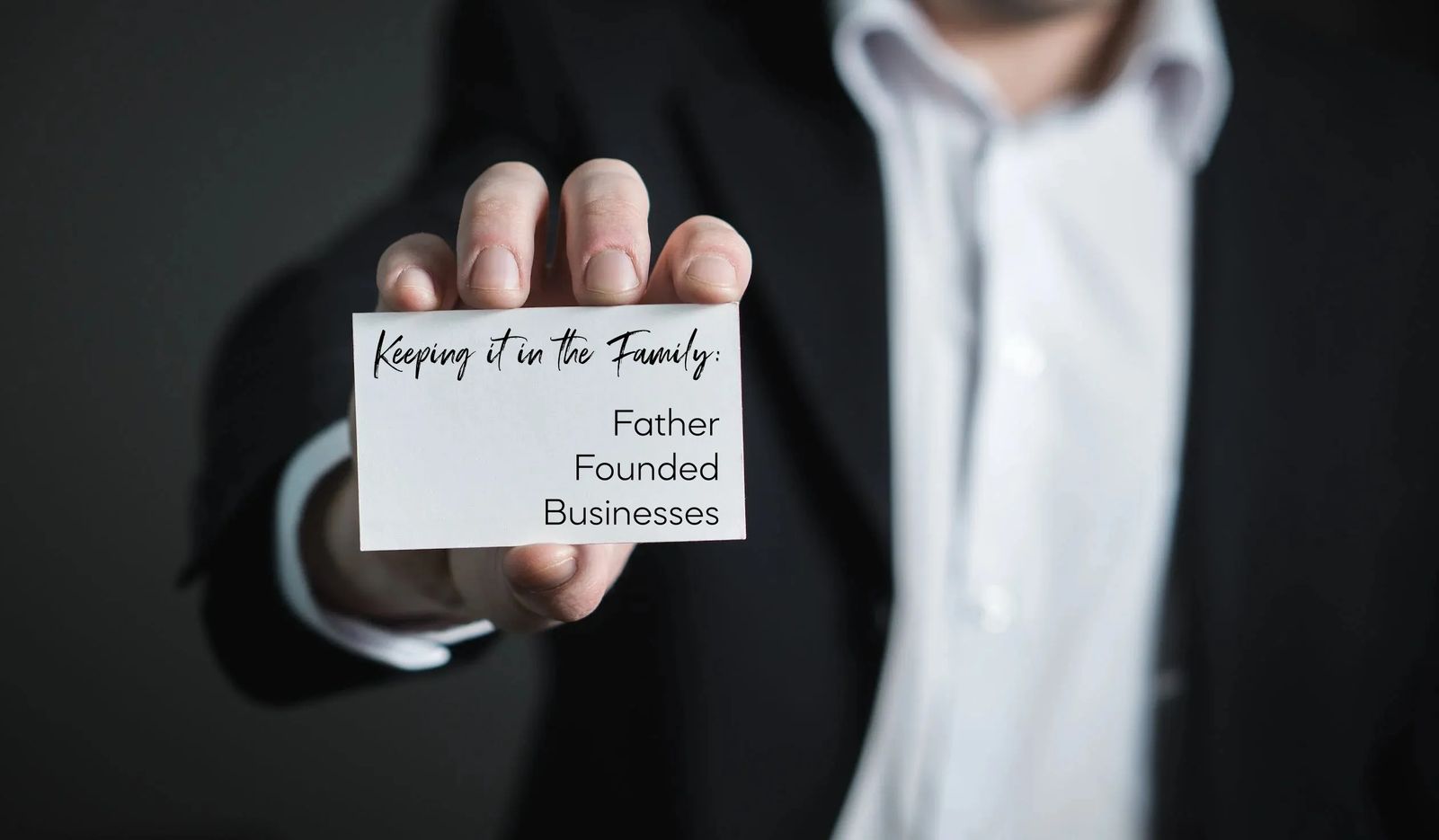 Keeping it in the Family: Father Founded Businesses
June 2023
by Kelsi Gambill, MSPR, Communications and Marketing Manager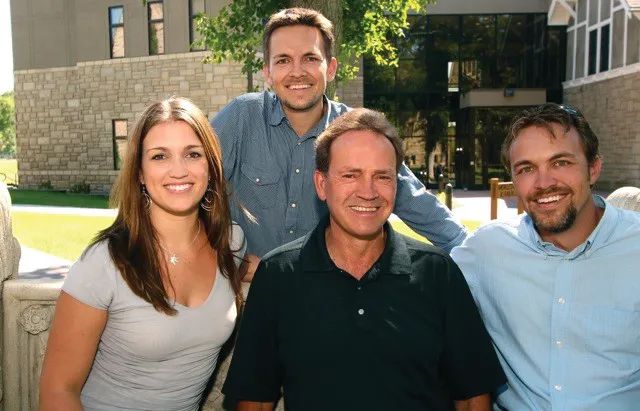 Family photo of Carolee, Brad, Jim and Greg in 2010 | photo courtesy of the McCalls
Some dads build a legacy through their family, with the hope that they get to watch their children grow up and have children of their own. Likewise, independent business owners gain a double legacy when their child or children decide they want to join the family business.
Building a business while raising a family is not an easy undertaking, nor for the faint of heart, as it's filled with long hours, uncertainties, and the stresses of being one's own boss and working alongside family. But the benefits outweigh the costs and afford the opportunities to attend the important events of one's children.
Growing up in the family business means seeing the successes and the heartbreaks firsthand. Some children choose to attend college and forge their own paths. Others make the decision to return to the family business and continue the legacy. This is true for the McCall children—Greg, Brad, and Carolee.
The McCalls have worked together their entire lives and have been involved in multiple companies - McCall Pools, McCall Homes, and McCall Development Inc., to name a few. In the beginning, Jim owned McCall Pools from 1981-1996 with all three children helping in the business while growing up - stocking shelves, doing water tests, spa sales, running the pool maintenance route, and even pool construction. The work didn't end when the holidays or summer season arrived, as the McCalls would return from college to work together as a family. Their dad exhibited his love through the work they did together and the bonds they forged through a shared mission and working side-by-side, building trust and love.
In 1993, McCall Development Inc. was established, and business gained momentum when they started the Forest Park Subdivision. One by one, the McCall children each joined the family building business with Greg in 2000, Brad in 2001 (six months after Greg), and Carolee in 2004. Though Jim retired in 2007, another generation joined the family business in 2021- Abigail McCall Mitchell, Greg's daughter.
Although working alongside family members has its own challenges, the McCalls continually learn how to lean into their individual strengths, apply their unique gifts to various roles, and ultimately how to support and complement each other.
Their advice for other family-owned businesses is built on the critical component of trust. "You must trust each other with the real, vulnerable, authentic you," shared Greg. "When you do that, you can better communicate your needs. When you truthfully can communicate your needs, it allows them to meet your needs, which in turn will help you feel supported and loved."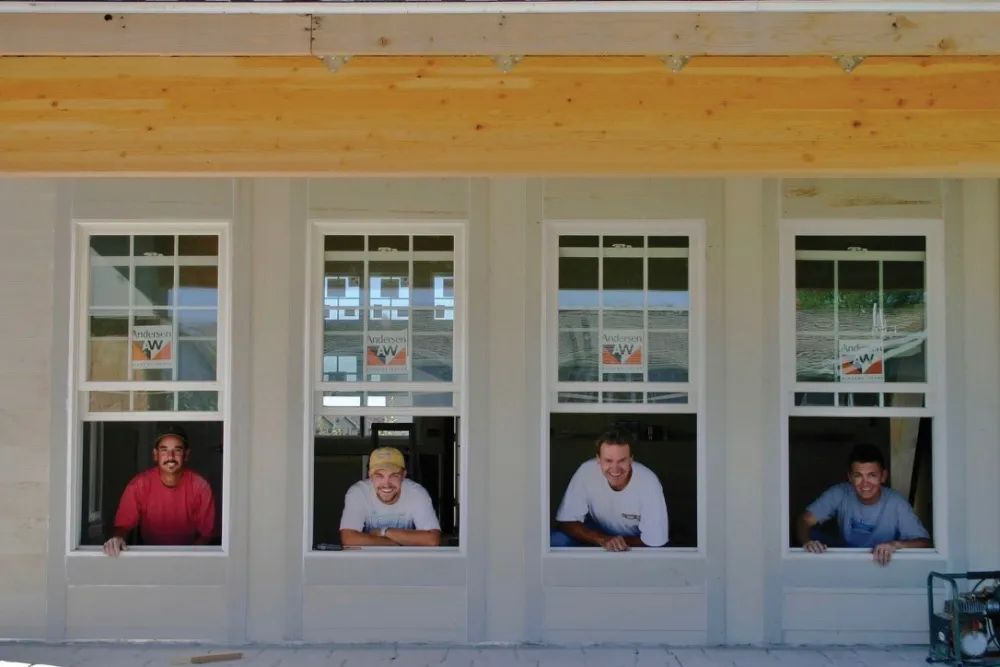 Rob Garza (recently retired from 20 years of service, Greg, Jim and Brad
In the home-building business, McCall Homes make dreams come to life and create opportunities for community by building homes and neighborhoods. By fostering a sense of belonging, people become more neighborly, and better connections are formed, making it easier to love one's neighbors.
As their company grows, they are most excited to carry their mission beyond Billings and continue sharing the "love thy neighborhood" message. The McCalls' passion for their work and love for family is evident in all they do, stemming from a lifetime of working together and the lessons learned from their dad, Jim.
Clark Marten Photography - Capturing Family Legacies with Love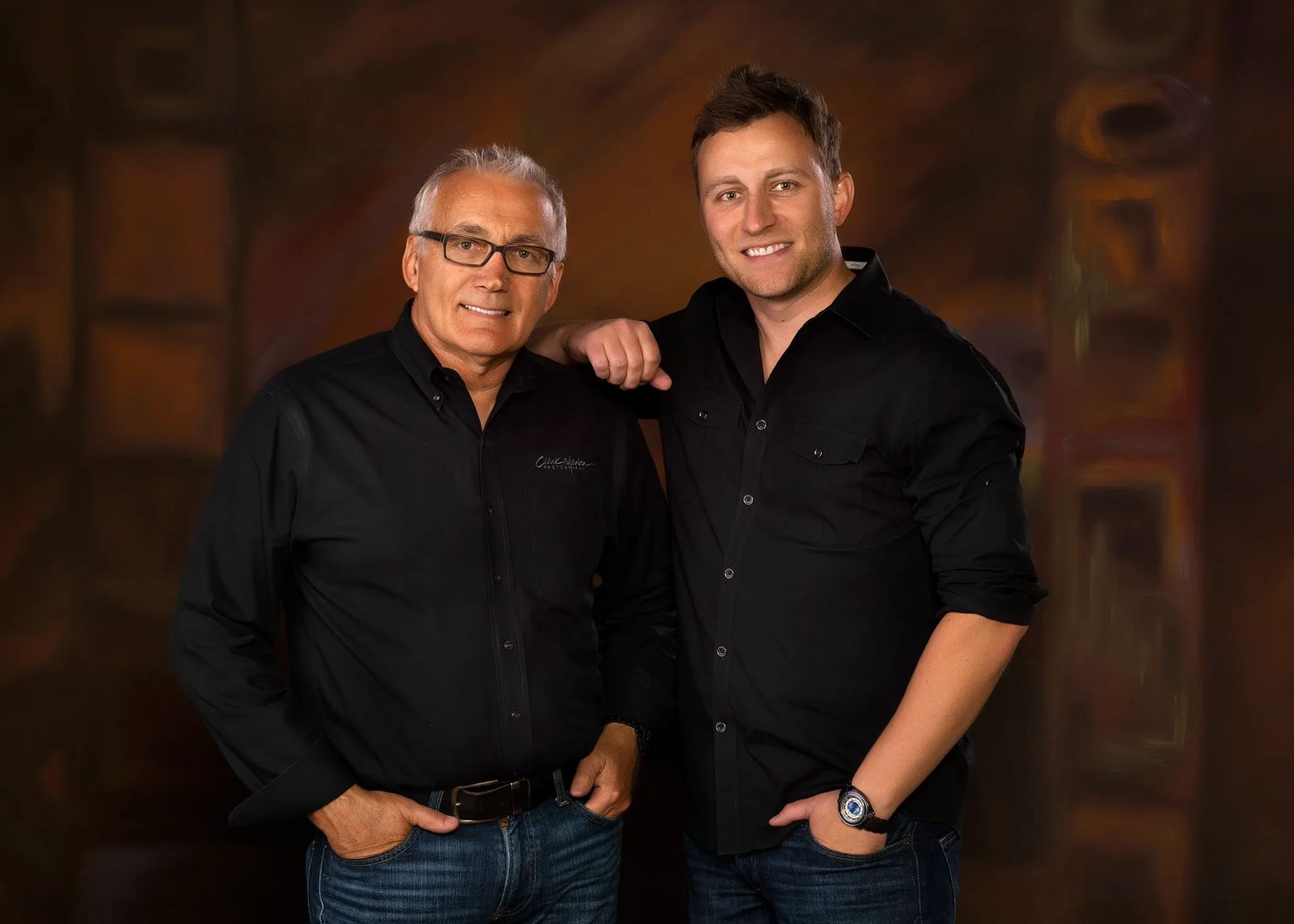 photo courtesy of Clark Marten Photography
Clark Marten Photography has been preserving precious family moments for over three decades. Although its founder, Clark, retired in February 2023 after 38 years of dedicated service, his legacy continues under the skillful guidance of his son Rudi, who has been an official part of the business for 14 years, not counting the numerous times carrying equipment as a child or assisting at weddings.
What sets Clark Marten Photography apart is not just their technical expertise and artistic vision but also their unique ability to create family portraits that go beyond mere pictures. Clark and Rudi understand the profound impact that a family portrait can have on individuals, especially children. Studies have shown that growing up with a family portrait displayed at home fosters higher self-confidence and greater success in life. These portraits serve as a constant reminder of one's significance and importance, celebrating family history and creating a lasting legacy.
A love of people and who people are is evident in all that the team at Clark Marten Photography does. They make their clients feel beautiful and provide portraits of the highest quality for local families and individuals from all walks of life. Their iconic portraits have won virtually every award in the photography field, a result of their industry benchmark—combining portraits with a unique blend of artistry and fine handcrafted finishes to serve as pieces of art and timeless family heirlooms. The world's most beautiful portraits can be seen in their stunning showroom and photography studio on Montana Avenue.
Working together as father and son, Clark and Rudi have not only strengthened their bond but also nurtured a dynamic business partnership. They have faced the challenges of working with family head-on, particularly in decision-making processes that strike a delicate balance between business and personal relationships. Through effective communication and a willingness to forgive, they have overcome obstacles and grown stronger as a team—with a hug at the end of the day.
For Rudi, the favorite part of working together has been the opportunity to know his dad on a deeper level. Being business partners with Clark and his mother, Rachel, has created a unique dynamic in their relationship, one that surpasses the bonds shared with his siblings. Together, they have experienced fear, dreamt big, built a successful enterprise, and celebrated countless milestones.
Looking towards the future, they are excited about continuing to celebrate families and empowering children. By capturing heartfelt moments and creating beautiful portraits, they aim to uplift individuals and help them recognize their significance within the family unit. Their dedication to communication, forgiveness, and creating a positive environment sets a strong example for other family-owned businesses, inspiring them to navigate challenges and grow together.
Clark Marten Photography, a testament to the power of family and the art of photography, stands as a beacon of love and legacy in the industry. With their unwavering commitment to capturing the essence of family connections, they weave together stories that will be cherished for generations to come.
Father/Son Founded Business- First Montana Title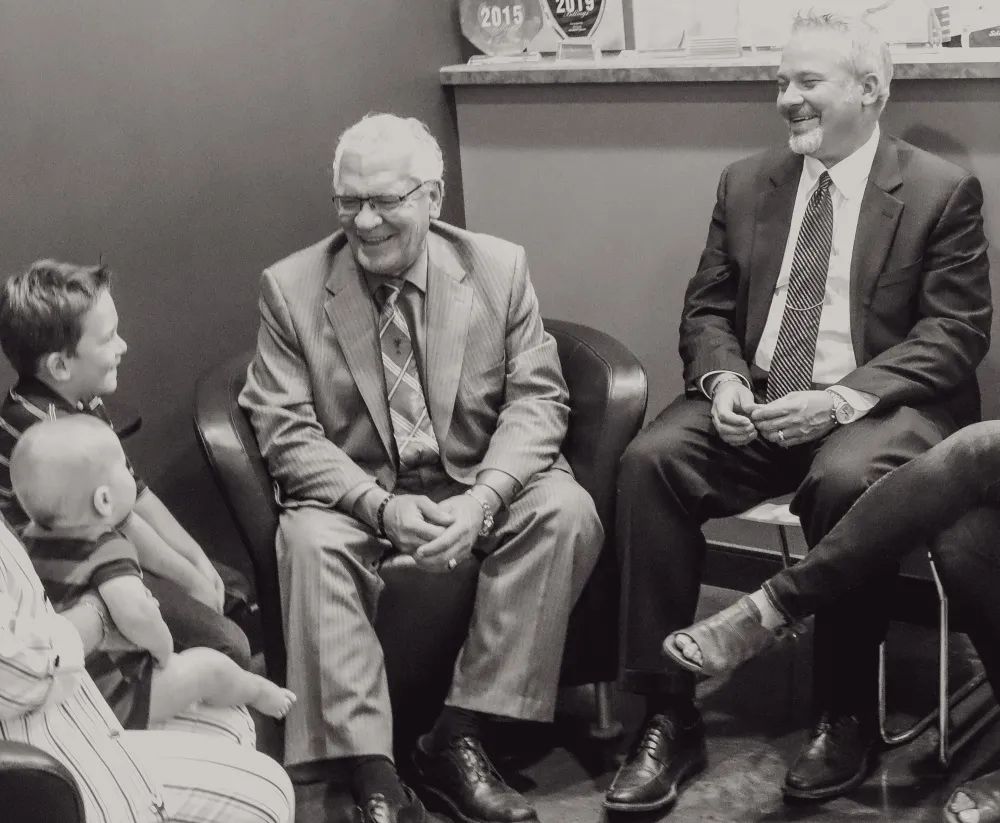 Kelly Donovan offered his son, Quinn, a partnership in a farming and ranching operation in Larslan, Montana (fifty miles north of Glasgow). Quinn grew up on this farm and worked as a family member during the busy times. He also had his own livestock interests that he shared with his sister while finishing his college degree. However, after graduating from MSU Billings in 2002, Quinn no longer saw the farm as part of his future.
Quinn worked at a title company as a marketing person for three years before reversing the tables and asking his dad, Kelly, to join him in a venture to purchase First Montana Title from the original owner, who started the business in 1954. Kelly jumped at the invitation to partner with his son and try a new kind of family business.
In 2005, Quinn and Kelly purchased First Montana Title Company. The company's management fell on Quinn, and the everyday gopher duties fit Kelly's personality. Kelly worked at night for two years to obtain a master's degree in HR to ensure they had the necessary resources and personnel with compliance knowledge about the workforce. Quinn and Kelly have worked diligently to become leaders in the business community of Billings and the surrounding area. They've worked together for most of Quinn's life and enjoy experiencing both the growth of the business and each other as successful business owners.
Working with family includes some challenges to ensure the ideas and philosophies of two generations mesh so they can navigate as one company with leadership harmony. The ability for each owner to keep an open mind and be aware of where the other is coming from is critical.
The Donovans offer this advice for other family-owned businesses: love each other and respect the positive qualities each brings to the company. Kelly had nearly 35 years working with his dad and older brother before selling the family farm and launching a business he knew almost nothing about. He trusted his son's intelligence, education, and instincts to go forward with this new life experience. They both trusted that God had a plan and followed the path laid out for them for this amazing ride.
FMT is unique because it is the only locally-owned title company in a large area. "We love Billings and this area and plan to live here for a very long time. The future is always unpredictable, but we trust that it will always be filled with love, faith, and hope that the business will succeed and our families will be cared for." The Donavan family extends to all of their employees, who spend countless hours ensuring they're doing their best for all of the company's customers.
No one could have ever predicted what has happened to the real estate business in the past three years and the growth Billings has seen. The team at FMT all share the vision of customers first. In addition, the family's values and business goals anchor them for almost anything that will happen in the future.
Quinn has two sons and would love to see them take an interest in the business, but that will be their choice after their educations are complete. They may end up with an entirely different career idea, much like Quinn did 18 years ago!
Hanser's - A Legacy of Family, Quality, and Unmatched Service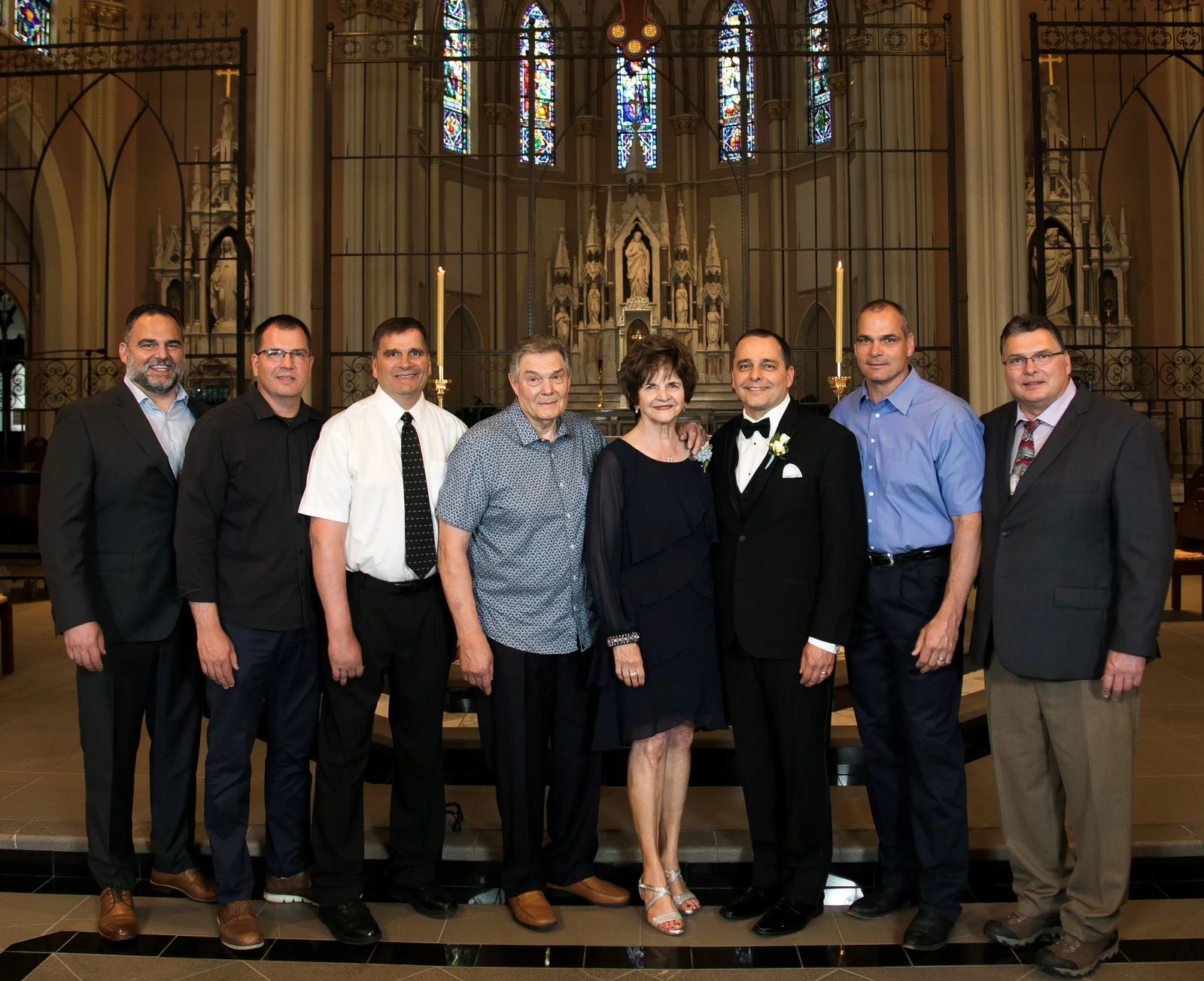 photo courtesy of the Hanser family
Hanser's has stood the test of time as a testament to the power of family, dedication, and exceptional service since its establishment in 1963. For over six decades, the Hanser family has poured their hearts and souls into creating a business that goes beyond the ordinary.
Their story is one woven with love, commitment, and shared experiences. Ralph and Sharon, the founders of the business, have dedicated an impressive 60 years of their lives to its success. Joined by their children, Spencer, Scott, Shawn, Stacy, Shel, and Seth, the Hanser family has fostered a tight-knit bond while collectively contributing their expertise and passion to the business.
The longevity of their collaboration is a testament to the family's favorite part of working together: having each other by their side every step of the way. Their shared trust, loyalty, and deep-rooted connection have formed the foundation upon which Hanser's thrives. With unwavering support, the family works hand in hand, aiming to make their name a source of pride within the communities they serve.
However, working with family members also comes with its fair share of trials. Each individual brings their unique perspective and passions, occasionally leading to differing opinions. The Hanser family has learned to overcome these challenges by allowing time for emotions to pass and providing space for individual viewpoints. Their shared belief system and unwavering trust in God, guides them through the toughest of times.
As a family-owned business, the Hanser's offer valuable advice to others embarking on similar journeys. They stress the importance of assigning roles based on individual strengths and merit, rather than entitlement. Effective communication and a shared sense of purpose are crucial to maintain harmony and success. The delicate balance between being a father figure and a boss demands constant navigation, as the line blurs between offering guidance and allowing independence to flourish. With a foundation of love, care and respect, they strike such a balance.
What truly sets Hanser's apart is their unwavering commitment to 24/7 customer service. Their team of dedicated professionals goes above and beyond, representing the family's name with pride and providing assistance in even the most challenging circumstances. From towing, recovery, and roadside assistance to automotive repair, transmissions, quality parts, and environmental remediation, Hanser's offers an unparalleled range of services under one roof. Few businesses across America can boast such a comprehensive portfolio.
Looking ahead, the Hanser family is excited as they continue to grow and evolve. By creating stand-alone divisions, they have expanded their reach and established a strong presence that includes not only Billings but Big Timber, Columbus, Hardin, Lewistown and Livingston. As they gradually transition operations, these divisions will seamlessly integrate into the larger Hanser's operation, ensuring the family's legacy lives on while remaining true to their roots.
Hanser's stands as a testament to the enduring power of family, hard work, and exceptional service. For the Hanser family, it's not just a business—it's a labor of love that they are proud to share with their community.
Family-Owned Financial Planning Firm Thrives on Diversity and Supportive Culture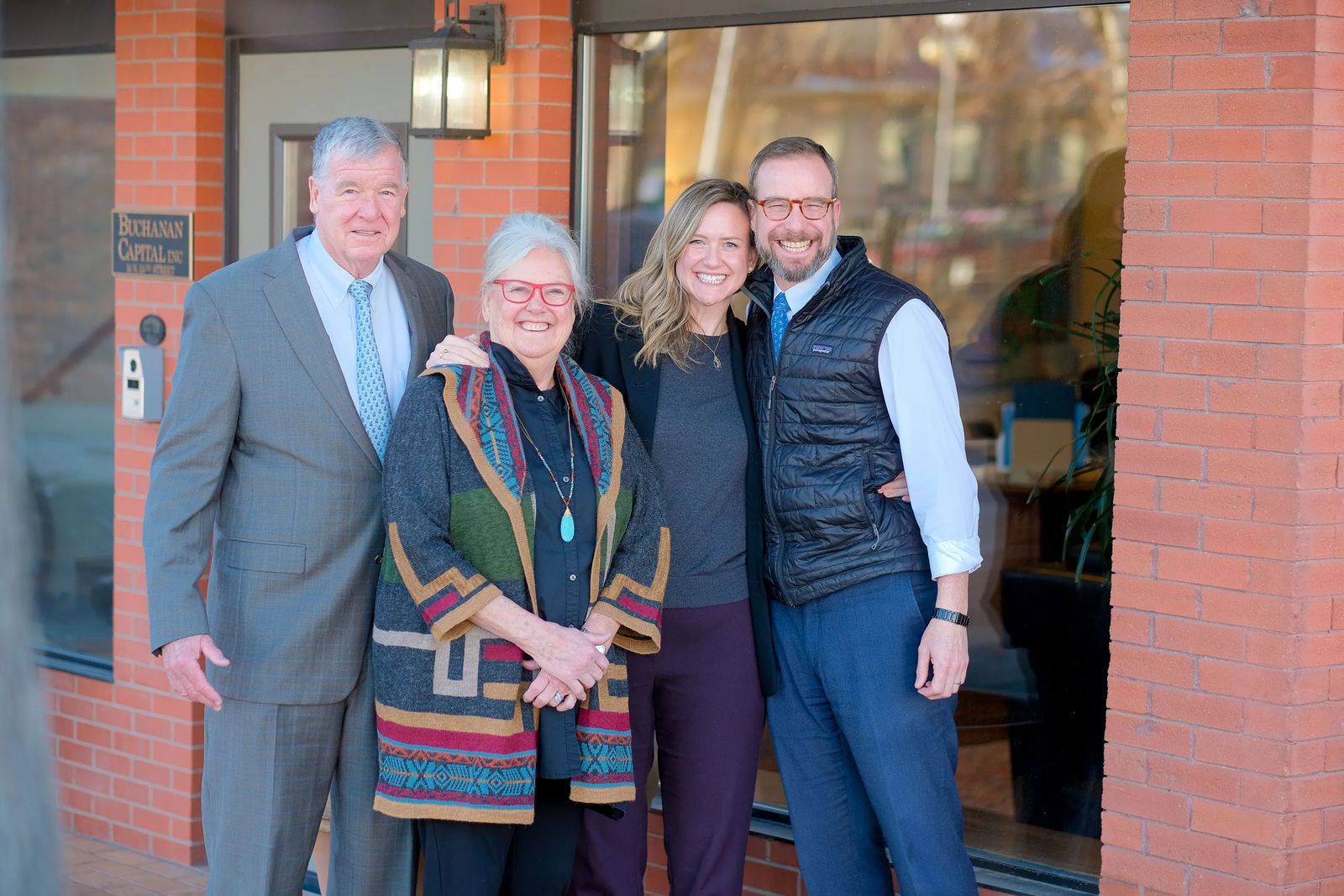 photo courtesy of Buchanan Capital
Established in 2002, Buchanan Capital is a family-owned boutique investment firm that has been providing sound advice and guidance to clients from all walks of life for over two decades. Their family team of dedicated professionals includes Gary and Norma, who have been with the business for 21 years alongside their son Todd, and daughter Kelly who joined the firm four years ago.
Buchanan Capital is built on the concepts of local decision making and forward-thinking asset management coupled with thoughtful investment, retirement and financial planning. One of the business approaches that sets them apart from other investment and finance companies is that they pride themselves on making sound decisions solely on what is best for the client. They have built a supportive, family-first, culture that permeates their office. Despite their individual differences at times, these family members have created a fun and inclusive atmosphere, where everyone feels valued and respected. This business environment fosters collaboration and innovation, enabling the business to cater to the diverse needs of their clients effectively.
However, working with family does present its challenges at times. One key hurdle is separating personal emotions from business decisions. Together, they have learned the importance of putting aside their emotions to make objective choices that benefit the business and their clients. Additionally, respecting generational gaps and leveraging the strengths and weaknesses of each team member has been instrumental in overcoming challenges and maintaining a harmonious working relationship.
Drawing from their extensive experience in the financial planning industry and their unique multi-generational perspectives, the team provides clients with personalized advice and services tailored to their specific circumstances, rooted in a holistic approach to financial planning. Their diverse backgrounds allow them to understand the varying needs and concerns of their clientele, helping them build strong, long-lasting partnerships that transcend generations.
When asked about their advice for other family-owned businesses, the team emphasized the importance of mutual respect. Recognizing that everyone brings value to the table, regardless of their role or background, is crucial for maintaining a healthy working dynamic. They also stressed the need for self-awareness, understanding personal strengths and weaknesses, and harnessing them to the benefit of the business.
Looking ahead, the team is excited about the future growth of Buchanan Capital. They have recently built an office in Red Lodge, set to open this summer, which will provide a balance to their operations and expand their ability to serve their growing list of clients in both Yellowstone and Carbon Counties.
With a strong foundation built on experience, a supportive culture, and a commitment to providing sound financial advice, this family-owned financial planning firm continues to thrive and make a positive impact in the lives of their clients. Their unique blend of personal and professional perspectives positions them as trusted partners in financial planning for individuals from all walks of life.
Originally printed in the June 2023 issue of Simply Local Magazine
Never miss an issue, check out SLM's digital editions here!