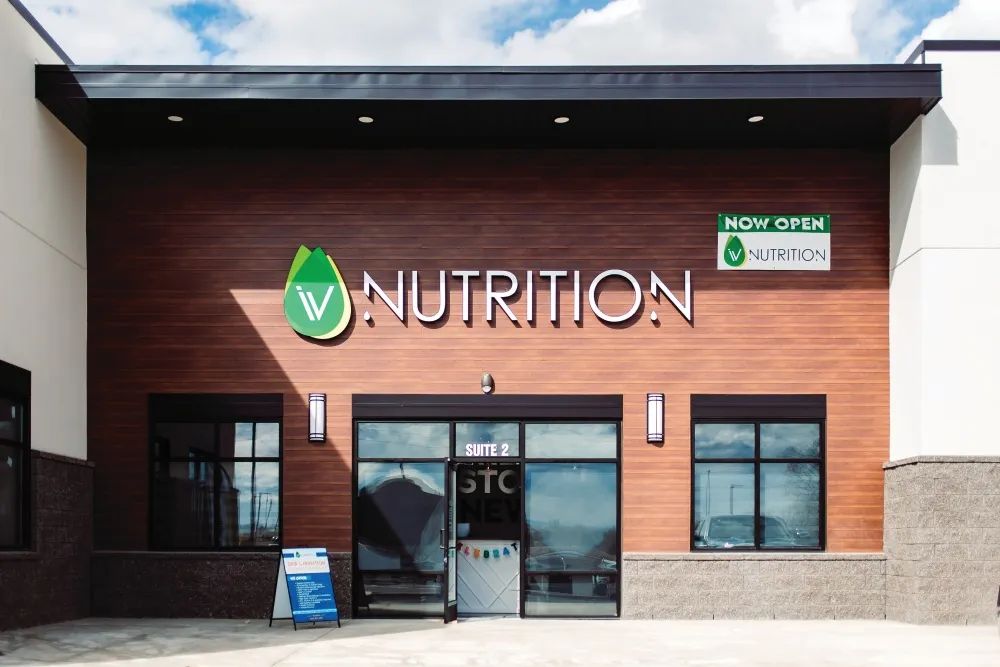 IV Nutrition: A Place of Healing
May 2023
by tiffany ricci | photos by arianna skoog
IV Nutrition may sound clinical, but this warm and inviting business is focused on helping you thrive in the best version of yourself. As you enter the bright and energetic building, you're greeted by the kind and down-to-earth owner, Sara Nelson. Her background and education are in business, but her heart is in taking care of others. Her heart for others is evident in every aspect of IV Nutrition, from the warm fuzzy blankets you can use during your treatment to the team she has helping clients. It's not just what they do; it's who Sara is at her core.
Sara and her husband moved to Billings five years ago to be closer to family as they started their young family. She has a business degree from Colorado State University and worked in her field after graduating. The leap from business to wellness began after working in a chiropractic clinic in Colorado. Her interest in IV nutrient therapy started as part of her own healing journey.
Sara connected with the founder of IV Nutrition while working for them. Concurrently, her in-laws had a health scare that rocked the family. Sara and her then 6-month-old son went to live with her in-laws to help out during this uncertain time. Sara felt her energy drain as they endured a medical situation that was beyond their control. She wanted a sense of control over her health and to help others feel this same way in theirs.
Sara was already working for IV Nutrition remotely as a team member. However, after the health scare , she knew the Billings Community needed IV nutrient therapy that would not only help clients with current issues but also take a proactive approach to their health. That's when she decided to open a location here in Billings. "I wanted to provide a place that offered solutions outside of medications. I've been there - when you've tried everything under the sun and are at the end of the rope when it comes to your health. IV nutrient therapy helps to provide the answers these clients have been looking for. It helps to support your system so you're not just getting by - but thriving."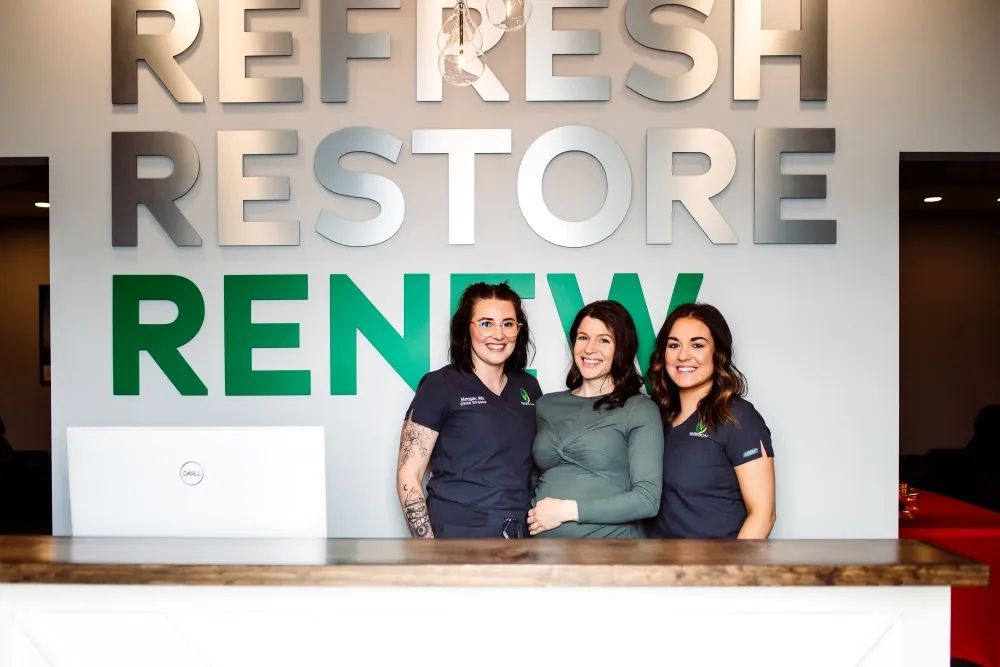 Sara's passion for healing can be felt in every detail at IV Nutrition. She loves the combination of being a locally-owned franchise. As a result, she can create personal relationships in the community, while maintaining solid support from the corporate office team, along with having access to their knowledge and expertise. In addition, she carefully curated a team of medical professionals to take exceptional care of the clients. The clinical directors are registered nurses, and the IV techs are a mix of paramedics and registered nurses. " We have medical eyes on you to keep you safe and comfortable so you can fully experience the healing process, " says Sara.
The healing process does not begin with the IV nutrient therapy. It starts with a comprehensive medical intake to help uncover any underlying issues. Questions help to lead the client into the service best suited for them and their goals. We want to align our services with what your body needs. From there, clients undergo urinalysis and a set of vitals to ensure safe outcomes.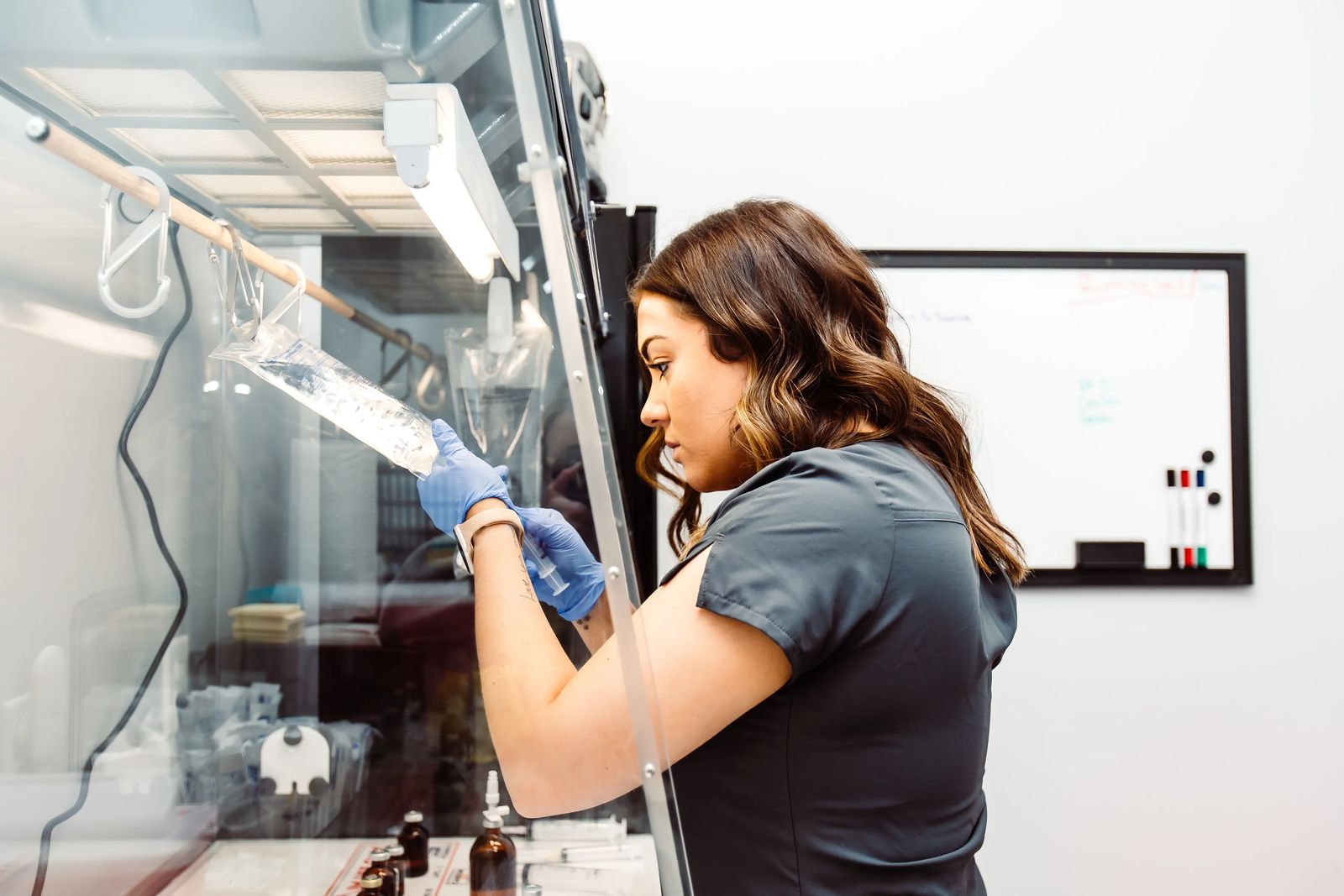 The IV nutrient therapy drips are made on-site in their compound room. The ingredients are well-sourced and in high concentrations for optimal nutrient delivery. The nutrients bypass the digestive tract, allowing for complete absorption with fewer side effects than taking supplements. Drips can be customized based on client goals, previous treatments, and lab results. This is all part of Sara's vision to help clients feel optimal in their bodies, replenish what has been lost due to health conditions or stress, and to allow the body to heal. "My mission is to help people feel better now and take preventative measures to feel better in the long-term."
Session times range from 15 minutes to an hour or more, depending on the type of therapy. IV Nutrition offers private rooms with heated, massaging zero gravity chairs for longer sessions. The soft blankets help create a relaxing and calming environment where clients can take a break.
Attention to detail carries over into the high-quality staff at IV Nutrition. The clinicians receive extensive onboarding training and continuing education to stay current on the latest IV nutrient therapy research. Many clinicians also work in high-stress clinical environments, so this calming, healing environment provides a balance to their work life. Sara says, "This is a team effort. We have an open door and support our staff so they can enjoy life outside of work too."
IV Nutrition offers a variety of services in addition to IV drips. They provide nutrient injections to help with mood, fatigue, immunity, and athletic performance. IV Nutrition also offers Wellness Blood Testing, complete with a functional medicine consultation to get an inside look at your health and provide a customized wellness plan to address those issues. Sara believes:
You don't have to keep living this way - exhausted and in pain. IV nutrient therapy is an investment in your health - and who better to invest in than you?
IV Nutrition is open Tuesday - Saturday from 9:00 a.m. - 6:00 p.m. and Sundays from 10:00 a.m. - 4:00 p.m. Find them at 1423 38th Street West, Billings, MT 59102
Originally printed in the May 2023 issue of Simply Local Magazine
Never miss an issue, check out SLM's digital editions here!