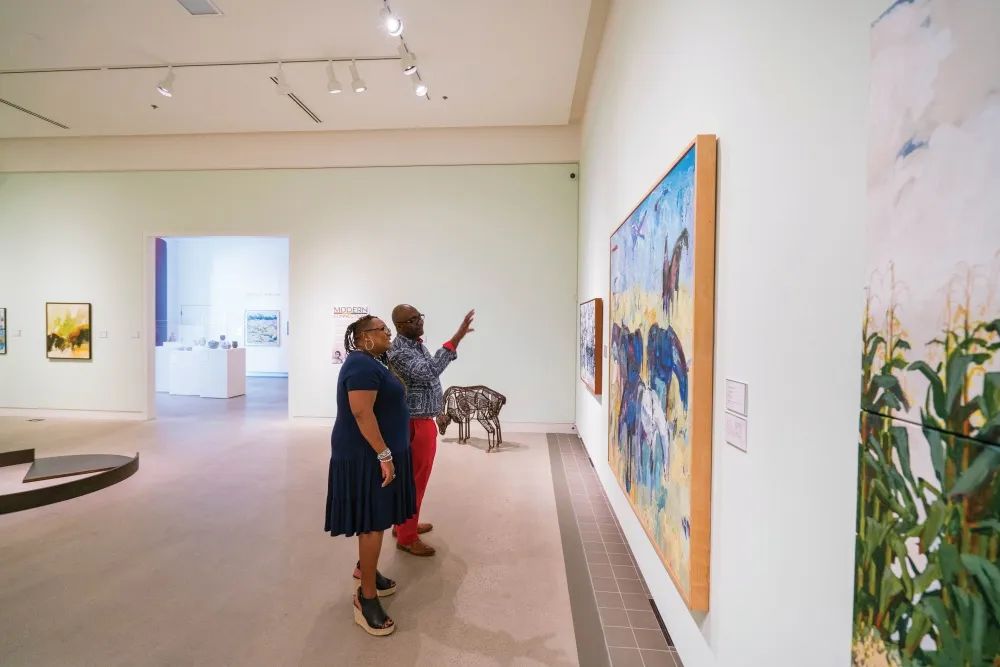 Enjoying a gallery at Yellowstone Art Museum | photo courtesy of Visit Billings
'Access for All' Initiative Grants Free Admission at the YAM for 3 Years
October 12, 2023
Yellowstone Art Museum Media Release
Superstition might have negative connotations associated with Friday the 13th, but this Friday the 13th of 2023 is bringing good news to returning and aspiring Yellowstone Art Museum (YAM) visitors. Beginning Friday, October 13, 2023, admission to the YAM will be FREE to ALL visitors for three years thanks to a grant the YAM received from the Art Bridges Foundation's Access for All Initiative.
The Art Bridges Foundation funding - totaling $240,000 - runs from 2024-2026 and will not only cover the revenue previously collected from admission fees, but will also fund part of the salary for a new Membership Coordinator and the cost of marketing materials to help attract new audiences to the museum. The grant is intended to develop new museum audiences and help make museums more inclusive spaces. Prior to this initiative, the YAM welcomed an average of 12,000 visitors annually.
Though the grant funding begins January 1, 2024, free admission is starting immediately at the YAM thanks to the generous support of Jon Lodge and Jane Deschner. Lodge and Deschner are generously extending the timeline for free admission in support of the Access for All mission.
If you're wondering what this initiative means for museum memberships, the YAM will continue to offer a variety of annual museum memberships. Benefits of those memberships include:
Discounts in the YAM store and cafe
Tickets to special events like SummerFair and Masquerade at the YAM
Registration discounts for the YAM's Summer Art Academy and YAM Camp
Higher level memberships come with additional benefits, including...
Private, member-only events
Behind-the-scenes opportunities
Artist talks
About Art Bridges Foundation
Art Bridges Foundation is the vision of philanthropist and arts patron Alice Walton. The mission of Art Bridges is to expand access to American art in all regions across the United States. Since 2017, Art Bridges has been creating and supporting programs that bring outstanding works of American art out of storage and into communities. Art Bridges partners with a growing network of over 220 museums of all sizes and locations on nearly 700 projects across the nation, impacting over 4.1 million people, to provide financial and strategic support for exhibition development, loans from the Art Bridges Collection, and programs designed to educate, inspire, and deepen engagement with local audiences. The Art Bridges Collection represents an expanding vision of American art from the 19th century to present day and encompasses multiple media and voices. For more information, visit artbridgesfoundation.org.
Participating Museums:
Museums participating in the Access for All initiative span 36 states and Puerto Rico. Among the 64 partners representing a broad range of locations are the Howard University Gallery of Arts (Washington, D.C.); Museo de Arte de Puerto Rico (San Juan, PR); Plains Art Museum (Fargo, ND); Portland Museum of Art (Portland, ME); San Diego Museum of Art (San Diego, CA); Whitney Museum of American Art (New York, NY); Wichita Art Museum (Wichita, KS); and Yellowstone Art Museum (Billings, MT). The full list of participating museums can be found on the Art Bridges website.
Everyone, no matter where they live, deserves access to art. That's why we started Art Bridges: to support museums in deepening their connections with local communities, and to pave the way for new audiences to experience the creativity and joy that comes with seeing art. Access for All is our biggest and most ambitious effort to date, dedicating $40 million toward bridging gaps between museums of all sizes and their communities in order to foster meaningful connections and expand arts access in every region, from Peoria to Puerto Rico
Alice Walton, founder and board chair of Art Bridges
Access for All represents a sweeping effort to get people back to museums after COVID-19 brought declines in revenue, staffing and attendance. With many museums seeing just 71 percent of their pre-pandemic attendance, the new initiative will aim to restore pre-pandemic levels – and open opportunities for all people to enjoy American art by reducing barriers to access and strengthening community relationships.