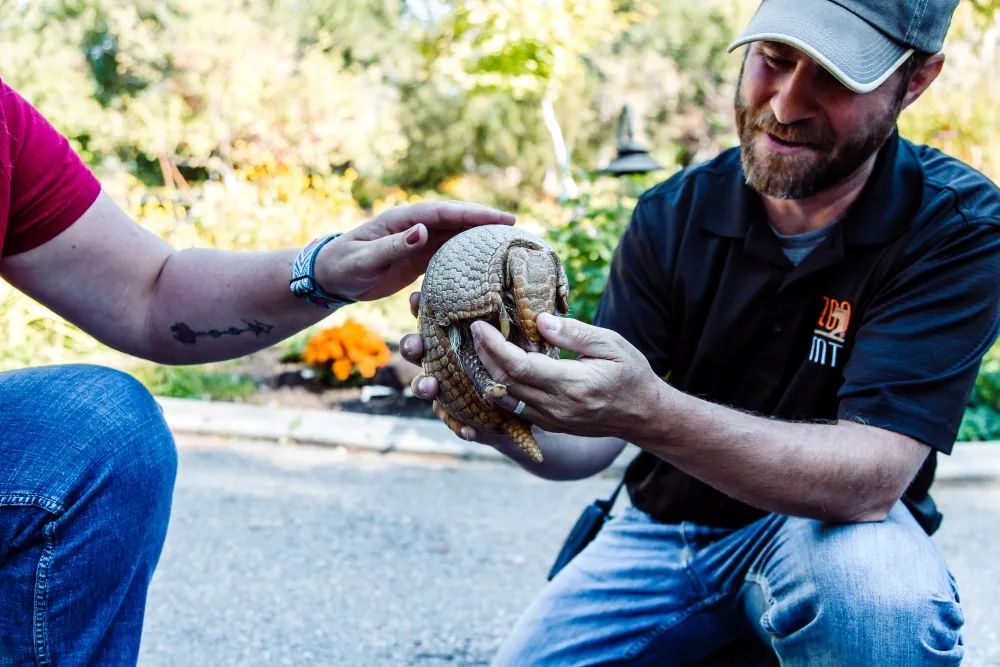 A Passion for Animals: An Interview with ZooMontana's Jeff Ewelt
November 2021
by katie jones backer | photos by arianna skoog
The engaging ZooMontana staff seems to be constantly on the move: teaching, talking, and loving on animals. So I pegged Executive Director Jeff Ewelt down to highlight some of the fabulous ways ZooMontana cares for animals, educates visitors, and benefits our city, all while learning more of his story.
"I began my career selling hot dogs at the Columbus Zoo… before landing a job working as a bird trainer," Jeff shared. "After graduating from Ohio State, I moved to Florida where I was the Animal Ambassador Manager at Tampa's Lowry Park Zoo." After a decade, Jeff and his family decided to try out their next adventure: Montana. Jeff first worked at the Yellowstone Wildlife Sanctuary (then the Beartooth Nature Center) for three years. Then, he became aware of an opening at ZooMontana, and he reasoned, "Being a believer that every good city needs a good Zoo, I knew I wanted to help bring it back from the brink of disaster. I always joke; I think I was the only one dumb enough to apply for the job! Somehow, I have now been here for 10 years. I am proud of what we have built and the team we assembled to do it."
Jeff shared that in the 6 th Grade, during a career shadow at a Science Center in Cleveland, OH, he held an owl and felt, "This is what I was meant to do." Of course, being an animal lover is a big part of working at zoos, but Jeff shared that it's more than that. "It's watching a person's face light up (young or old), when they feed a sloth, or touch a snake for the first time, and [it] fuels my passion for what we do."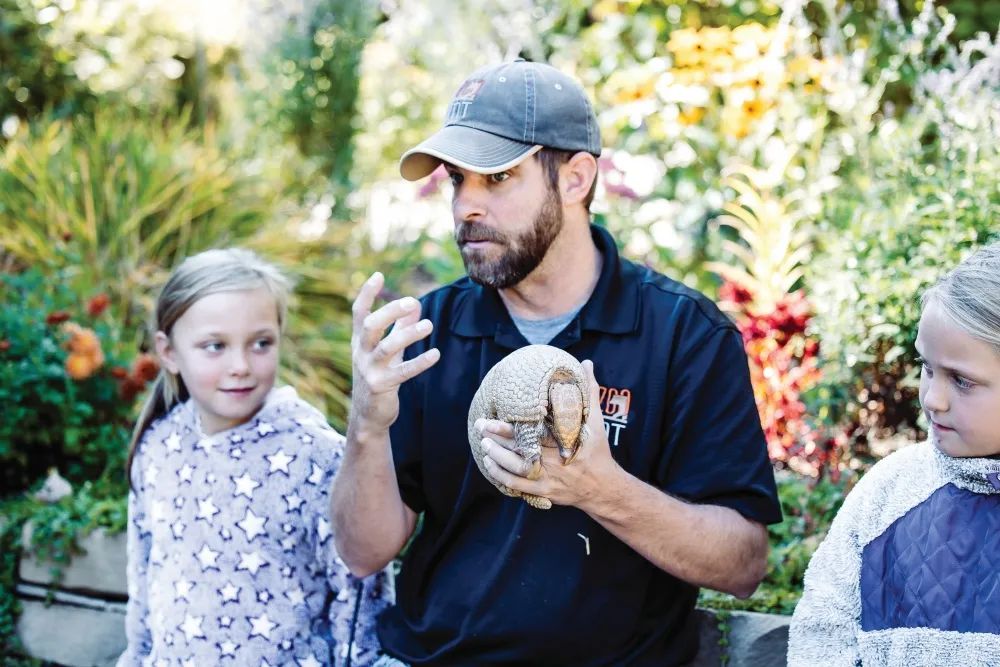 Because education is at the heart of so much of what the Zoo does, families look forward to their fabulous camp offerings. During the pandemic, the Zoo's awesome education team pivoted and made their programs virtual. This was made possible by a Phillips 66 sponsorship using Flipgrid and Microsoft to provide worldwide programming. The reasoning, Jeff shared, "Everyone needed/needs a smile as we battle all the unknowns, and animals certainly provide that." Jeff explained, "We are slowly working in-person programming into the fold, by offering off-site outreaches once again this fall. In addition, we will offer guided tours and plan to continue our virtual programming…. The Zoo Ed team hopes to bring back the old favorites such as Home School programming, ZooTots, and Breakfast with the Animals."
Visiting the animals and admiring the beautiful trees and well-tended flowers is such a peaceful way to spend a few hours, especially in these uncertain times. Jeff enthused, "Cultural attractions such as ZooMontana not only provide tourists a reason to visit our great city, they better our resident's quality of life. Members of these organizations have pride in their hometown amenities, giving them a sense of belonging, a gathering place, and a family destination." 
Indeed, a gathering place, the Zoo reaches over 20,000 school-aged children per year and over 160,000 annual guests! Jeff shared, "We have worked really hard the last 10 years to create… a cultural attraction that the community is proud of." Jeff acknowledged that the growth the Zoo has seen in the last decade only affirms that sentiment. He continued, "None of us could have imagined we would be where we are today. ZooMontana is on the cusp of major growth, and that could not have happened without the trust and belief of the community. Dedicated staff, volunteers, members and guests have allowed us the opportunity to grow, regain AZA accreditation, and make the community proud. We look forward to where the next 10 years will take us. I always tell my staff, the last 10 years was made possible through a lot of blood, sweat and tears; let's enjoy the fruits of our labor over the next 10 years as we grow even bigger."
Originally printed in the November 2021 issue of Simply Local Magazine
Never miss an issue, check out SLM's digital editions here!