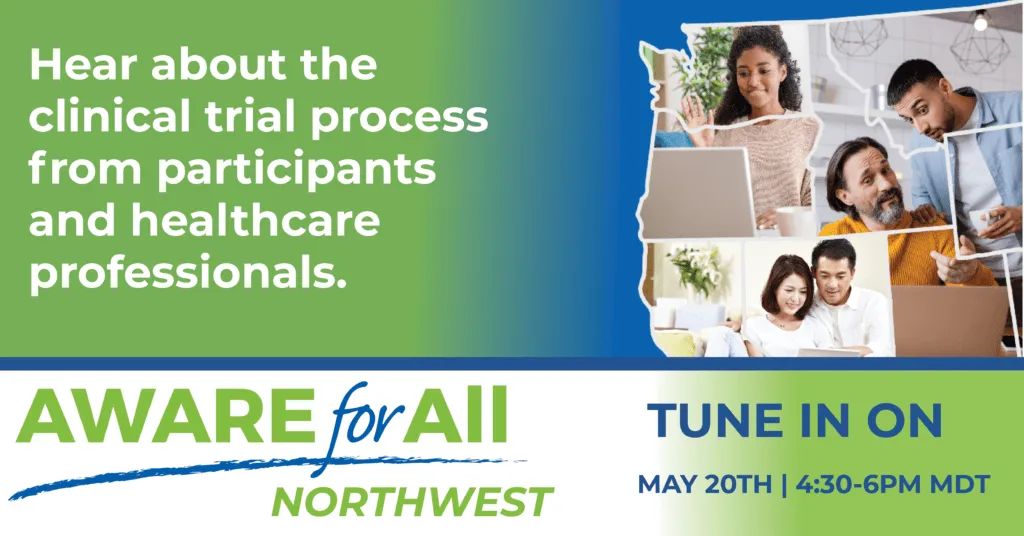 Free Clinical Event Scheduled on Process & Importance of Clinical Research
May 13, 2021
BOSTON, MA – May 11, 2021 | As clinical trial awareness continues to rise across the nation, due in part to conversations around coronavirus vaccines, it has never been more important for the general public to better understand the processes behind and importance of clinical research. Today, the Center for Information and Study on Clinical Research Participation (CISCRP) announced AWARE for All - Northwest, a free virtual event on Thursday, May 20, from 4:30 to 6:00 p.m. MDT, designed to educate residents from the Washington; Oregon; Idaho; Montana; and Northern California areas about clinical trial research and participation.
AWARE for All - Northwest, hosted on a user-friendly digital conference platform, will feature discussions with clinical trial participants and medical professionals who share their personal stories. The event will highlight specific therapeutic areas and medical conditions that affect patients across the Northwest U.S., including multiple sclerosis (neurology), COVID-19 (infectious disease), and cancer (oncology).
AWARE for All - Northwest attendees can expect to:
Better understand what the clinical research process looks like for everyday people
Learn how clinical research can affect public health
Hear personal stories from participants on why they chose to participate in clinical trials along with commentary by experienced research professionals
Delve into why it has never been more important for diverse communities to be represented in clinical research
Gain access to the informational exhibit center to learn about specific medical conditions, health tips, helpful exercises, and discover local health and wellness organizations across the Northwest
Michael Louella, outreach coordinator at the University of Washington AIDS Clinical Trials Unit and member of the AWARE for All - Northwest planning team, shared his insights on the importance of the event. Working with the unit for more than 20 years, Louella has witnessed firsthand how research impacts the lives of participants.
"Volunteers in clinical trials are essentially the co-creators of medicine, and the AWARE for All event series helps spread the important role that these participants play," said Louella. "You can impact your future, and the future of others, by learning more and getting involved in a clinical trial today that's right for you. Without participation, there is no moving forward"
During the event, attendees will hear from clinical trial participants on their own patient journeys and experiences, including Desiree Deluca-Johnson, a breast cancer trial participant and manager of trial curation and public education for BreastCancerTrials.org. Deluca-Johnson was diagnosed with breast cancer at age 40 and was unaware that cancer centers and clinical research could be a care option for her. After diving into her own research, and finding out more about clinical trials, she eventually found a handful of trials that she would be eligible for.
"Through my active clinical trial education and participation, I had been given access to treatments that I might not have considered before," said Deluca-Johnson. "Now, I am in a trial to monitor for recurrence, and I can make an action plan for quality of life."
In addition to facilitated conversations with Deluca-Johnson, attendees can expect to hear from:
Helen Russon, Multiple Sclerosis Trial Participant
Dr. Rachel Bender Ignacio, Assistant Professor & Director, University of Washington AIDS Clinical Trials Unit; Medical Director, COVID-19 Clinical Research Center, Fred Hutchinson Cancer Research Center
Patrick Ezeh, Director, Clinical Operations Program Leadership, Biogen
Luis Arroyo, Specialist, Diversity, Equity & Inclusion in Clinical Trials, Janssen
"Our AWARE for All - Northwest event will provide participants with an incredible amount of knowledge to better understand the clinical trial process in addition to learning more about potential opportunities that could benefit their own personal conditions – or conditions of friends and loved ones," said Phyllis Kaplan, senior manager, events and community engagement, CISCRP. "To expand the event series' footprint, this year, we decided to span across all five U.S. regions to reach as many individuals as possible, focusing on particular therapeutic conditions that hit home in these areas."
AWARE for All - Northwest is the second event to take place in CISCRP's AWARE for All 2021 virtual event series. The nonprofit organization, which is dedicated to engaging the public and patients as partners in the clinical research process, will host a total of five regional AWARE for All virtual events from April to November 2021, with a focus on engaging diverse communities to ensure representative and inclusive clinical research for the future.
To learn more about AWARE for All - Northwest 2021, including registration information and the full event schedule, visit ciscrp.org/event/aware-for-all-northwest-virtual-event. Organizations interested in sponsoring or exhibiting in the virtual informational exhibit center should contact CISCRP at awareforall@ciscrp.org or 877.633.4376.
About CISCRP
The Center for Information and Study on Clinical Research Participation (CISCRP) is a 501(c)(3) non-profit organization dedicated to engaging the public and patients as partners in the clinical research process. CISCRP provides free education and outreach to the general public and patient communities. Visit www.CISCRP.org for more information or to participate in CISCRP's educational initiatives. For additional questions about AWARE for All, contact awareforall@ciscrp.org or call 877-633-4376.