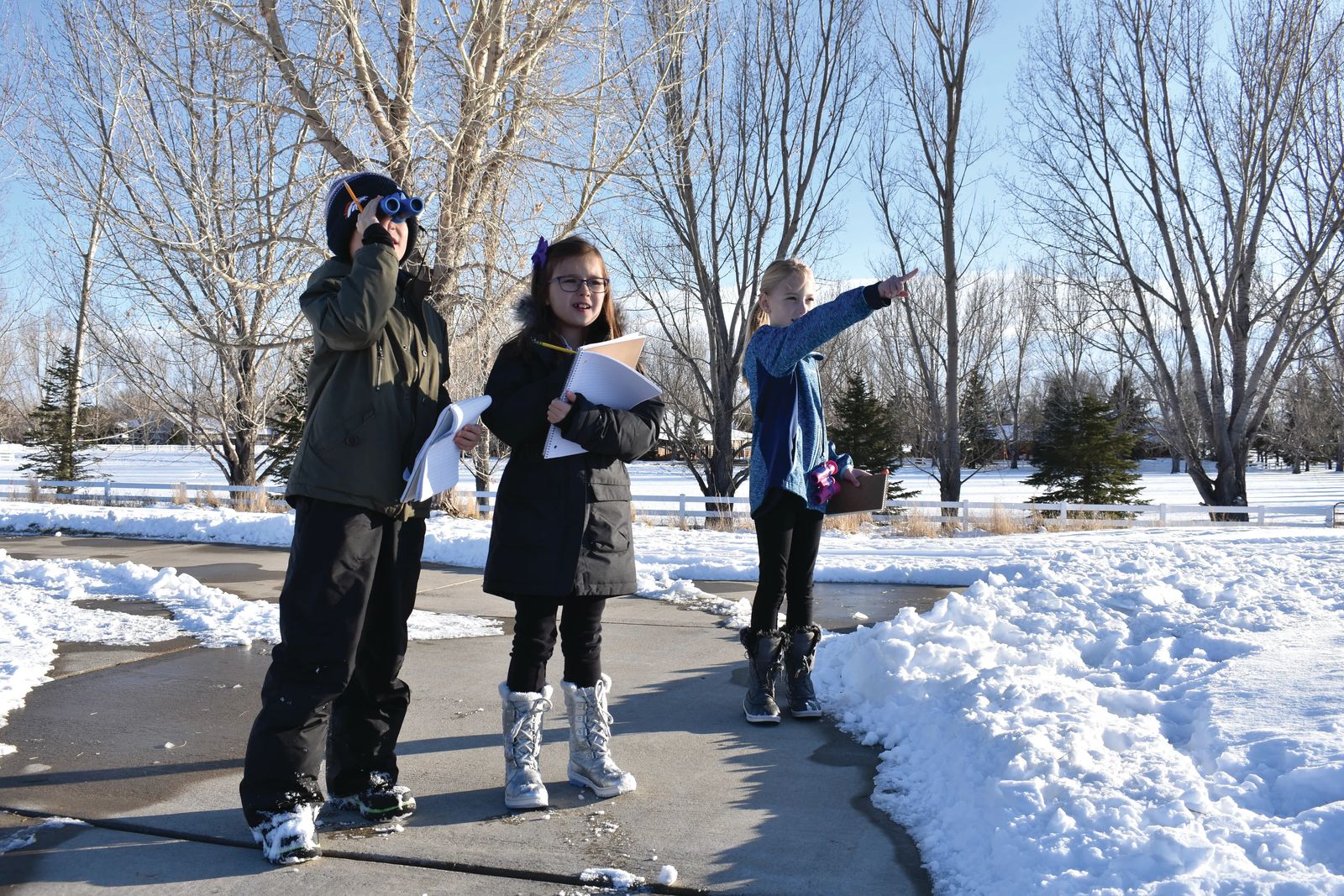 Turning Over a New Leaf with Citizen Science
February 1, 2020 | article & photo by stephanie hobby
As the days get dark and the air turns frigid, it can be tempting to stay indoors and hibernate on the couch. But the start of a new year brings new goals, and this can be a great time to take up an interest in citizen science.
Citizen science is a growing movement that harnesses the power of the Internet and our collective observations to further scientific research. Because scientists can't be everywhere, many have launched online virtual labs, asking volunteers to help study all kinds of topics. Projects are so varied and numerous that you can find something for just about everyone.
In colder months, participants can help researchers monitor light pollution, observe wildlife, search satellite images to track penguin activity, classify galaxies, and report local snow totals and weather data. In warmer months, researchers need people to help look for ladybugs, map Monarch butterfly migrations and habitats, and listen for frog calls. Participating in real research with scientists is a fun and effective way to engage students in science.
The idea of citizen science started in 1900 with ornithologist Frank Chapman at the American Museum of Natural History. Bird hunting was a popular Christmas tradition, and people were just beginning to take a greater interest in conservation, so Chapman had the idea to ask people to go bird counting instead. Back then, participants made paper lists and mailed them to researchers, who laboriously copied them into spreadsheets by hand. The Christmas Bird Count is now the longest-running citizen science project worldwide and thankfully moves much faster today due to smartphones and computers. The project just wrapped its 120th season, and the resulting database has been a treasure trove for researchers in a variety of fields worldwide.
Locally, the Montana Audubon Center in Billings is a valuable resource for families seeking citizen science projects year-round. Center director Carolyn Sevier is passionate about getting kids outdoors to study and interact with the natural world and says citizen science is an incredible opportunity for both the researchers and amateur scientists.
"There are lots of citizens, far more than scientists, so it's really nice for scientists to be able to have more eyes and ears on the ground," Sevier said. "It's also a gateway to outdoor exploration. Some people would otherwise not go outside, but if they feel like they're contributing to science, that can be a motivator."
The Montana Audubon Center makes a point to connect students to nature research during field trips such as the popular Audubon Naturalist in the Schools, or ANTS, where Sevier loves watching faces light up when students see their research immediately posted online. The Center also works with the general public to participate in a variety of studies such as the Lost Ladybug Project (lostladybug.org) and Monarch Watch (monarchwatch.org), which tracks ladybugs and Monarch butterflies, and Project Feeder Watch (feederwatch.org), which scientists use to understand which bird species visit feeders at thousands of locations across North America. Feeder Watch runs through April of this year and is easily accessible even from your own backyard.
"Birding is really fun in the winter, because there aren't any leaves on the trees, so it's harder for them to hide. There are fewer bird species in the winter in Billings, so if you have never done birding, winter is a great time to do it because there are fewer species to be overwhelmed by," said Sevier, adding identifying chickadees and house finches are an easy way to get started.
One app the Center educators often use is iNaturalist, which is like a social media platform for nature enthusiasts. Users can interact with other naturalists quickly, so if you don't know exactly what plant or animal you're looking at, you can ask the community and come up with an answer fairly quickly. Sevier also recommends the eBird app, which links users to the world's largest biodiversity-related citizen science project, specifically focused on birds.
New projects are regularly added, so visit mtaudubon.org/center/ or follow Montana Audubon Center on social media for more information about how to get involved.
Other resources:
Some of the projects are location specific, but many only require the use of a laptop or smartphone and can be done anywhere. Farther away, national parks and museums often host citizen science research projects, so before you head out on a road trip, do a quick search online for the name of your destination and the term "citizen science" to see if a researcher is studying something close by.
Originally printed in the February 2020 issue of Simply Local Magazine
Never miss an issue, check out SLM's digital editions here!