photos courtesy of Billings TrailNet
Tour de Fleur Rolls into Summer with New Date & Location
May 10, 2022
Tour de Fleu | Wise Wonders
Saturday, June 4, 2022
3:00 PM— 3:00 PMUTC
This precious event is rolling into summer at a new location with a new date, so take note. Check-in registration begins at 9am at Wise Wonders Science & Discovery Museum, but expect vendors, Silent Auction items, and more ahead of the rides!
Participants are encouraged to arrive with bikes decorated so they can be entered into the Fashion Show for prizes. The traditional petal toss will mark the start of the rides.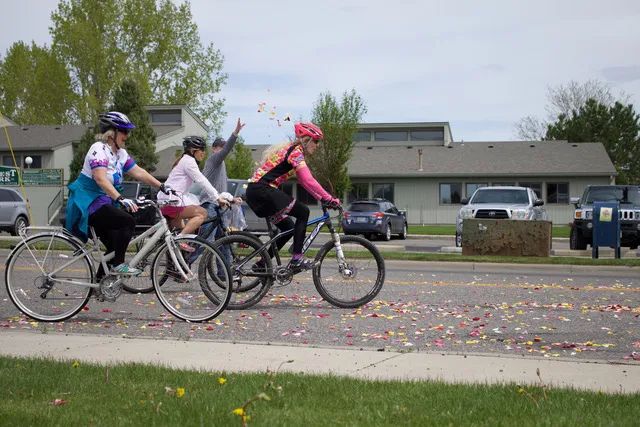 Petal toss | photo courtesy of Billings TrailNet
Ride options, 10am start: Short Ride: leading the pack and led by a Billings police officer is about 2-miles and follows the parade route / Long Ride: will break away from the short riders for a 12-mile ride on a longer trail route.
Following the ride, head over to Thirsty Street, where Shea and Jill have been brewing up a beer specifically to partner with Billings TrailNet, promoting fundraising for our trail system. $1 per pint bought goes towards the Billings trail system. Meanwhile, Wise Wonders will be open for the kiddos to come and explore!