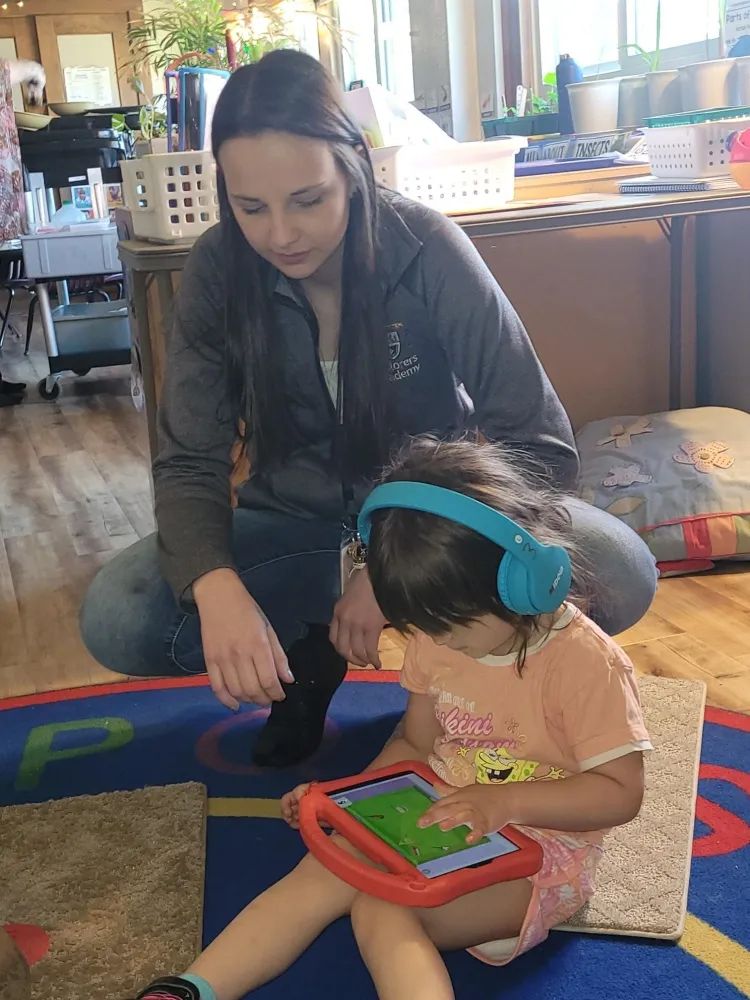 photos courtesy of Explorers Academy
Tech Savvy Pre-Schoolers: Solving COVID Gaps with Access to Technology
May 18, 2022
Most people over the age of 30 remember at least a period of time without mainstream Internet. We wrote our high school papers by hand, used books in print for research and took photos with disposable cameras. Today, even our littlest learners are being immersed in the latest technology – not for fun, but for their education.
To best serve their students, Head Start. Inc., also known as Explorers Academy, received two separate grants to fund a new technology program. The GEERS II grant from Governor Gianforte's office provided $119,000 and the City of Billings CBDG-CV grant funds will provide $15,000 to support the technology needs of students. With these funds, Head Start purchased 200 unlimited Wi-Fi enabled tablets complete with device management and security/content filtering software.
The goal of the project is to respond to and prepare for COVID-19 challenges presenting in Head Start students. Kids attending Head Start range in age from 3 – 5 and largely come from low-income, high poverty situations, relying on the school to provide basic needs including food, medical care, social skills and care, and education. Since 78% of students are severely low income, access to remote learning was limited to impossible during the pandemic, meaning learning gaps have grown drastically.
According to the team at Head Start, access to technology significantly lessens the gap in learning for primary education. As COVID-19 numbers continue to decline and remote learning becomes less common, the tablets continue to serve students by teaching proper use of technology and allowing them to practice tech skills before they start using tablets in the Billings Public School system.
There are currently 360 students enrolled in Head Start - Explorers Academy. Twenty-two percent of these students receive public assistance, are in the foster care system, or are homeless. Ninety percent of families served by Head Start are low income. The children being served by Head Start are some of the most vulnerable of our population. Families are permitted to check out the devices to use at home, which can further benefit siblings in the household, stretching the impact well beyond the immediate Head Start population.
With such a young and defenseless population using technology, Head Start has been incredibly mindful of creating safe access. A team of staff developed procedures and protocols for use, check out, and identifying exactly how the tablets will be used inside and outside of the classroom. With these processes in motion, tablets were first deployed to students in April.
With expanded internet and device capabilities, teachers can create lesson plans, videos and stream classroom time, and prevent educational gaps with the use of the tools supported by these grants. This project provides enough funding to support the unlimited Wi-Fi for 21 months total allowing Head Start to evaluate effectiveness, define long-term use, and fundraise to continue the program.
Explorers Academy provides comprehensive services for young children and their families to achieve school readiness and lifelong success. It is our mission to ensure children are prepared for kindergarten. The agency is embarking on its 50th year as a premier provider of quality early childhood services in south-central Montana. The program operates classrooms at four locations, serving 360 children through 11 full-day classrooms and 12 half-day classrooms with 105 employees. The comprehensive services include Montana Early Learning Objectives and Head Start Early Learning outcomes, academic curriculum, developmental and social-emotional screenings to identify strengths and areas of growth during family engagement sessions, nutrition services and meals- breakfast, lunch, and afternoon snack, and medical screenings. Curriculums include research-based comprehensive subjects including STEM, social, emotional, and preschool development and learning.