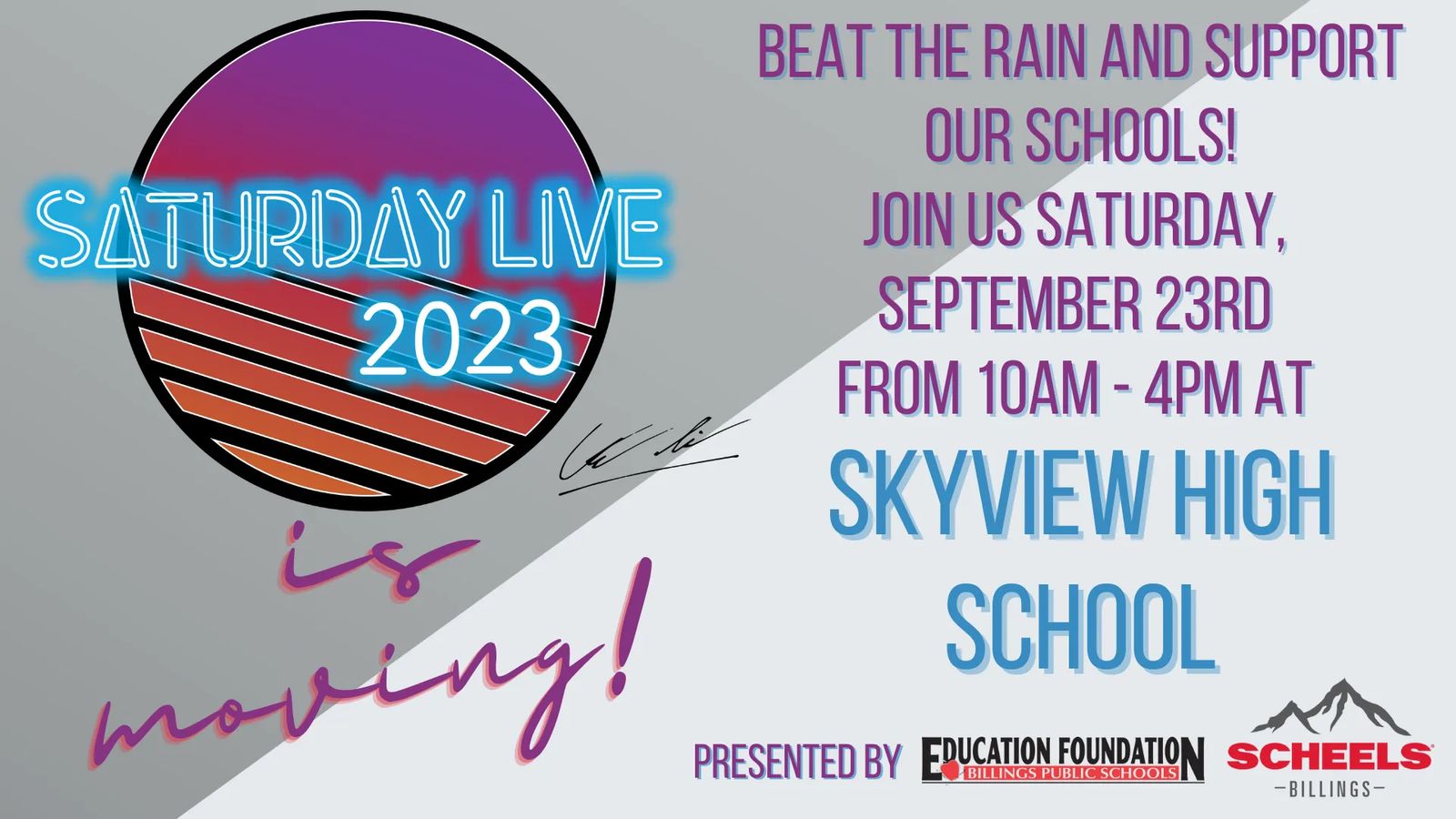 Saturday Live 2023 is Moving to Skyview
September 21, 2023
**VENUE CHANGE** Saturday Live! | Skyview High School
Saturday, September 23, 2023
4:00 PM— 10:00 PMUTC
The forecast for this weekend has forced a venue change for Billings Education Foundation's 31st annual Saturday Live, originally (and traditionally) scheduled to be held at Pioneer Park will now be held indoors at Skyview High School. Held on Saturday. September 23 at 10 a.m. - 4 p.m., Saturday Live is the largest school carnival in the region and is a critical fundraiser for schools in our community.
The event everyone knows and loves is going on just as we planned, it's simply in a new location. We are committed not only to putting on an enjoyable, family friendly event for our community, but to raising funds to support the schools. Saturday Live helps generate dollars to make many important events and programs in our schools happen.
Kelly McCandless, Executive Director of the Education Foundation for Billings Public Schools
Skyview offers ample parking and the booths will bring the expected and better than expected activities. Everything from the haunted house and troll bridge to face painting, treats, prize wheels, and more will be ready for kids to enjoy.
Families, keep Saturday Live on your schedule for this weekend and help spread the word about the change of location! The Education Foundation for Billings Public Schools and all participating booth-holders are putting together an outstanding indoor version of Saturday Live; our schools and kids need your support, let's show up, Billings!
SATURDAY LIVE FUN RUN STILL IN MOTION
The Saturday Live Fun Run will also be held at Skyview starting at 9:30 a.m.. The course will be clearly marked and t-shirt pick up and registration will be available in Skyview's lower gym.