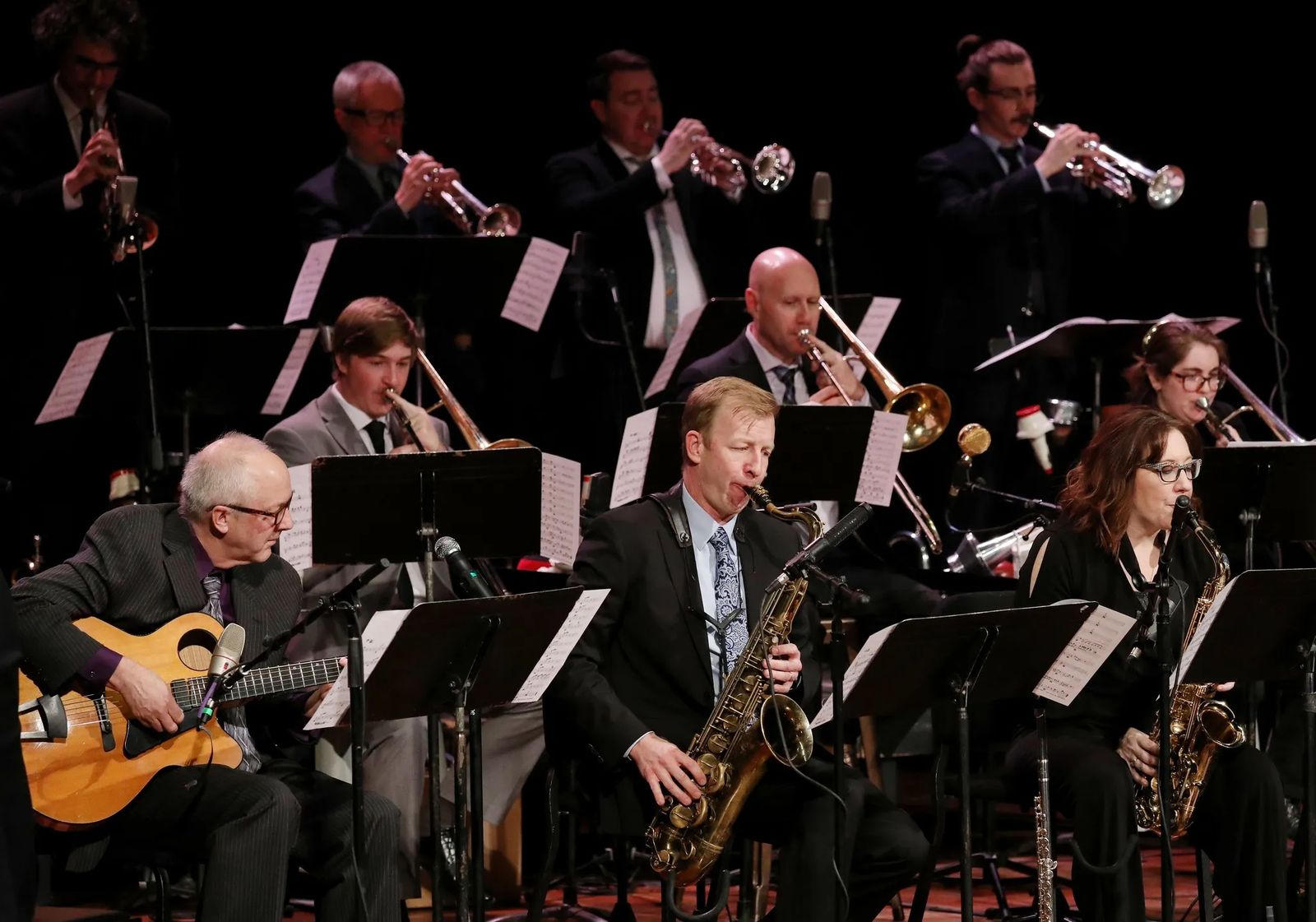 Rocky Mountain Jazz Collective | photo vis Billings Symphony Orchestra & Chorale
RMJC Brings the Music of Henry Mancini to Billings
August 29, 2022
by rebecca stewart via BSOC media release
A twist of fate, a crossing of paths, a friendship forged...It's this beautiful combination that was ultimately responsible for bringing the music of Henry Mancini to Billings, via the Rocky Mountain Jazz Collective (RMJC). The performance, part of Billings Symphony's Sukin Series, is scheduled for Saturday, September 10 at the Babcock Theatre.
The story of how the RMJC came to receive this special blessing from the Henry Mancini family began in Los Angeles, years ago, when Scott Jeppesen, founder of the RMJC and MSUB music department faculty member, first met Monica Mancini, Henry Mancini's daughter. While working on a Burt Bacharach tribute show, Jeppesen met Monica who was starring on vocals and her husband Gregg Field on percussion. Monica sang, "Say a Little Prayer for Me, a Burt Bacharach favorite that Jeppesen arranged.
Fast forward some years later when they worked together again, this time on a star-studded Ella Fitzgerald tribute. Over time, a friendship developed. Five years ago, Jeppesen moved to Billings to join the faculty at MSUB, while working on the Cole Porter tribute project, Jeppesen reached out to Field for advice. It was at the end of this conversation that Field told Jeppesen that if he ever wanted to pull together a Henry Mancini tribute, the family would be honored to have Jeppesen arrange Mancini's music.
"When you get an invite like that, you schedule a Mancini show," said Jeppesen.
Mancini, one of the most prolific composers of music for film, wrote more than 200 compositions for movies and television series. He won four Academy Awards, a Golden Globe, and 20 Grammy Awards, as well as a Grammy Lifetime Achievement Award, given to him posthumously. Mancini often used jazz elements in his music, which shaped a generation of moviegoers.
Jeppesen was one of them. His first exposure to classical music was through movies, and his interest in film and the scores behind the silver screen continued to expand as he grew older. He played saxophone in the middle school jazz band, and in high school started listening to early recordings of classical jazz from the '40s, '50s, and '60s.
Having studied music at the University of Southern California, Jeppesen would go on to make a name for himself in the L.A. jazz scene where he became known for his original jazz compositions and arrangements of jazz classics. Once in Billings, Jeppesen saw "an unfilled niche" and launched RMJC in 2019. "I realized," he said, "that while Billings has a really good jazz scene, there wasn't a real jazz orchestra or big band in Billings. I felt like Billings deserved a good big band, and I saw it as an opportunity to continue my writing."
The Rocky Mountain Jazz Collective's upcoming performance will showcase Mancini's work, arranged by Jeppesen. The songs will sound both familiar and new to the ear.
"You take something Mancini wrote, and it's so incredibly well-known that as an arranger you have to do it in such a way that pays respect to this master's work," Jeppesen said.
Jeppesen will be playing in the big band show, along with 17 other musicians, including several local jazz players, a few of Jeppesen's students, and some well-known jazz musicians from across the country.