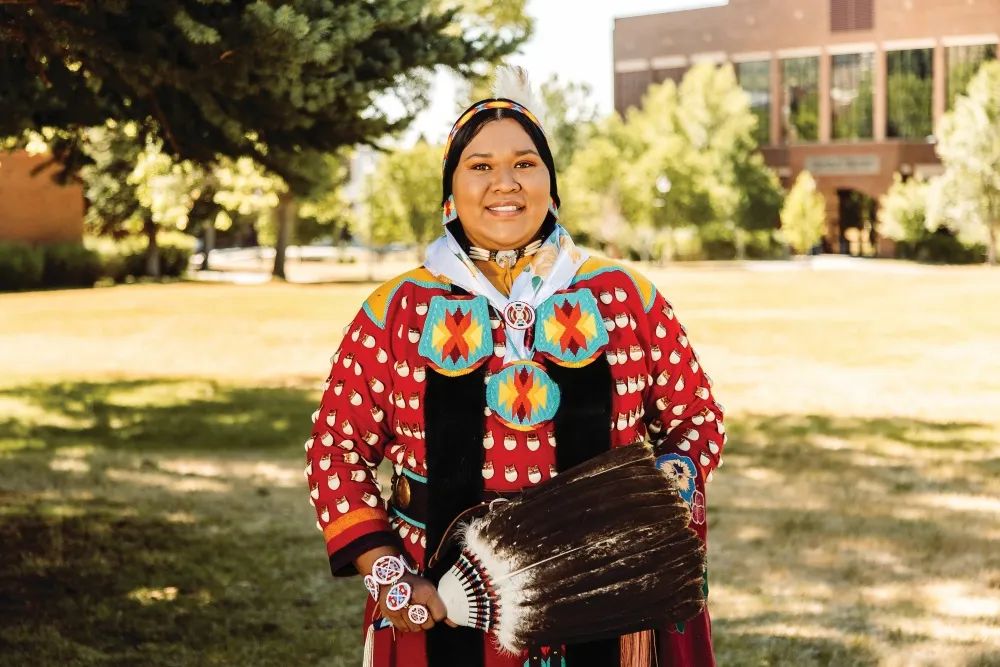 Lucretia Takes Horse | photo by Arianna Skoog, courtesy of MSU Billings
MSUB MINUTE: Powwow Week POSTPONED
September 2021 | updated September 2, 2021, 2:10PM
2021 Powwow is postponed due to COVID-19 health and safety concerns.
The MSU Billings Native American Achievement Center invites you to join in the celebration of the beginning of the school year and our community's diverse culture by checking out Powwow week!
"It's a wonderful way to get to know one another and kick off the school year, sharing our cultures—with various dances and beadwork—and by welcoming thousands of tribal individuals living in our community [and other areas] to MSU Billings," Sunny Day Real Bird, Native American Achievement Center Director, shared. This large event is made possible by MSU Billings, our supportive Billings community, and the many volunteers; Sunny Day added, "we couldn't do it without them!"
Events:
Beading with the Best on September 17th at 12pm (Includes a Panel Discussion & Beading Workshop) hosted by Native American Achievement Center and the Yellowstone County Museum at MSU Billings.
Fun Run on September 18th at 8am, which Billings Urban Indian Health will host.
Apaasalooke Arrow Throwing on September 18th at 1:00pm.
And don't miss the 52nd Annual MSUB Powwow on September 17th-18th (*Free Admission* on the MSUB Campus—Cisel Lawn near parking garage). The Grand Entry on Friday, September 17th starts at 6pm and Saturday, September 18th at 1pm and 6pm The Native American Achievement Center hosts the MSUB Powwow. To learn more about the events and/or vendor information, visit: The Annual MSUB Powwow - MSU Billings | MSU Billings
Host Drum: Black Lodge White Swan (Washington)
Master of Ceremonies: Lawrence Baker (Four Bears Community, North Dakota)
Arena Director: George Abeyta (Fort Washakie, Wyoming)
Head Woman Dancer: Madison Chavez (MSU Billings Student)
Head Man Dancer: George Reed (MSU Billings Student)
Originally printed in the September 2021 issue of Simply Local Magazine
Never miss an issue, check out SLM's digital editions here!