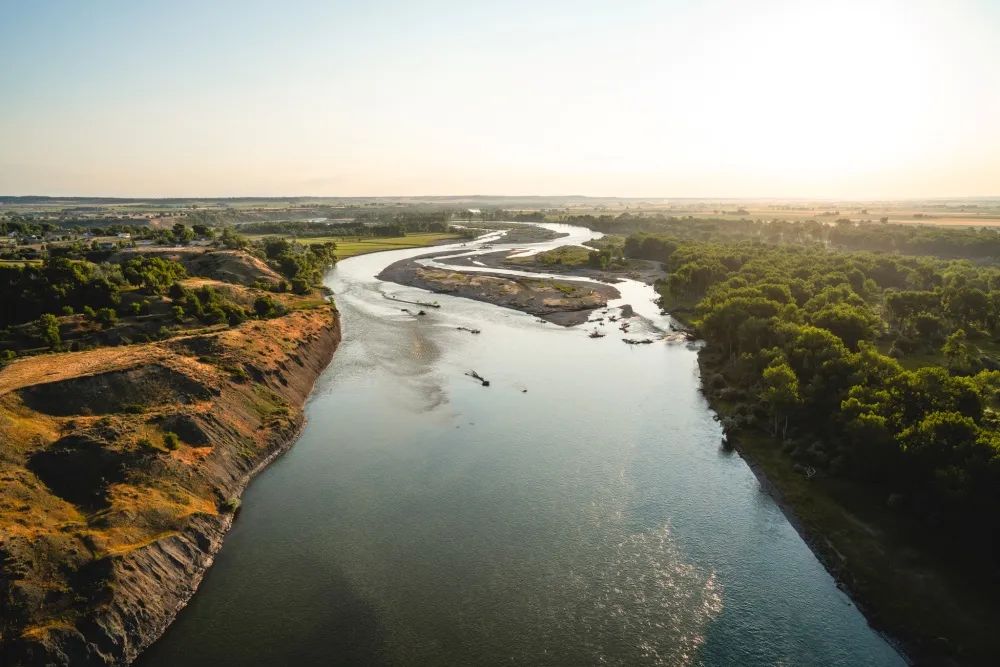 Looking Back: The Yellowstone River
May 2022
by anna rogers | photos by jamie blotske
Sustainability is all about the future. We're asking and evaluating - "How can we create systems that will continue to thrive, with benefits instead of detriment to those down the road?" Yet the key that unlocks these answers isn't found through a crystal ball or a time machine that takes us forward. It's found by studying the past.
The history of the Yellowstone River is fraught with adventure and action, war and treachery, sustenance and provision. Its waters have given life to nomadic peoples, carried explorers, sustained agricultural land, and served as the lifeblood of communities. Undammed and free-flowing, it twists and turns for nearly 700 miles, and along 45 of these rests its largest dependent: Billings.
Single Source
When evaluating water systems for the city of Billings, it's all about the Yellowstone River.
"A lot of communities have groundwater," says Louis Engels, Utility Systems Engineer for the City of Billings, "but the geology of Billings is such that we're on top of a giant shale layer, then alluvium - gravel from years of the river migrating - exists on top of this. It's a shallow aquifer, so a lot of homes and subdivisions on the West End utilize this shallow aquifer for their water source. The ditches on the West End are the only reason there is any groundwater. This is why the Yellowstone is so important – the city of Billings and all of these ditches pull water directly from the Yellowstone River."
Our sprawling city is entirely reliant on a single source of water. A city our size drawing on an undammed river as our sole water source is unique. We don't control the flow – we see extremely high run-off flows in the spring and low late-season flows. If an oil pipeline breaks, we must shut down our systems that pull from the river and let the oil pass. It's heavy to move water uphill, yet a portion of our city sits atop the Rims. The weather, the network of reservoirs and ditches, water rights, agriculture, and community usage are factors.
To fully understand how to sustainably draw on this wild river for decades to come, we've got to look back at the history of how the river has nourished the valley in years past.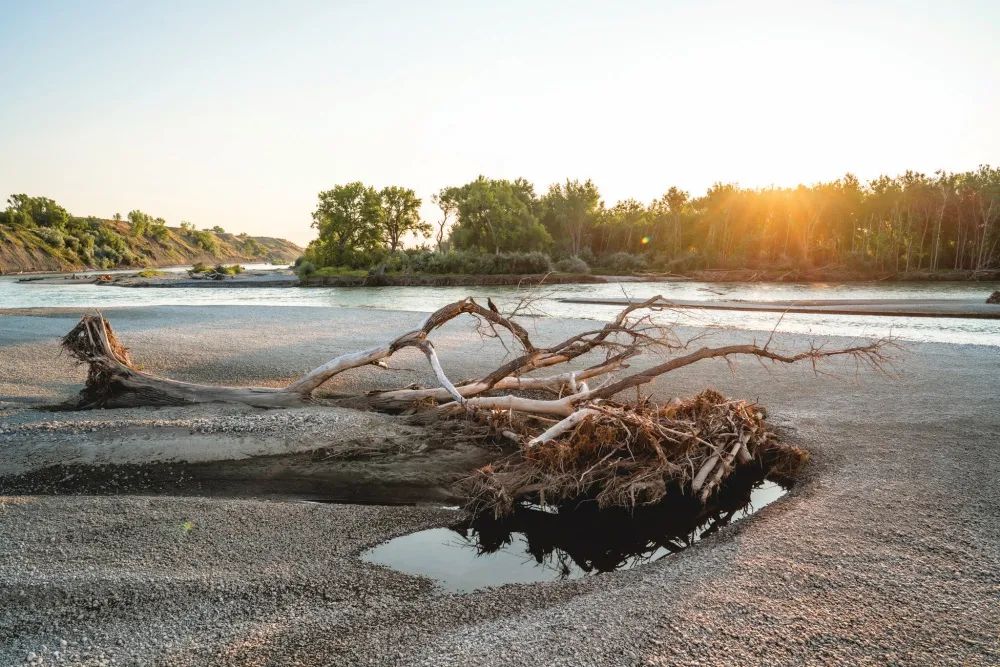 Tribes like the modern-day Crow and Northern Cheyenne knew the value of the Yellowstone River for sustaining life. As tribes were pushed westward out of eastern woodlands and onto the Great Plains, they became more nomadic peoples, reliant on the river and the life it sustained in its valley. Crow Chief Eelápuash said, "The Crow country is in exactly the right place. It has snowy mountains, sunny plains, all kinds of climates, and good things for every season." Tribes would move along the river and its tributaries, utilizing the mountains, pastures, streams, cottonwoods, bison, and everything the land offered to thrive.
In 1806 in Three Forks, Lewis and Clark parted ways on their return journey, and Clark followed the Yellowstone River through southern Montana. In July 1806, William Clark and Nathaniel Pryor arrived in today's Billings. It was around this same time that fur traders arrived in the area. French trappers began to call the river Roche Jaune, or Yellow Rock, after the Minnetaree's name, "Mi tse a-da-zi," which translated to Rock Yellow River. American trappers later adapted "Yellow Stone."
In the 1860s and '70s, settlement along the Yellowstone River increased, spurred on by the arrival of the Northern Pacific Railway. Billings Artesian Well Company established itself in 1883, just a year after Billings was founded, and set out to drill several wells throughout town. After drilling 900 feet without finding water, the company went out of business. Two years later, in 1885, Billings Water Power Company incorporated and began to pump water with an initial capacity of 1.25 million gallons per day (mgd). This capacity and water rates have increased over time, with a current capacity of 60 mgd and peak day demands as high as 54 mgd.
Lessons Learned
Years later, we're still as reliant on the Yellowstone River as the nomadic tribes who called this valley home. As Billings continues to grow, so does our need for sustainable access to water. As urban sprawl continues, the need for a robust water system becomes more apparent.
The historical users of water on the West End have been the agricultural community. In fact, in the state of Montana, 67% of water usage is for agricultural irrigation. As this land is converted into residential neighborhoods, the way the water is used is changing. Homeowners aren't flood irrigating like their farming and ranching predecessors, and this affects the replenishment of water into ditches.
The ditches leak water into the shallow aquifer and allow trees to draw water. These trees contribute to our city's tree canopy. It's all connected. Moving water is expensive. Treating water is incredibly energy-intensive – in fact, this is where most of our city's energy usage goes. Current water rights aren't guaranteed.
The City of Billings uses these guiding principles for their Integrated Water Plan: Resiliency and Redundancy, Smart Growth, Quality of Life, and Sustainability. As we look to the past at the many generations who relied on the untamed waters of the Yellowstone to sustain their livelihoods, we can create a better plan for our future. Learn more about what's planned for water in our city in the next issue.
Originally printed in the May 2022 issue of Simply Local Magazine
Never miss an issue, check out SLM's digital editions here!