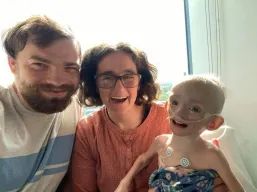 Imogen Rue Walk-a-thon & Pub Crawl in Support of the Hutchinson Family
September 10, 2021
Imogen Rue Walk-a-thon & Pub Crawl
Saturday, October 2, 2021
10:00 PM— 4:00 AMUTC
Billings, MT (October 2nd 2021) | We are calling upon the Billings community to walk or crawl, in Imogen's honor. The Imogen Rue Walk-a-thon & Pub Crawl will be held in downtown Billings on Saturday, October 2nd.
Imogen Hutchinson is a beautiful and happy 1-year-old, born in Bozeman, MT. Her parents, Hannah and Travis, both grew up in Billings. Like any other toddler her age, she enjoys music, snuggles, stickers, laughter, Facetiming her family, and of course, Baby Yoda. In December 2020, Imogen began showing symptoms that her little body was fighting a battle. Since then, her family, many experts, and doctors have been working around the clock to find a diagnosis. Although no diagnosis has been make, she has undergone various treatments and continues to fight and show the world her resilient personality.
Recently, Hannah and Travis turned their sole focus on being with Imogen as much as possible. They are surrounding her with all the love, prayers, and positive thoughts she could ever need. As the encounter this time with little to no work and a longer than anticipated stay in Seattle, the community is here to make sure their needs are met as they support Imogen.
The route for the Imogen Rue Walk-a-Thon & Pub Crawl begins at the Montana Brewing Co. and will pass various breweries and bars that will be donating to the Hutchinson family, ending with a celebration that includes music and silent auctions items at Last Chance Pub & Cider Mill.
The Walk-a-thon will take place from 4pm until 8pm.
People are invited to come and go.
The silent auction and live music will take place from 8pm until 10pm.