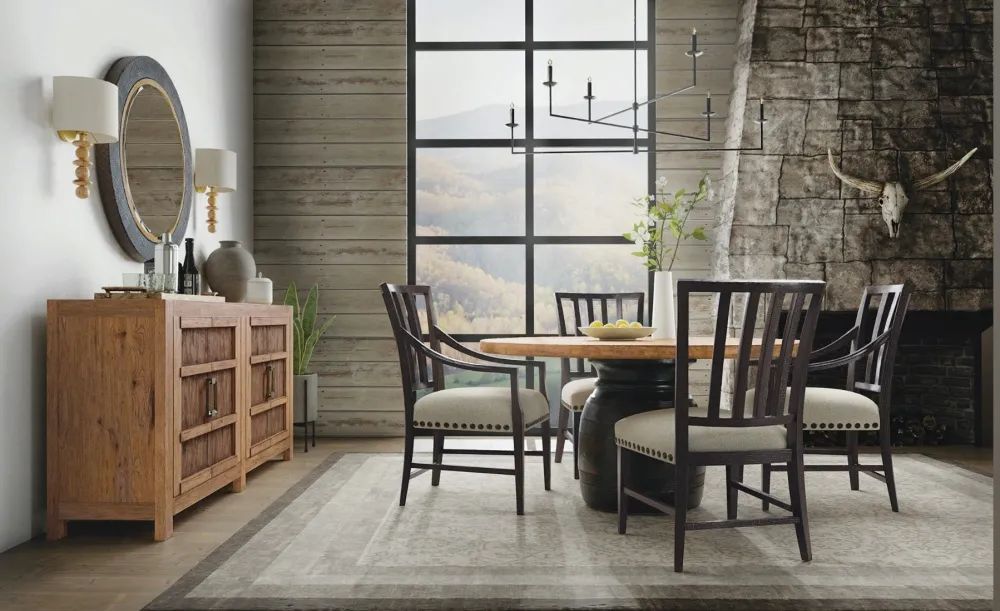 Embracing Mountain Modern: The Timeless Elegance of Montana Design
July 2023
by stephanie toews with tiff davidson-blades | photo courtesy by Davidson Home Furnishings
Nestled amidst the awe-inspiring landscapes of Montana and the Western states, a design style has emerged that seamlessly blends the rugged charm of the mountains with contemporary elegance. Local designer Tiff Davidson-Blades weighs in on this style. "There is an unquestionable comfort in the Western Look, Rustic, Lodge, Mountain Modern, or whatever term you use to describe it."
As a reflection of the region's natural beauty and the desire for a harmonious coexistence between nature and design, this style has evolved, redefining the traditional mountain cabin aesthetic. "If you grew up in Montana, you know that the cowboy hat hung on the wall and the boots perched on the hearth by the fireplace to keep warm were not décor; they were because Dad or Grandpa just came in from the barn. However, those once-functional items have now made their way into many modern home aesthetics," Tiff explains. "Today, we take a much more streamlined approach to incorporating Western elements with a bit of a contemporary edge. The kitschy blanket with a bear or moose is reserved for a cozy old family cabin. Our homes include a more sophisticated nod to the style." 
A delicate balance between comfort and sophistication. While embracing the rustic charm of mountain living and incorporating contemporary amenities and luxurious finishes. Tiff describes "a design style that automatically makes a person feel welcome. A cozy and nostalgic feeling ushered in by rich leathers, heavy textures, colorful native patterns, and colors that make you want to take your boots off, put your feet up, and stay a while! This feeling is precisely why, if you live in Montana, you most likely have a bit of Western flair somewhere in your home. Art, rugs, accessories, it doesn't have to be much; in fact, less is more! A Western touch reminds us of our parent's or grandparent's homes where tooled leather and the lamp with the fringe shade was HOME."
Plush furniture, layered textiles, and cozy fabrics create a welcoming atmosphere where relaxation is paramount. At the same time, sleek and minimalistic design elements, such as clean lines, uncluttered spaces, and carefully chosen accents, infuse sophistication into the overall aesthetic. The juxtaposition of these elements creates a unique sense of harmony, where comfort and elegance coexist seamlessly. Tiff describes how to incorporate Mountain Modern into your home, "beautiful artwork by Montana artists who know how to capture the beauty and soul of our state, nostalgic old West photographs, a classic cowhide thrown on the floor or upholstered on a chair, a large antler chandelier or wall sconce, raw textures such as heavy metals paired with raw, rough woods."
If there is one thing that is true about Mountain Modern, it is a trend that has evolved into an iconic style; it will stand the test of time for all the mountain states. It is an eclectic, comfortable look that is easy to design and live in!
Tiff Davidson-Blades
Originally printed in the July 2023 issue of Simply Local Magazine
Never miss an issue, check out SLM's digital editions here!