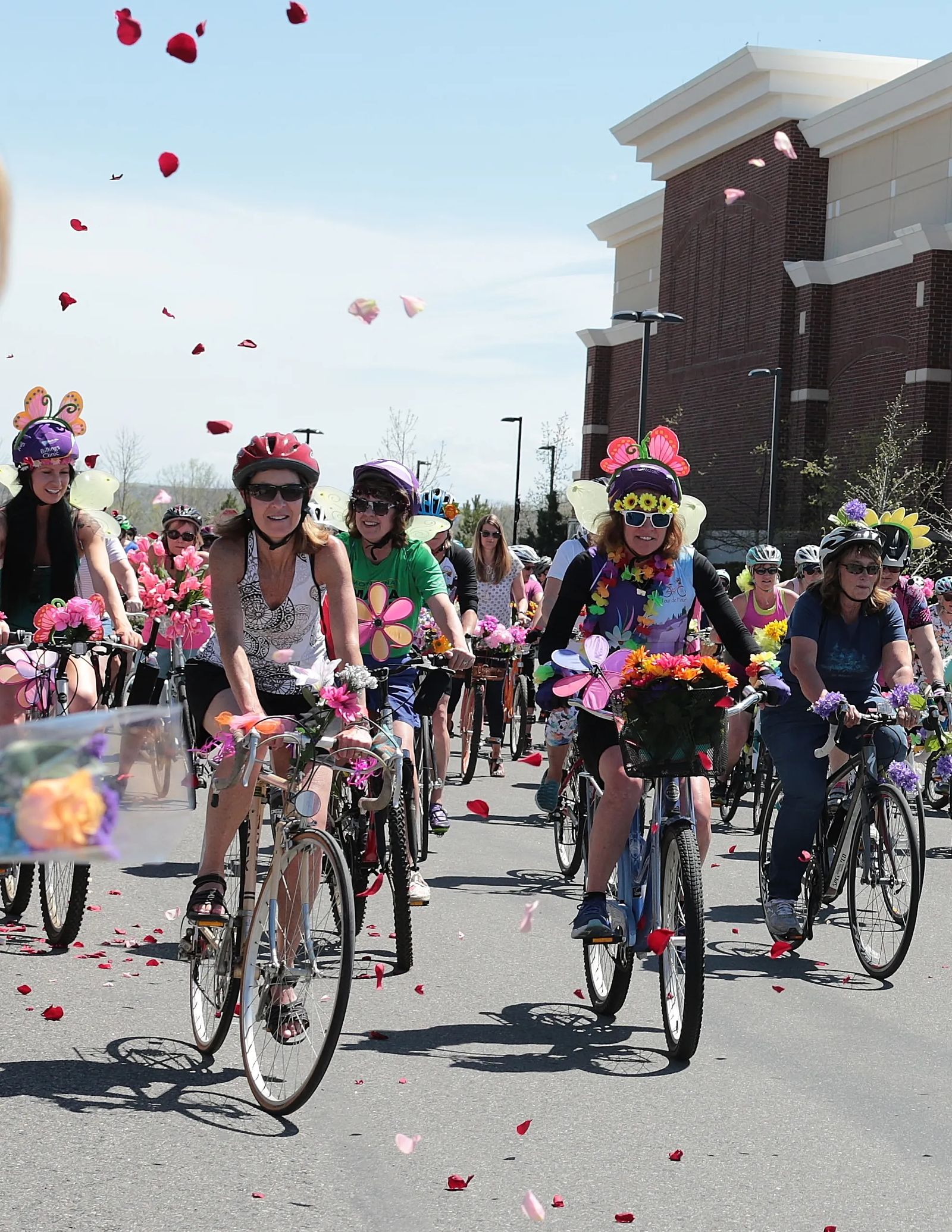 2018 flower petal toss to start the ride
2021 Tour de Fleur
May 1, 2021
After 2020's month-long adaptation to the Tour de Fleur, the organizing team has once again reimagined, only this time to a weeklong extravaganza exploring Billings' best bike trails. This seven-day spread will allow for smaller crowds and safer gathering.
The rolling start to this week is a 15-mile in-person ride for experienced cyclists only. After that, each ride comes with a different theme: (Family Day at ZooMontana, Mechanic Day+Ride at the Spoke Shop, Multi-Use Trails Day-run, walk, or ride; Ladies Day starts at the Shops at Shiloh Crossing, Couples Day, and wrapping things up with a Bike Parade!)
Register to participate in one, some, or all of the rides! (Registering gets your name entered into the various drawings happening all week). What was once a ride for women and children only, is now open to all genders. This is a donate-to-participate event that supports our growing trails system.
THE DAILY BREAKDOWN
May 1 – 15-mile Kickoff Ride: (11am) Start by Neecee's at Shops at Shiloh - for experienced riders
May 2 – Family Day: (12pm) Start at ZooMontana - They will do a discount for Zoo entry that day. Zoo passes will be part of the drawings that day.
May 3 – Bike Clinic will start at the Spoke Shop – basic bike mechanics and then go for a ride (6pm) - an urban ride
May 4 – Multi-Trail Day (run, walk, or ride!): Begin (10am-12pm) at FIB Shiloh along with other participating sponsors Glass Specialists and Jiffy Lube- Walk down Shiloh Trail for all that would like to walk and talk as a group. Let's Ride (1-3pm) from The Boothill Inn to Yellowstone Kelly's and learn a little history. Chalk Walk Fun at Swords park(4-6pm). Have some fun and connect with our amazing trail system and our wonderful community.
May 5 – Ladies Day: (10am) Everfit Montana is doing a walk (by conservation area) and Yoga class / Shops at Shiloh start do a fun ride and end up at Neecee's for shopping at a discount and Bumps 'n' Bundles (6pm)
May 6 – Couples Ride: (6pm) Riding the Big Ditch Trail, starting at the Yellowstone Fitness parking lot* (Tandem Bikes are encouraged – if you have them)
May 7 – Bike Parade – (6pm) Downtown Billings, starting at Billings Public Library's parking lot. Come with your bike decorated and ready to roll (if you haven't signed up/registered, but want to ride in the parade, simply make a donation and join in the fun!).
*Starting location subject to change