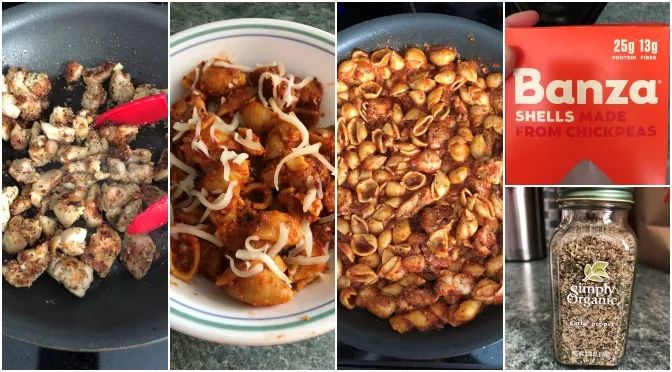 GARLIC PARMESAN CHICKEN PASTA
Are you still on track with your New Year's Resolution to lose weight? Or, have you given up because you miss carbs and "healthy" food is too blah? Well, if you've fallen off track, this recipe will help you find your way back! (And if you're still rocking that resolution, then you'll be thrilled to add this into the rotation). Low carb (for a pasta dish), low fat, high protein, easy and yummy!
Garlic Parmesan Chicken Pasta
Ingredients
Garlic Parmesan Chicken
1 pound Boneless Skinless Chicken Breast Tenderloins cut into bite size pieces
1 Tablespoon Garlic Pepper
2 Tablespoons (15g) Reduced Fat Grated Parmesan Cheese
1/4-1/2 teaspoons Crushed Red Pepper 
Pasta
1 bag (8.5 oz) Banza Chickepea Shell Pasta
15 oz can Tomato Sauce
2 Tablespoon Garlic Pepper
1/4 teaspoon Crushed Red Pepper
Instructions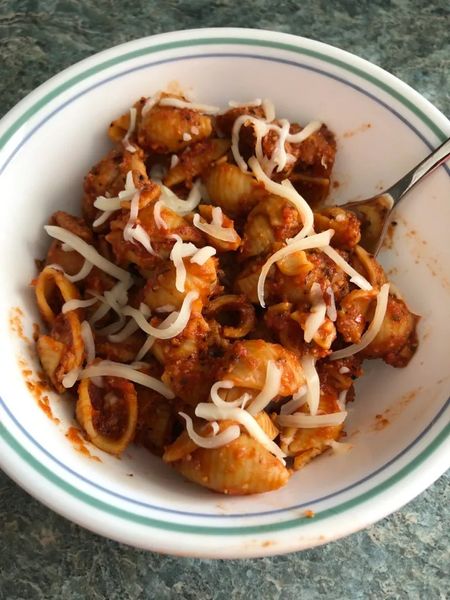 In a resealable bag or container, mix the garlic pepper, parmesan cheese, and crushed red pepper. Set aside.
Cut the chicken breasts into bite size pieces before adding to the resealable container. Shake or stir until fully coated. Refrigerate for at least 30 minutes.
While the chicken is marinating, cook pasta according to instructions. When done, drain and mix the tomato sauce with the garlic pepper, sweetener, and crushed red pepper in a bowl. 
Once the chicken has marinated, heat a large skillet over medium high heat with nonstick cooking spray. 
When the skillet is hot, add the chicken and spread evenly in the pan. Leave untouched for 4 minutes before flipping. Cook another 2-3 minutes after flipping. Make sure you don't have any oddly shaped or large pieces of chicken with pink remaining before reducing the heat to low.
Add the pasta and tomato sauce to the cooked chicken and stir. Simmer for a few minutes until the sauce is completely warm and everything is uniformly mixed. 
Remove from the heat and top with optional shredded mozzarella before serving.
Enjoy!
Recipe Notes:
I prefer chicken tenderloins since they are easy to cut, but feel free to use chicken breast or chicken thighs.
If pasta sauce isn't sweet enough, add up to a tablespoon of sugar or sugar substitute.
I love to use Banza Chickpea pasta as it contains more fiber and protein with less carbs than typical pasta, but use whichever you prefer.
I used Simply Organic Garlic Pepper but you can also make your own blend following this recipe https://www.pepperscale.com/garlic-pepper-seasoning/.
Caution, this dish can get spicy real quick! Use red pepper flakes at your own discretion, I love spicy foods and this had a really big kick to it.
This dish is perfect to make on a cold night and enjoy while knowing you aren't sabotaging your diet. (It just might taste like it!)
about the author…
A stay at home mom to two children, who is still sticking to her New Year's Resolutions.