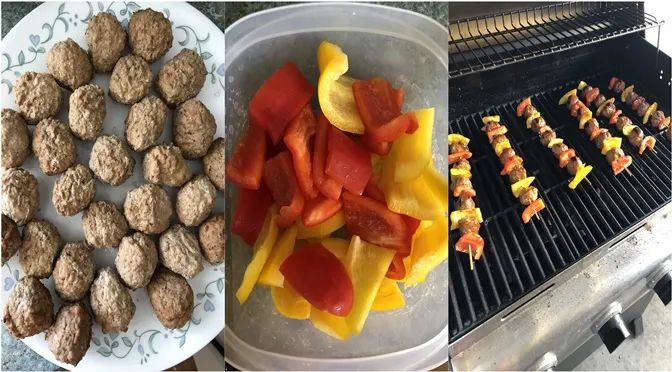 Sweet and Sour Meatball Skewers recipe
Before we knew it, summer has nearly reached its end. I swear, as the kids get older, the summers go faster each year. With Billings recently topping 101 degrees for the first time since 2012, I found a recipe that keeps the heat outside where it belongs. Ready in 30 minutes, this recipe is perfect for a week night once school starts back up.
Sweet and Sour Meatball Skewers
Ingredients
36 Frozen Fully Cooked Meatballs – Thawed
1 Red Pepper – Cut into 1 inch squares
1 Yellow Pepper – Cut into 1 inch squares
¼ Cup Apricot Jam
¼ Cup BBQ Sauce
Instructions
Heat grill to medium high. Thread the peppers and meatballs alternatively onto 6 skewers.
In a small bowl, microwave the jam for 15 seconds at a time, until the jam can mix in easily with the BBQ sauce. Add BBQ sauce and stir to combine.
Place the meatball skewers on the grill and brush with the sauce. Grill for 8-10 minutes, turning and basting with the sauce occasionally.
Serve warm.
Notes
I left the meatballs out to thaw for an hour and they were perfect to thread onto the skewer.
Any color pepper will work with this recipe. I used red and yellow.
If you prefer a lot of sauce, double the amount of apricot jam and BBQ sauce.
There you have it, another recipe that won't warm the house and can be made on a school night. My kids loved it, and loved to help make the skewers. I hope you have a great rest of summer! Enjoy!
Recipe adapted from https://www.tasteandtellblog.com/sweet-and-sour-meatball-skewers/
about the author… A stay at home mom to 2 kids, ready for school to start back up but will miss the long summer days.