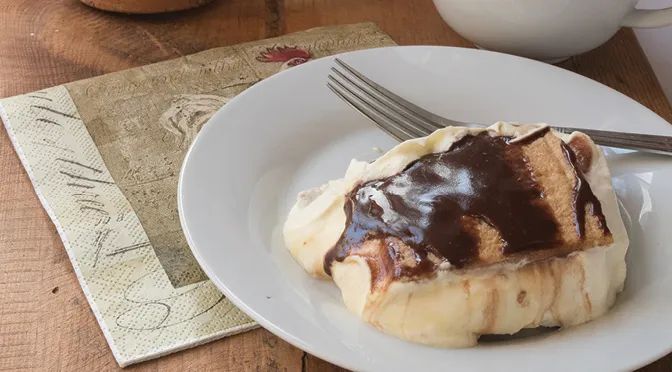 Chocolate Éclair Recipe
Chocolate Éclair Extraordinaire 
Recipe and photos by Carole Davenport
Ingredients:
3 individual packages graham crackers
2 firm, ripe bananas, sliced with a spoon
2 (3-ounce) packages instant French Vanilla flavored pudding mix
3 Cups milk
1 (8-ounce) container frozen whipped topping, thawed
1 (16-ounce) container of prepared dark chocolate frosting
Instructions:
Line the bottom of a 9x13-inch pan (preferably one with a snap-on lid) with graham crackers.
Drizzle ½ Cup of the milk over the graham crackers to help soften them.
Layer the banana slices over the top of graham crackers.
In a large bowl, combine pudding mix and remaining milk; stir well.
Mix whipped topping into pudding mixture.
Spread half of the mixture over graham cracker layer.
Top with another layer of graham crackers and the remaining pudding.
Top all with a final layer of graham crackers and refrigerate for 30 minutes.
Then, frost with room temperature chocolate frosting.
Cover with lid or plastic wrap and return to the refrigerator for at least 8 hours before serving to allow the graham crackers to soften (this can be made up to two days in advance of serving.)
about the author...Carole Davenport is a Montana travel writer-photographer and content specialist on her blog https://divineviewtraveler.wordpress.com. She is co-authoring a soon-to-be-released cookbook #bitterrootfresh with her two daughters, filled with their original recipes and photographs.
Originally printed in the pages of Simply Family Magazine's August 2018 issue.
Never miss an issue, check out SFM's digital editions, here!