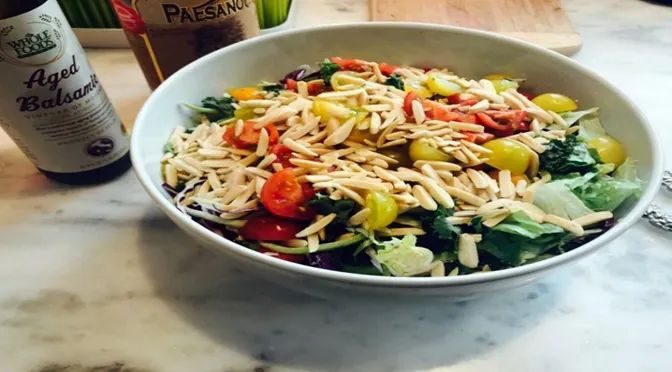 Simple and delicious: Summer Broccoli Salad
This article originally appeared on 
MommaChef.com
. It has been reprinted here with permission. 
Looking for simple and tasty recipes for you and your family?
 Momma Chef
 features dozens of delicious dishes featuring no more than six ingredients and requiring no more than six minutes of prep time.
This is a great recipe if you need a new fun salad or want something yummy to bring over to a friend's home. I dress this with a simple olive oil/balsamic vinegar mix. For some added crunch sprinkle some almonds on top, put the salad in a pretty bowl, and you have a beautiful and tasty dish! Enjoy!
SIMPLE AND DELICIOUS SUMMER BROCCOLI SALAD - LOW CARB
1 bag Trader Joe's Cruciferous Crunch Salad (Kale, Brussels Sprouts, Broccoli, Cabbage, & Red Cabbage)
1 container mini Heirloom tomatoes cut in half
¼ cup slivered almonds
⅓ cup olive oil
¼ cup balsamic vinegar
1 teaspoon salt
Mix olive oil, balsamic vinegar and salt in small bowl, put aside.
Pour salad mix, tomatoes and almonds in a large bowl.
When ready to serve, pour dressing over salad and mix well.
Yep, that's it!
About Momma Chef…
I am a mother of three active boys (ages 12, 8 and 5).  Although I often feel like I'm struggling with some aspect of parenting, my one sanctuary is the kitchen. My children like different foods and constantly request a variety of things. Over time, I figured out a way to make dishes they all love by developing easy, quick recipes. That led to the creation of my blog, 
Momma Chef
, for parents like me. My recipes are simple and delicious, using no more than six ingredients and under six minutes of prep time.  It will look like you've spent hours in the kitchen with help from Momma Chef. Connect with Momma Chef on 
Facebook
.