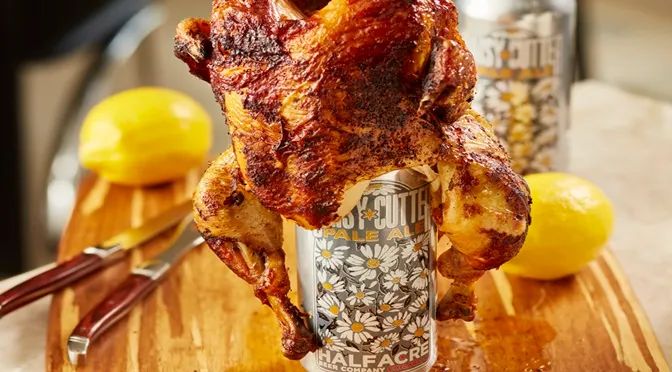 Momma Chef's Beer-Can Chicken
This article originally appeared on 
MommaChef.com
. It has been reprinted here with permission. 
Looking for simple and tasty recipes for you and your family?
 Momma Chef
 features dozens of delicious dishes featuring no more than six ingredients and requiring no more than six minutes of prep time. With the winter behind us, I am constantly looking for fun new recipes that give the feel of summer. That's how I started making my "Beer-Can Chicken."  I think the name speaks for itself. The first time I made it, I did not stand the can up properly and opened the oven to find the chicken on its side cooking in a pile of beer. Ha! But it still tasted great! Just make sure yours is stable and check on the chicken after putting it in the oven. The beer evaporates into the chicken while it's cooking, making it unbelievably moist and tasty. Enjoy!
Momma Chef's Beer-Can Chicken
1 whole chicken, approx. 4 lbs. 2 tablespoons Lawry's Seasoning Salt 2 tablespoons McCormick Rotisserie Chicken Seasoning 1 tablespoon olive oil 1 can of beer
Preheat oven to 400 degrees.
Rub chicken inside and out with oil, seasoning salt and Rotisserie seasoning.
Pour ½ of the beer can into the bottom of a baking pan.
Place the open beer can with the remaining beer in the center of the baking pan and carefully place the chicken over the beer can with the legs on the bottom. (See photo for correct positioning.)
Bake uncovered for 1 hour 30 minutes, making the sure chicken is still standing up over the beer can.
Use the sauce from the bottom of the pan for the gravy.
Tips:
I like to bake the chicken in Costco's small disposable pan.
If you use a larger chicken, make sure to adjust the cooking time. On average, allow 20 minutes of cooking time per pound.
About Momma Chef…
I am a mother of three active boys (ages 12, 8 and 5).  Although I often feel like I'm struggling with some aspect of parenting, my one sanctuary is the kitchen. My children like different foods and constantly request a variety of things. Over time, I figured out a way to make dishes they all love by developing easy, quick recipes. That led to the creation of my blog, 
Momma Chef
, for parents like me. My recipes are simple and delicious, using no more than six ingredients and under six minutes of prep time.  It will look like you've spent hours in the kitchen with help from Momma Chef. Connect with Momma Chef on 
Facebook
.