Cook This: S'mores
Originally printed in the pages of Simply Family Magazine's March 2017 issue. Never miss an issue, check out SFM's digital editions, here! 
article and photos by Carole Davenport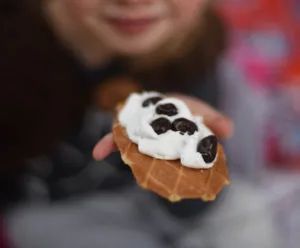 As a young Girl Scout, my memories include sitting around the campfire after devouring a tasty sloppy joe dinner in the mess hall. My friends and I would stand in line for our nightly fix of S'more ingredients: 4 marshmallows, 8 graham crackers, and 1 milk chocolate bar. Some preferred the sweets without the benefit of roasting the marshmallows over the fire, while I chose to give away half my marshmallows and my Hershey bar. (I was a dark chocolate aficionado way back then.)
S'mores have been an ageless camping fad dating back to the early 1920s. The recipe was published in the Girl Scout's Tramping and Trailing manual in 1928, a publication preparing girls for their summer camp adventures.
For those of us who like the latest and greatest, S'mores being no exception, there are gobs of gourmet - even healthy - recipes for us. The only common ingredient to a s'more seems to be the roasted marshmallow. Even this humble pillow of sugar and air is available in many flavors and colors, adding still more variety to your choice of s'more dessert.
Add fruit, Nutella, or Baileys Irish Cream, to turn ordinary into special. Swap the traditional graham cracker for a crispy butter cookie, or an 'Eggo' waffle. Waffle cone butter cookies, toasted marshmallows, and dark chocolate covered raisins are a family favorite. An Eggo waffle, slightly toasted on the grill, buttered, with a toasted marshmallow on top takes breakfast to a whole new level. Add a splash of maple syrup or add a few drops of Torani Dark Chocolate Sauce (as pictured).
Let your imaginations go wild as you gather ingredients for your own camp menu.
Psst! Check back in for a behind-the-scenes look at how the putting together of this column played out...In the middle of winter. Think tricky and comical. 
about the author...Carole Davenport is a Montana travel writer photographer and content specialist on her blog https://divineviewtraveler.wordpress.com. She is co-authoring a soon-to-be-released cookbook #bitterrootfresh with her two daughters, filled with their original recipes and photographs.