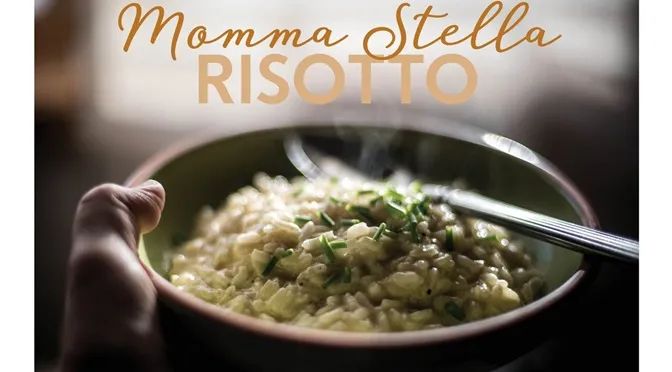 Cook This: Momma Stella Risotto
Originally printed in the pages of Simply Family Magazine's March 2017 issue. Never miss an issue, check out SFM's digital editions, here! 
article and photos by Carole Davenport
Spring is right around the corner! Here in Montana, after a long, cold, and snowy winter like we've had, those words are a comfort to more than just our flip-flop-yearning toes. This departure from the hearty, cold-weather-food-recipes we tend to pack away with the snow shovel, leaves me wanting to give appropriate 'Auld Lang Syne' tribute to my favorite comfort foods--like this amazing Risotto recipe handed down to me from an elderly Italian neighbor, many years ago.
Risotto is the icon of Italian foods, known for its firm, creamy and chewy texture that blends so perfectly with the rich flavors of broth, butter, cream, and cheeses. Much like infamous Mac and Cheese, the delightful and tasty Risotto is a culinary treat year-round. But who wants to be standing over the heat of a stove for 20 minutes stirring, when the warm spring sun beckons? I like to savor our favorite winter meals in March, before moving on to the handy patio BBQ grill for the next five months. Soups, Stews, and Risotto!
The mama of all comfort foods is my Momma Stella Risotto. This is easy to make and will be a family favorite, guaranteed! With cooking time at 45 minutes, we'd better get started for this winter's end recipe that serves 8.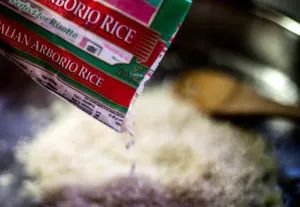 INGREDIENTS:
2 cups Italian Cheese Blend of Parmesan, Romano and Asiago, grated
3 cloves fresh Garlic, finely diced
1 cup fresh Onion, diced
1 Tablespoon Olive Oil
1 ½ Tablespoons Butter
16 oz. bag of Arborio Rice
7 cups Chicken Broth
1 ½ cups Heavy Cream
2 Tablespoons Chives, chopped
Salt & Fresh Ground Pepper, to taste
Heat a large skillet over medium heat to melt butter. Add olive oil, garlic, and onion to sauté until onion is slightly golden. Add the Arborio rice and stir-in to coat each seed thoroughly. While stirring constantly, add 1 cup of chicken broth and continue to stir while the rice absorbs the liquid. When the liquid is gone, add another cup of broth, continuing to stir. Repeat this process, adding broth one cup at a time while stirring constantly. Don't stop stirring! It'll take about 20 minutes for the rice to be completely cooked (no longer crunchy) and the stirring is crucial to this process.
When all the broth is absorbed and the rice is cooked, slowly pour in the heavy cream and mix well. Add the cheeses and stir thoroughly. Add salt to taste.
I like to serve in individual bowls, so dish up then grind plenty of pepper over the top and sprinkle with the chives. Call the family to the table as you savor this steaming Risotto that might make you reconsider whether you're actually ready to leave winter and its hearty meals behind.
A warm spinach salad served with crusty Italian bread makes a delicious accompaniment to Momma Stella's Risotto. Get the recipe here; Bon Appetit!
about the author...Carole Davenport is a Montana travel writer photographer and content specialist on her blog https://divineviewtraveler.wordpress.com. She is co-authoring a soon-to-be-released cookbook #bitterrootfresh with her two daughters, filled with their original recipes and photographs.