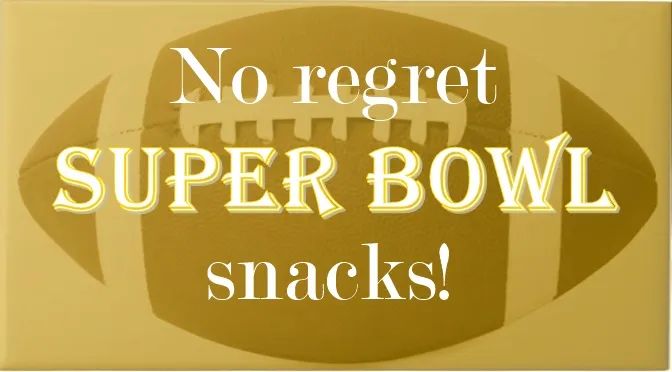 No regret Super Bowl snacks
Typically the Super Bowl rivals Thanksgiving Day itself as a high-calorie, high-intake day… which is only compounded if your team doesn't win! #NotMySuperBowl
Let's face it, nobody is going to buy into Zucchini Fries or Lettuce Wrapped White Beans when the testosterone is flowing and cheering is wild and unrestrained. So rather than completely smashing the whole snack food concept, let's look at a few items you can sneak in to lower the processed food calories and beef up the nutritional content, without hurting the flavor!
Taco bars are popular, and a great way to increase protein and work in some veggies. Bowls of shredded lettuce or cheese, diced tomatoes or avocados or onions, drained black beans, plain Greek yogurt instead of sour cream, and corn as well as flour tortillas (crispy and soft) will fit the bill! Don't forget to have a few "heat levels" of salsa on hand. Try this versatile recipe for taco meat, white or dark:
To Start - 
Slow Cooker Taco Meat
(For each pound of meat, or about 3-4 servings)
1 pound meat (chicken breast, or ground beef or venison)
1 cup broth (chicken or beef)
3 tablespoons taco seasoning
1 can Rotel tomatoes and green chilies (or 1 cup of salsa)
Minced garlic (optional)
Place ingredients in slow cooker.
Cook for 6-8 hours on low.
Shred with fork or mince up to serve.
To Buy -
Check out a local health foods store for the following options:
Hummus Dip with Baked Pita Chips
Kale Chips
Organic Tortilla Chips & Salsa
Guacamole
Nuts (especially almonds!)
Bagged Popcorn
Jerky
Carrots, celery, bell peppers, grape tomatoes, broccoli and cauliflower florets for dipping
Jars of salad dressing for above
Sweeties tangerines, small apples, and bananas
To Make -
Spinach-Artichoke Dip
1 (14 oz) jar artichoke hearts, drained
1 (10 oz) bag fresh baby spinach
3-4 garlic cloves, minced
½ cup parmesan cheese, grated
1 cup Greek yogurt (plain)
1 tablespoon lemon juice
Sauté artichoke hearts, spinach, and garlic until spinach is wilted, 1-2 minutes max.
Let cool 5 minutes.
Add to bowl with remaining ingredients and mix together just until combined.
Season with salt and pepper to taste.
Duck Popper Delights
½ pound cream cheese
2 tablespoons Cajun Seasoning
1-2 pounds duck breast, sliced thin
Zesty Italian Salad Dressing
Jalapeno peppers, sliced (fresh or from a jar)
Green onions, sliced (optional)
1 pound bacon (peppered is very good!)
Mix Cajun seasoning and cream cheese together in a small bowl, cover and refrigerate overnight.
Place slices of duck breast between plastic wrap, gently pound thin.
To each slice of duck, place one tablespoon Cajun cream cheese, one or two jalapeno slices, a sprinkle of green onion. Roll up snuggly.
Wrap HALF a slice of bacon around each duck popper and secure with toothpick.
Marinate duck poppers in the Italian dressing for at least 2 hours.
Spray broiling pan with nonstick cooking spray; turn oven on to medium broil.
Broil until bacon is done (watch closely!).
I'm pretty sure that slow cookers were invented for Super Bowl Sunday. They are terrific for working away quietly while the cook is otherwise occupied.
Slow Cooker Buffalo Chicken Wings or Drums
8-10 chicken drum sticks or around 20 chicken wings
1 cup Frank's Red Hot Sauce
½ cup dry wine (or chicken broth)
¼ cup oil (avocado or EVOO, ideally)
3-5 garlic cloves, minced (or 1-2 tablespoons garlic powder)
3 tablespoons fresh parsley, minced (or 2 tablespoons dry parsley)
Place meat in one-gallon Ziploc bag. Add ingredients and massage meat to coat thoroughly.
Refrigerate overnight.
Transfer all contents of bag to slow cooker.
Cook on low for 3-4 hours, or high for 2 hours.
Finger Food Little Smokies… aka The Easiest "Recipe" on The Planet
(Totally not healthy… but it will quickly feed a crowd and is not the worst thing ever)
1 package Little Smokies mini sausages
1 jar BBQ sauce of choice
Combine in crockpot.
Cook on low 4 hours.
French Dip Elk Sliders
3-4 pound elk roast
1 can golden mushroom soup
1 packet Onion Soup Mix, OR:
1 tablespoon dry onion flakes
1 tablespoon onion powder
½ teaspoon garlic powder
¼ teaspoon black pepper
2 cups beef broth or stock
Slider buns of choice
Cut roast into quarters, place in crockpot.
Cover with soup and soup mix. Do not dilute with water!
Cook on low for 6-8 hours.
Remove roast and shred with fork.
Spoon appropriate amount onto slider buns (try sourdough!).
Ladle juice from crockpot into individual dipping bowls.
Have a great time enjoying fun foods with good friends and family while you watch the big game!