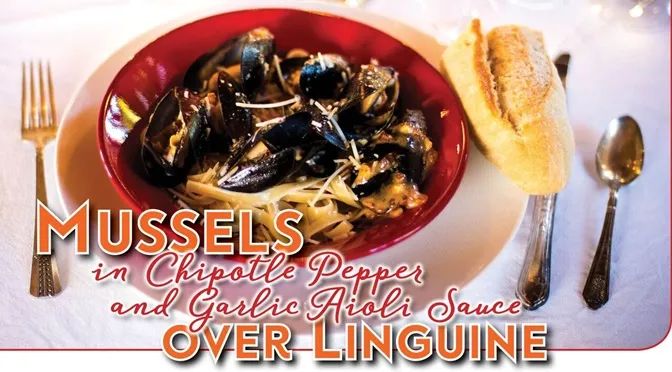 Mussels in Chipotle Pepper and Garlic Aioli Sauce over Linguine
Originally printed in the pages of Simply Family Magazine's February 2017 issue. Never miss an issue, check out SFM's digital editions, here! 
Article and photos by Carole Davenport
According to the Old Farmer's Almanac weather prediction for Valentine's Day in Billings, it's not just going to be a typical cold winter evening, but a very snowy one! As a Montana girl, I've lost count of the number of romantic dates where I'd gone the extra mile in preparation to look sexy and gorgeous—only to have those few minutes of snowfall on my newly coiffed hair and makeup go south with the melting snow for the rest of the evening! Not to mention, freezing toes as I hurried through frozen parking lots and precariously slid along crusty, wet sidewalks in my cute heels, only to stand in line at our favorite restaurant. Fighting the crowds during one of the busiest dining out evenings of the year. Oh yeah, I really want to do that again … not! Let's talk smart, girls!
Picture this: you in your most sexy outfit, wearing those sweet, impulsively bought shoes (or barefoot!) and your guy in his favorite special attire (date, not hunting!) spending 30 minutes in the kitchen preparing a gourmet dinner together, glass of wine in hand, relaxing and enjoying each other.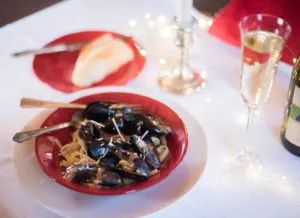 Mussels have long been one of our favorite meals out. Who doesn't love the full-flavor found in each tasty bite of this shellfish? It's not a common make-at-home dish, which makes this recipe extra-special for this 'weather be cursed, we're staying in' party menu. Send the kids to a friends house or have them sleep over at grandma's to keep them away from your romantic setting of linen, candles, and music. (Or maybe you'd prefer a cozy fireside picnic on the floor?) Whatever setting you choose my recipe sets the tone for your romantic dinner with a spicy kick of chipotle. It's easy to make, mouth-watering good, and as the photos attest, allows for a beautiful presentation. Slurping the accompanying buttery linguini noodles—well, you get the picture.
If you have time, make the sauce earlier in the day or the evening before. Remember, making this meal together is half-the-fun!
Chipotle Pepper and Garlic Aioli Sauce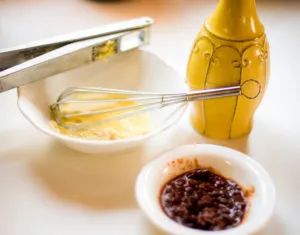 INGREDIENTS
2 garlic cloves
1 large egg yolk
1 teaspoon lime juice
1 teaspoon vinegar
1/2 teaspoon Dijon mustard
1/4 cup canola or olive oil
1/4 cup chopped canned chipotle peppers or 1 teaspoon chipotle pepper powder
dash of paprika
PREPARATION
Mince and mash garlic and a pinch of salt to a paste using a large heavy knife. Whisk together
yolk, lime juice, vinegar, and mustard in a bowl. Add a few drops of oil at a time to yolk mixture,
whisking constantly until all oil is incorporated and mixture is emulsified. (If mixture separates,
stop adding oil and continue whisking until it comes together. Then resume adding oil.)
Whisk in garlic paste, paprika, and peppers. If aioli is too thick, whisk in 1 or 2 drops of water.
Chill covered, until ready to use.
Makes ½ cup
Mussels over Linguine Bowl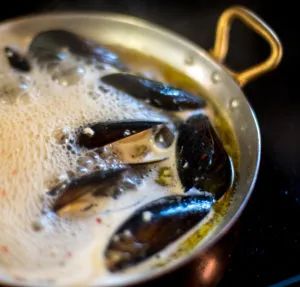 INGREDIENTS
16 (8 per person) Fresh or Frozen Mussels in the shell, rinsed and dried
2 tablespoons butter
2 garlic cloves, minced
1 1/2 cup white wine
PREPARATION
In a small, heavy-bottomed skillet, gently sauté garlic in butter over medium heat for 1 minute. Carefully add the mussels and wine. Allow this to simmer for 10 minutes while the mussel shells open.
Add the Chipotle Pepper and Garlic Aioli Sauce to the mussels in the pan, stirring gently to allow the flavors to mix and the mussel meat to be coated.
Prepare linguine according to the package directions. Drain well. Swirl into large, individual serving bowls. Ladle mussels with all the sauce over the linguine. Sprinkle with freshly grated Parmesan cheese. Serve hot and steamy with some fresh, warm baguette bread and your favorite wine.
about the author...Carole Davenport is a Montana travel writer photographer and content specialist on her blog https://divineviewtraveler.wordpress.com. She is co-authoring a soon-to-be-released cookbook #bitterrootfresh with her two daughters, filled with their original recipes and photographs.