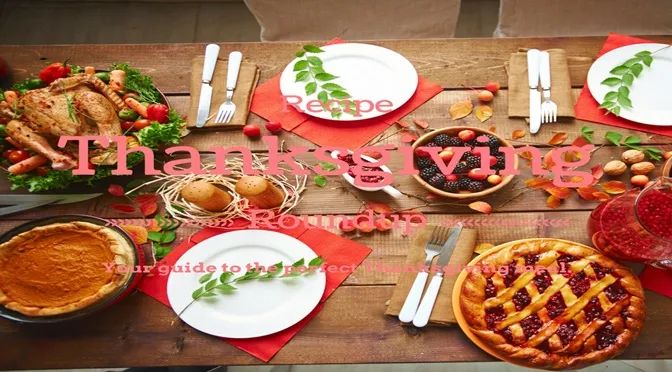 Thanksgiving Recipe Roundup: Your Guide to the Perfect Thanksgiving Meal
November 15, 2016 | by jessica tomes
Thanksgiving. A food lover's favorite time of year. Do you have your Thanksgiving menu finalized? Here's what I'm planning to cook up…The Main Course: A Moist and Delicious Bird
Let's start with the big shebang! This recipe is adapted from delightfulemade.com. My mom always swore by her turkey brine — she said it was the only way to end up with a delicious, moist bird. When I saw this recipe, I knew I had to give it a try. Erin (from Delightful E Made) says you need to take your turkey out of the freezer by the Sunday before Thanksgiving (Thursday). You can check the turkey packaging for this info also. The first step is to prepare the "magical" brine. She says you can either purchase a ready-to-go brine from somewhere like Williams-Sonoma, or you can make your own. The primary ingredient is salt, along with other seasonings like rosemary and sage. She advises customizing the brine to your own personal tastes by including things like orange rind, cloves, onion, garlic, and even chopped apples. The brine tenderizes the meat, and also gives it a delicious flavor. Boil the brine, to dissolve all the salt. Then, after allowing it to cool completely, add water. (Check the packaging instructions.) You can also add apple cider, beer, or even wine (my favorite). Once cool, pour the brine over the turkey, into a large brining bag. (You should be able to find one at your local grocery store. Don't be afraid to ask for help!) Seal the brining bag, and refrigerate for 12 to 24 hours. (Thus the need to defrost on Sunday!)
Now we're ready to prepare and roast the turkey. Step one is to rinse off all of the brine. Rinse it well, inside and out — you can toss the brining bag at this point. Transfer the turkey to a roasting pan, and pat it dry with paper towels. Drizzle the turkey with olive oil, and rub it all over the skin. Lightly season the turkey skin with the seasoning of your choice — you can use poultry seasoning if you want, or give Erin's suggestion a try: "a light sprinkling" of rosemary, sage, and pepper. The bird is ready for the oven! Cooking time will depend upon weight. There should be a suggested cooking time on the turkey packaging. Your meat thermometer is also your friend. It needs to reach 160 degrees. Once done, allow the turkey to rest for 20-30 minutes before carving. Garnish as desired. I can't wait to try this turkey recipe this year! But what's a turkey, without the fixings? Onward, we march! (Wearing our holiday stretchy pants.)
All the Turkey Trimmings…
I LOVE stuffing — I cannot even tell you. This stuffing recipe from Cooking Classy is crockpot friendly. It really doesn't get much better than that. And it's homemade! If you give it a try, you will have to let us know what you think! I am salivating just thinking about it. Why can't it be Thanksgiving every day?
Here's another homemade winner. Skip the canned crap, and make your own Green Bean Casserole from scratch. This one is from Sally's Baking Addiction. In my humble opinion, you simply can't have Thanksgiving without Green Bean Casserole…
This Ruth's Chris Sweet Potato Casserole is to DIE FOR. I make this recipe every year now. My husband prefers regular mashed potatoes, but I am all about the delicious, orange-y goodness. (Maybe because I grew up eating them every Thanksgiving.) One (personal) edit to this recipe from Noshing With the Nolands: I like to mix the nuts into the potatoes, and then cover the top of the casserole dish with marshmallows, before baking in the oven. Can't forget those marshmallows! (I'm very generous with the marshmallows. Just saying.)
Don't Forget Dessert!
I made this recipe, (Mostly) Homemade Chocolate Bourbon Pecan Pie, for Thanksgiving last year. It was ridiculously easy to make, and UH-MAZING! I will definitely be making this one again. Chocolate, bourbon, and pecans: what's not to love? Come on now, people. Plus you can never have enough pie for Thanksgiving.
What are your Thanksgiving recipe must-haves? We'd love to hear! Feel free to share in the comments section below, and tag us in your pics when sharing to social media! Use the hashtag #sfmthanksgiving. Happy holidays, friends! Remember: Thanksgiving calories don't count. Wink. So enjoy yourself. We'll worry about those extra pounds in the New Year…
About the author…After three blissful years in the Treasure State, Jessica recently moved back to Houston, Texas with her hunky husband and her three precious little girls, Savannah Leigh, Emma Kate, and Brooklyn Olivia. Jessica is a small business owner with a degree in Broadcast Journalism, and a nerd-like love for political science. She is passionate about writing, marketing, social media management, and this wonderfully beautiful mess we call parenthood.