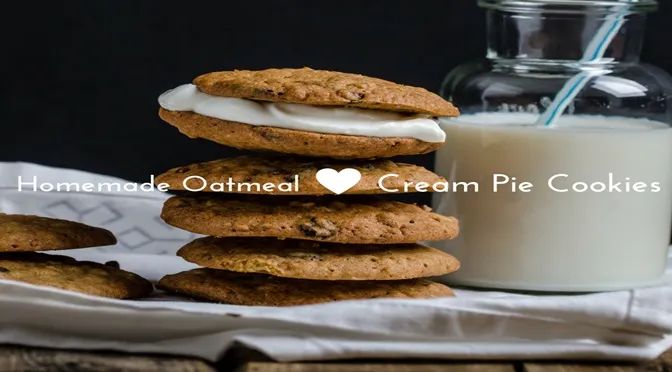 Delish Desserts: Homemade Oatmeal Cream Pie Cookies
Adapted from
www.mybakingaddiction.com
Please don't hate me (or stop reading), but at this point in the season I am pumpkined-out, fortunately we're on the downhill slide. I can't believe I am saying this; it's not that I don't love that delicious orange vegetable, but sometimes a gal just needs something a little different. I am also a huge fan of oatmeal, especially in the Fall/Winter. And who doesn't love an oatmeal cream pie? So when I stumbled across this recipe, I just knew I had to make it. Three words: SO WORTH IT.
Here's how you make them.
Homemade Oatmeal Cream Pie Cookies
Preheat your oven to 350 degrees. Line a baking sheet with wax (or parchment) paper. In a mixing bowl, cream together one cup (softened) butter, three-fourths cup brown sugar, and half a cup granulated sugar until light and fluffy. Add in two large eggs, and one generous teaspoon of vanilla extract. In a medium bowl, combine one-and-a-half cups flour, one teaspoon baking soda, one teaspoon ground cinnamon, and a half a teaspoon salt. Slowly add the dry ingredients to the wet ingredients (in the bowl of the mixer). Add three cups oatmeal to the mixture, and mix until just combined. (Optional: throw in some raisins and/or chocolate chips.) Use an ice cream scoop to scoop large cookies onto the prepared baking sheet. (This should help keep the cookies relatively the same size.) You will want to make sure you bake an even number of cookies, so that you can turn them into sandwiches. Of course if you have extras, I'm sure you can think of something to do with them. Wink. Bake for 13 to 15 minutes, or until golden brown. Allow cookies to cool completely.
While they are cooling, you can make the cream filling.
Beat three-fourths cup butter in a mixing bowl on a medium-high speed for about five minutes. This will ensure that your buttercream is extra fluffy. Turn the speed down to low, and gradually add two-and-a-half cups confectioner's sugar (powdered sugar) to the bowl; combine well. Add in one teaspoon vanilla extract and one tablespoon milk. Turn the mixer back up to a medium-high speed, and beat for an additional three to five minutes. Spread the cream filling mixture between two cookies to make a sandwich. Leftover cookies (that's hilarious right?) should be good for up to three days in the fridge in an airtight container. Enjoy! Calories during the holiday season don't count, right? That is what I am telling myself anyway.
About the author…After three blissful years in the Treasure State, Jessica recently moved back to Houston, Texas with her hunky husband and her three precious little girls, Savannah Leigh, Emma Kate, and Brooklyn Olivia. Jessica is a small business owner with a degree in Broadcast Journalism, and a nerd-like love for political science. She is passionate about writing, marketing, social media management, and this wonderfully beautiful mess we call parenthood.