Recipe: Homemade Pumpkin Poptarts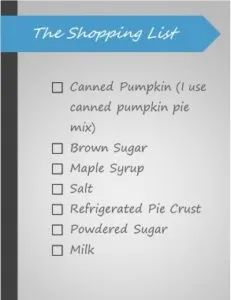 Adapted from
www.highheelsandgrills.com
.
Growing up, my mom was a bit of a health nut. We were basically clean eaters (lots of fruits and veggies, no processed foods) before eating clean was even cool. We almost never had junk food in the house, and I really didn't know what fast food was until I got to college. Hello, late night trip through the McDonalds drive through. Hashtag mind blown. This is going to sound crazy, but I really don't ever remember eating poptarts.
Until recently. When I gave birth to baby number three and ate about a billion and one of those delicious, delectable, blue poptarts (the nurses kept sneaking them to me on rounds). I was HOOKED. I mean seriously, what have I been missing all these years? Now I realize poptarts probably aren't the healthiest choice. And husband refused to buy them for me from the grocery store. What a punk, right? So when I came across this recipe for homemade pumpkin poptarts on Pinterest, I knew I had to give it a try. And let me tell you, this recipe does not disappoint…
Here's how you make them.
Preheat your oven to 375 degrees. In a medium sized bowl, mix together a half a cup canned pumpkin (I actually used canned pumpkin pie mix), one-third cup brown sugar, a teaspoon of maple syrup, and a dash of salt. Combine well, then set aside. Next, with a rolling pin, roll a refrigerated pie crust out onto a floured surface. You're trying to make a rectangle — then cut the rectangle into eight, equally sized rectangles. Place a rectangle on a baking sheet, and spoon a dollop of pumpkin mixture onto the center — careful to leave room for crimping. Top with another pie crust rectangle, and press down on the edges. Crimp with a fork. Repeat this process three more times. Bake for nine to 11 minutes, until edges are lightly browned. While the poptarts are baking, mix together all the ingredients for the glaze: a half a cup powdered sugar, a teaspoon of maple syrup, a tablespoon of milk. Allow the poptarts to cool, before brushing the glaze over the tops. Allow it to harden, and then dive in!
Pumpkin perfect.
About the author…After three blissful years in the Treasure State, Jessica recently moved back to Houston, Texas with her hunky husband and her three precious little girls, Savannah Leigh, Emma Kate, and Brooklyn Olivia. Jessica is a small business owner with a degree in Broadcast Journalism, and a nerd-like love for political science. She is passionate about writing, marketing, social media management, and this wonderfully beautiful mess we call parenthood.