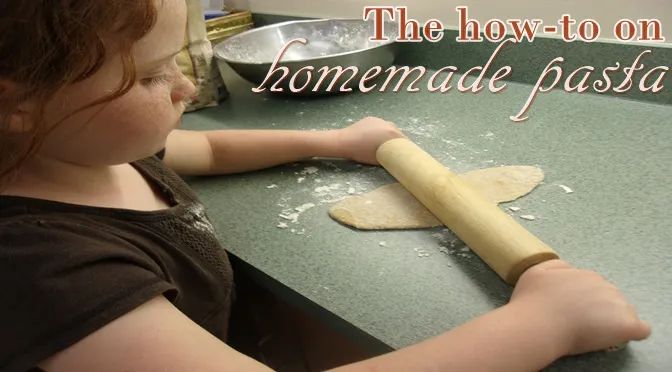 Homemade Spaghetti Sauce and Noodles
DIY Ravioli: A Family Experience originally appeared in SFM's September 2016 issue, get that recipe, here. Following are Candi's recipes for Spaghetti Sauce with Italian Sausage, Homemade All-Purpose Italian Egg Noodles, and Gluten-free Egg Noodles.
Spending time in the kitchen with Mom and Grandma used to be a rite of passage for girls growing up. Learning to make tasty meals using a variety of ingredients and then, serving them with love. Billings' mom Candi Haidle recently taught a group of girls and women how to make pasta from scratch. "The first ingredient is love," she said.
Our busy, technology-dependent, rushed-meal society rarely makes time for those hours in the kitchen. We subsequently miss out on the laughter and mistakes turned into lessons. These family traditions are a blessing, inherited with a bit of flour on our cheek and a smile in our hearts. There is soul in food, meaning and emotion in meals made and taken together. Spend an hour in your kitchen with your kids, making memories, strengthening bonds, and working side-by-side to present your family meal. Go ahead and give these recipes a try!
Spaghetti Sauce with Italian Sausage
2 pounds ground Italian sausage (mild or hot)
1 small onion, chopped
3 garlic cloves, minced
One or two 28-oz can diced tomatoes
Two 15-oz cans tomato sauce
Two 6-oz cans tomato paste
2 cups water
3 teaspoons (or to taste) Italian seasonings of your choice
2 teaspoons dried parsley
1-tablespoon brown sugar
1-teaspoon (or to taste) salt
1/4 – 1/2 teaspoon crushed red pepper flakes
1/4-teaspoon fresh ground black pepper
1/4 cup red wine or port (optional)
1-pound thin spaghetti noodles
Parmesan cheese (for garnish)
Directions: In a large, heavy stockpot, brown sausage, breaking up as you stir. Add onions and continue to cook until onions are softened. Add garlic, diced tomatoes, tomato sauce, tomato paste, and water. Add seasonings: parsley, brown sugar, salt, crushed red pepper, and black pepper. Stir well and bring to a slight boil. Stir in red wine. Simmer on low, stirring occasionally, for at least an hour. Cook ravioli or spaghetti noodles. Spoon sauce over drained noodles and sprinkle with Parmesan cheese.
Homemade All-purpose Italian Egg noodles
1-cup all-purpose flour
1-cup semolina flour (or just more all-purpose)
1 teaspoon of salt
3 eggs
2 tablespoons of olive oil
3 tablespoons of water
Directions:
1. Mix together dry ingredients. Make a well for the eggs, oil and water; add them to the well.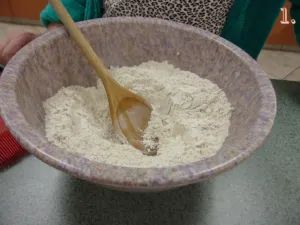 2. Gradually pull flour from the walls of the well to make a slurry in the egg mixture.
3. Continue to add the flour from the bowl until you've formed a SOFT dough that doesn't stick to your fingers. (It's alright if you don't use all the flour.)
4. Place dough on lightly floured counter top and knead for 5-10 minutes.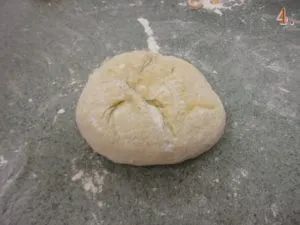 5. Cover dough and let rest for 30 minutes.
6. Cut dough into quarters and taking one portion, roll out until as thin as a dime. Be careful it doesn't stick to the surface. Sprinkle more flour as needed and keep on rolling.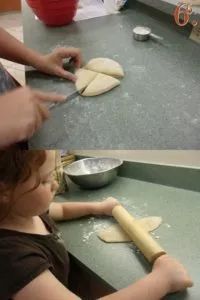 7. Cut into whatever shape you'd like. Repeat this process with all four quarters of dough.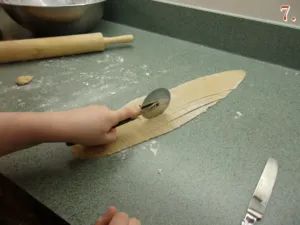 8. This recipe works well as a flat egg noodle, bow tie, lasagna noodle, or shell.
9. Boil in salted water for 3-4 minutes or until al dente. Serve with your favorite sauce. Enjoy!
Gluten-free Egg Noodle
1 to 1 1/3 cup Gluten-free flour of your choice*
2 eggs or 4 egg yolks
1 teaspoon of salt
1 teaspoon of oil
1 teaspoon of water
Directions
Beat together eggs, salt, oil, and water.
Gradually add flour until it forms a soft dough. Do NOT worry if you don't use all the flour. Too much flour makes dough tough.
Roll out dough on lightly floured surface until as thin as a quarter or tortilla.
Cut long noodles with a pizza cutter.
Place noodles in a gentle boil in salted water or broth until al dente.
*Because your choice of flour will affect the density of the noodle, you may cook anywhere from 3-11 minutes.
About the author… TJ Wierenga is a homestead-loving Billings wife and homeschooling mom of 2 middle-schoolers. Proverbs 31:14