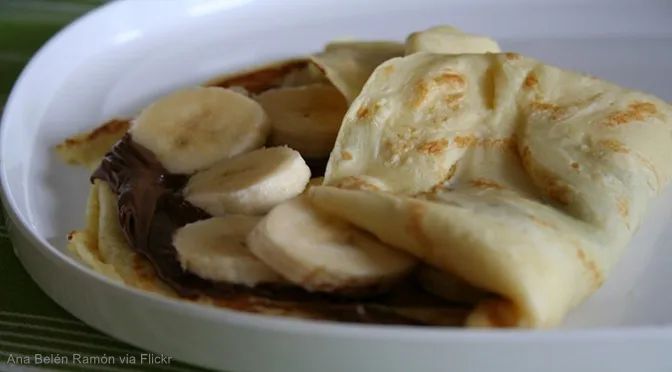 Cook up some Crepes
A crêpe or crepe is a type of very thin pancake easily made with ingredients readily available in most kitchens.  Crêpes are served with a variety of fillings, from the simplest with only sugar to flambéed crêpes Suzette or elaborate savory toppings.  See how easy it is to make crepes with the following recipe from the kitchen of Laurel mom, Rachel Lesnik. You'll need just 6 common ingredients for these French-style pancakes.
Saturday Morning Crêpes
recipe courtesy of Rachel Lesnik
Ingredients:
1 cup all-purpose flour
1 1/2 cups milk
2 eggs
1 Tablespoon cooking oil
1 Tablespoon sugar
Optional: Nutmeg and Cinnamon to taste
Optional: Nutella (spread on crepes before serving).....our boys call this "dippy"
Directions: Combine everything except the Nutella in a bowl. Beat with mixer. Pour 1/4 cup of the batter onto hot griddle, spread thinly and cook till crepe is lightly browned. Flip crepe and cook other side till lightly browned as well. Spread Nutella over half of the crepe. Fold in half and then half again. Serve immediately. Makes approximately 12 crepes.
Note: For gluten free option, we use 1 cup Maninis Gluten Free All Purpose mix. For dairy free option, use 1 cup coconut milk and 3/4 cup water in place of the milk.
From the pages...
Take a peek at the Home Section of Simply Family Magazine's March issue for a look at the Lesnick family's kitchen remodel!