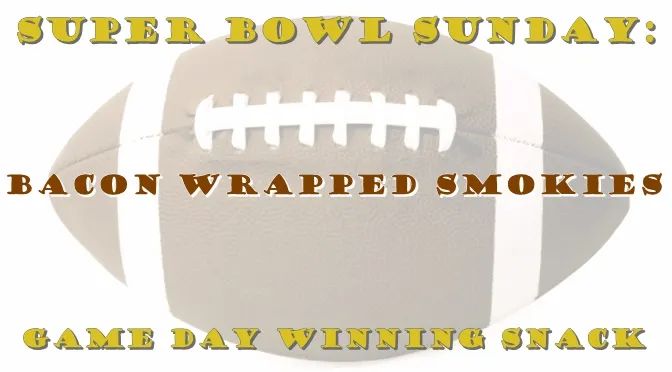 Super Bowl Sunday: Game day winning snack
It doesn't matter which team you're rooting for (or if you're like me and don't even know who's playing), there's one thing we can all agree on this Super Bowl Sunday…FOOD! No party would be complete without an awesome spread of finger foods, snacks and appetizers. This simple and delicious
three-ingredient recipe
is a great addition to the football festivities. The best part is, it involves bacon. Need I say more? Just be sure to make plenty because they will go really fast!
Bacon Wrapped Smokies
Ingredients:
1lb sliced bacon cut into thirds
1 14oz package lil' smokies
¾ Cup brown sugar
Directions:
Preheat oven to 325 degrees
Wrap each cocktail wiener with a piece of bacon and secure with a toothpick. Arrange on a large baking sheet. Sprinkle generously with brown sugar.
Bake for 40 minutes in preheated oven until the sugar becomes bubbly.
Helpful hints:
Make sure your bacon is cold. It is easier to wrap around the wieners this way.
If you're like me and like your bacon extra crispy, place the pan under the broiler for 2-3 minutes. This helps crisp up the cooked bacon. Make sure you watch them very closely as they can burn easily.
These are delicious as they are but if you're looking for something to dip them in, try the following sauce. *Measurements are approximate so make sure and tweak it to your taste.
Bacon Wrapped Smokies Dipping Sauce
Ingredients:
¼ Cup mayonnaise
¼ Cup barbeque sauce
2 Tablespoons brown sugar
Stir all three ingredients together in a small bowl until the brown sugar has dissolved and enjoy with the Bacon Wrapped Smokies.
Check out other great recipes, crafts, and more from Simply Stephanie, here!