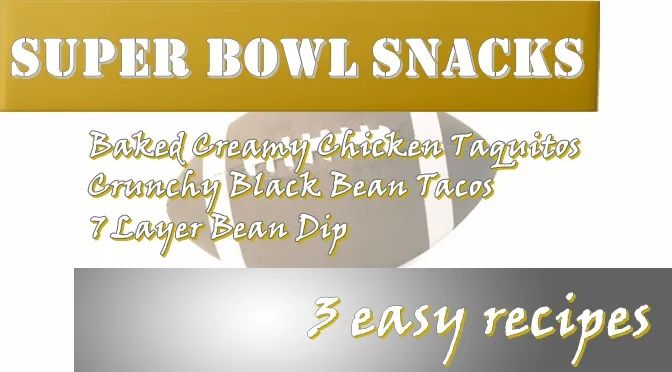 Super Bowl Snacks: 3 easy recipes
The big game is almost here and like most of us, ordering pizza, opening a can of cheese and a bag of chips for snacks has crossed your mind. Well step away from the Velveeta! These Mexican-style snacks are easy, nutritious, and delicious – the perfect additions to your Super Bowl party!
This first recipe is easy to make and can be made ahead and even frozen.
Baked Creamy Chicken Taquitos
Yields 12
Adapted from: Our Best Bites
Ingredients
1/3 cup (3 oz) cream cheese
1/4 cup green salsa
1 Tablespoon fresh lime juice
1/2 teaspoon cumin
1 teaspoon chili powder
1/2 teaspoon onion powder
1/4 teaspoon granulated garlic, or garlic powder
3 Tablespoons chopped cilantro
2 Tablespoons sliced green onions
2 cups shredded cooked chicken
1 cup grated pepper jack or Mexican cheese mix
small flour or corn tortillas
kosher salt
cooking spray or olive oil
For the filling-
Heat cream cheese in the microwave for about 20-30 seconds so it's soft and easy to stir.
Add green salsa, lime juice, cumin, chili powder, onion powder and granulated garlic.
Stir to combine and then add cilantro and green onions.
Add chicken and cheese and combine well.

Note: You can prepare up to this step ahead of time. Just keep the mixture in the fridge.
For the taquitos-
Heat oven to 425.
Line a baking sheet with foil and lightly coat with cooking spray.
If using corn tortillas, work with a few tortillas at a time and heat in the microwave, wrapped in damp paper towels until they are soft enough to roll without cracking. Usually 20-30 seconds will do it. If using flour tortillas straight from the fridge, it helps to warm them in the microwave so they're easier to roll.
Place 2-3 Tablespoons of chicken mixture on the lower third of a tortilla, keeping it about 1 inch from the edges.
Roll up tortillas and place seam down on a baking sheet, not touching one another.
Spray lightly with cooking spray, or lightly brush with olive oil and sprinkle lightly with kosher salt.
Place pan in oven and bake for 15-20 minutes or until crisp and the ends start to get golden brown.
Remove from oven and let cool slightly before serving.
If freezing: Place the taquitos on a baking sheet in the freezer and freeze until solid, then transfer to a large freezer bag. When ready to cook, preheat oven to 425 and place the frozen taquitos on a lined baking sheet. Spray with oil and sprinkle with salt. Bake for 20-25 minutes or until golden brown and crispy.
Next up is a bean dip that has the kids' and husband seal of approval!  
7 Layer Bean Dip
Makes an 8x8 pan (double for a 9x13 pan)
Ingredients-
1 15 oz can refried beans
1 4oz can sliced black olives
1 cup shredded cheese
3/4 cup salsa
1/3 cup sour cream
2 cups shredded iceberg lettuce
1 medium tomato diced
4 green onions sliced
Directions-
Start with spreading out the beans followed by the sour cream, salsa, cheese, lettuce, tomato and green onions. Tip: Put your sour cream in a ziploc bag and snip the corner and squeeze the sour cream out like you would frosting, zig zagging back and forth, for best coverage.
Cover and refrigerate until ready to eat. Serve with corn chips.
This next recipe can be made ahead and kept warm in the oven once fried.
Crunchy Black Bean Tacos
Yields 8
Adapted from: Endless Summer
Ingredients:
2 cups black beans, cooked
1 teaspoon cumin
1 teaspoon paprika
2 teaspoons dried cilantro (or 2 tablespoons fresh cilantro, chopped)
4-6 ounces pepper jack cheese, grated
2 Tablespoons olive oil
8 corn tortillas
Directions:
Lightly puree or mash black beans, mix with cilantro and spices.
Grate cheese and have it ready.
In a large non-stick skillet add a few tablespoons of oil and heat over medium-high heat.
Add one corn tortilla at a time and let each get hot in the oil for a few seconds.
Then add about 1/4 cup of the bean filling to one half of the tortilla.
Top with a sprinkle of grated cheese.
Using a spatula, carefully fold the tortilla over so it forms a shell.
Press down lightly on the tortilla so it holds its shape.
As the first tortilla cooks, move it to the side and do a second.
Cook each taco for about 3 minutes per side until they are nicely browned and crispy.
Serve tacos with toppings such as hot sauce, salsa, avocados, and sour cream.
*Note: corn tortillas are resilient to heat, don't worry about burning them.  Just cook them on each side long enough to get them really crispy!