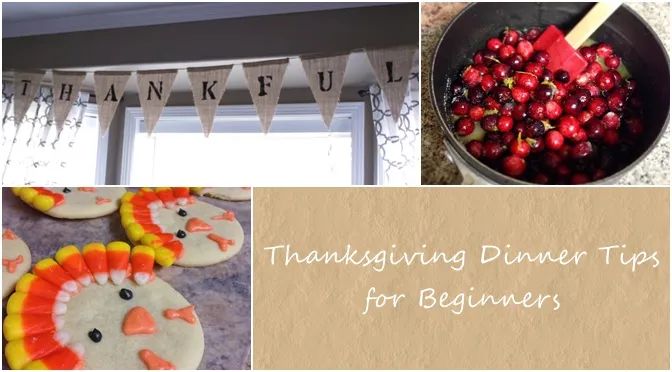 Thanksgiving Dinner Tips for Beginners
November 13, 2015 | by rebekah rae
Thanksgiving is just around the corner and with it brings the ever pending question, "What can I bring?" Face it, most people don't want to cook a full traditional Thanksgiving meal, save those few that REALLY have it all together or are über talented in the kitchen. For the past decade plus I've had the blessing of never having to cook a Thanksgiving turkey thanks to my awesome in-laws; and to be honest, I'm not a big turkey fan. That is, unless it's thinly sliced and going on my sandwich. But enough about that, Thanksgiving is truly about sharing, giving and spending time with those who are dear to you.
Thanksgiving has officially been stamped "Turkey Day" but that doesn't have to be what you eat, I actually grew up in a household that did prime rib on Thanksgiving because my dad didn't like turkey. As with every holiday, make it your own! So this Thanksgiving, for you beginners, take the opportunity to make it your own- if you want to make it a special pizza day (I actually had friends growing up who did that!), make chicken or even leave the cooking to someone else and order your Thanksgiving meal from your local store or restaurant, do it! But if you'd like to stay true to the traditional Thanksgiving meal and do some cooking, here are some tips and some of my favorite "what can I bring?" recipes. And remember, think ahead and prep, it makes for less stress and more enjoyment!
For those of you who are true beginners – a.k.a. just stepped into the kitchen and don't have a food mentor, then check out this BuzzFeed article on The Easiest Thanksgiving That Anyone Can Make. It's Thanksgiving 101 at its most helpful.
Below are three of my favorite Thanksgiving "share" recipes.
Orange Cranberry Sauce
(adapted from allrecipes.com)
This cranberry sauce not only pairs well with turkey but is really good on turkey sandwiches with veggies and cream cheese.
Ingredients:
1 12oz. bag of fresh cranberries
1 cup white sugar
1 cup fresh squeezed orange juice
Zest of 1 orange
Directions-
In a medium sized saucepan over medium heat, dissolve the sugar in the orange juice.
Stir in the cranberries, zest and cook until the cranberries start to pop (about 10 minutes).
Remove from heat and place sauce in a bowl. Cranberry sauce will thicken as it cools.
Grandmother's Buttermilk Cornbread
(Recipe from tastesbetterfromscratch.com)
This can also be made into muffins and is one of my family's favorites.
Yields 9 servings
Ingredients:
1/2 cup white sugar
1/2 cup butter
2 eggs
1 cup buttermilk
1/2 teaspoon baking soda
1 cup cornmeal
1 cup white or wheat flour
1/2 teaspoon salt
Directions-
Heat oven to 375 degrees F. Grease an 8 inch square pan.
Melt butter in large skillet. Remove from heat and stir in sugar. Quickly add eggs and beat until well blended.
Combine buttermilk with baking soda and stir into mixture in pan.
Stir in cornmeal, flour, and salt until well blended and few lumps remain.
Pour batter into the prepared pan. Bake at 375 for 30-40 minutes, or until a toothpick inserted in the center comes out clean.
Sausage Apple Stuffing
(From epicurious.com)
Second to plain baked sweet potatoes this is one of my favorite side dishes at Thanksgiving, though my family is Stove Top stuffing lovers.
Ingredients-
2 tablespoons vegetable oil
1lb bulk pork Italian sausage
1 cup diced celery
1 cup diced onion
1 cup diced peeled cored apple
2 garlic cloves, minced
1 tablespoon chopped fresh parsley (dried works as well)
2 teaspoons minced fresh sage (dried works as well)
1 bay leaf
8 cups 1-inch cubes French bread with crusts on (from 1-pound loaf)
1 cup whole milk
1 cup low sodium chicken stock
2 tablespoons butter, melted
3 large eggs, beaten to blend
Directions-
Heat oil in heavy large skillet over medium heat.
Add sausage; sauté until cooked through and brown, breaking into pieces with spoon, about 8 minutes.
Using a slotted spoon, transfer sausage to a large bowl.
Add celery and next six ingredients to sausage grease in skillet. Sauté over medium heat until vegetables are soft, about 5 minutes.
Discard bay leaf.
Add mixture to sausage.
Note: this can be made 1 day ahead. Cover and refrigerate. Reheat to lukewarm before continuing to the next step.
Preheat oven to 350. Grease a 9x13 glass baking dish.
In a large bowl toss together the sausage/vegetable mixture and bread.
In a separate bowl wish together milk, eggs, chicken stock and butter. Mix together wet ingredients into the bread sausage mixture and transfer to baking dish.
Bake uncovered until cooked through and brown, about 50 minutes.
About the author…Rebekah was born and raised in Washington and currently resides in Montana. She is a dance teacher, mother of two and creative soul. She enjoys cooking, baking and creating with fabric