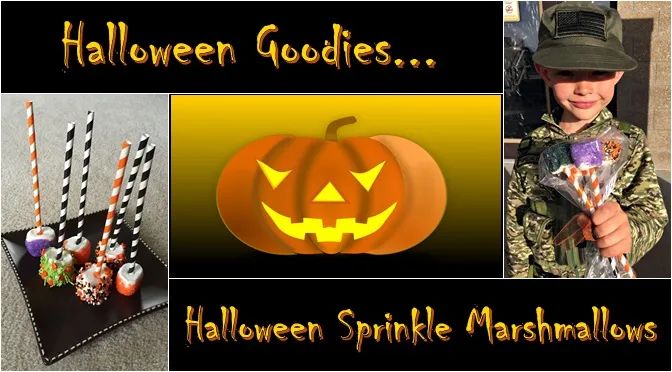 Halloween Goodies: Halloween Sprinkle Marshmallows
Recently I found myself in need of inspiration for treats to make for a Halloween Party Cake Walk - they specifically said it didn't have to be cake – and so I turned to Pinterest. Hoping for something cute, unique and easy to package while still being attractive in its packaging, I was nearly overwhelmed by the choices. Then I saw cuteness on a stick.....chocolate drizzled marshmallows and marshmallow ghosts. Wanting to tweak the idea a bit paired with being a mom to a boy who LOVES sprinkles, I decided on Halloween Sprinkle Marshmallows. When out shopping for ingredients I found some darling Halloween paper straws that would make the perfect substitute to lollipop sticks and really complete the look.
Halloween Sprinkle Marshmallows
Ingredients:
Marshmallows
Almond Bark
Sprinkles of any kind – I used a variety of Halloween ones.
Paper straws or sticks
Cellophane bags and ribbon of your choice.
Directions:
Pour sprinkles into shallow bowls.
Melt almond bark in a microwave safe dish according to the instructions on the package.
Insert paper straws or lollipop sticks into marshmallows.
Dip marshmallows into almond bark, scrape off excess as you don't want it too thick.
Roll marshmallow in sprinkles to coat as desired
Place on parchment paper lined baking sheet to set-up.
Once dry, place in bags and tie up with a beautiful bow.
Next time you need an idea for a party, individual treats or just some inspiration, remember that Pinterest is a great creative launching pad. You don't have to do it exactly like the original did it, you can embellish or leave things out to make it your own wonderful creation. You could even "pin" your creation to inspire others.