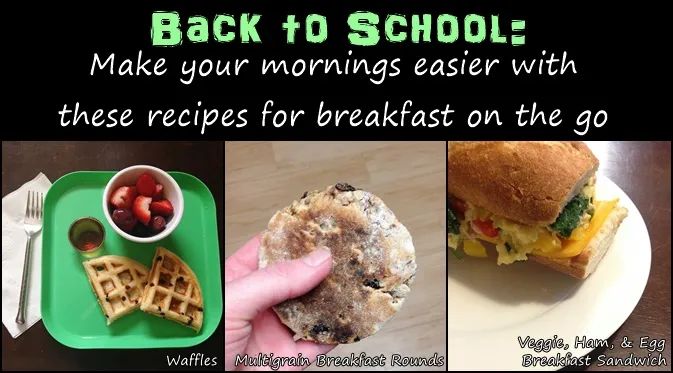 Back to School: Make-Ahead Recipes for Breakfast on the Go
The kids are
back to school
and the crazy morning mad dash out the door has resumed. Here are three of my favorite make ahead breakfast recipes that are perfect for crazy mornings and are sure to keep you and your kids fueled for the day ahead. I usually take a Sunday afternoon to prep these breakfasts so they are cooked and ready to grab during the week.
My kids, along with my husband love these waffles and since they're mostly carbohydrate, we like to pair them with a hardboiled egg and some fresh fruit.
Waffles (makes 5-6 large waffles)
(Recipe adapted from Better Homes and Garden's cook book)
Ingredients-
1 3/4 cups all-purpose flour (I like unbleached Wheat Montana)
2 tablespoons sugar
1 tablespoon baking powder
2 eggs
1 cup milk
3/4 cup buttermilk
1/2 cup butter, melted
1 teaspoon vanilla
1/3 cup mini chocolate chips (optional)
Directions-
In a large bowl mix together dry ingredients.
In another medium bowl mix wet ingredients then add to dry ingredients and stir just until combined but lumpy.
Follow waffle iron directions and cook until golden brown.
NOTE:  be sure to let these cool completely before storing them in the refrigerator. I like to put mine in gallon sized ziplock bags and use wax paper between each waffle to prevent them from sticking together.
Pop in the toaster before serving.
This next recipe is 60+ years old handed down to me from my husband's great grandma. This past spring I revisited the recipe and tweaked to resemble the much loved Ozery Bakery Breakfast Rounds. This recipe is all about taste and feel so add and subtract as you like.
Multigrain Breakfast Rounds (makes 8-10)-
(Recipe by: Rebekah Rae)
Ingredients-
1/4-1/3 cup sugar
2 tablespoons butter
1 egg
1/2-3/4 cup milk
2 cups flour (I like to do 1 cup all-purpose and 1 cup whole wheat)
1 teaspoon baking powder
1/8 teaspoon baking soda
1 teaspoon cinnamon
3 tablespoons milled flax seed
1 1/2 tablespoons whole flax seeds
1/3 cup dried fruit (raisins, craisins etc)
1/4 cup chopped walnuts
OTHER-
2-3 inch round cookie cutter
Directions-
Cream together sugar and butter.
Add liquid ingredients and stir on low until combined.
Add dry ingredients along with fruit and nuts, mix until combined.
Mixture should be sticky.
Turn batter onto a lightly floured surface, turn a couple times and pat into a round 1/2 inch thick.
Using a 2-3 inch round cookie cutter cut out rounds until all the dough is used.
Cook the rounds in batches in a large pan (or on an electric griddle if you have one) on low to medium heat turning once when batter bubbles in the middle and sides are browned. (2-3 minutes each side).
Store in an airtight container and pop in the toaster before serving.
Our final recipe is packed with protein and is ready in 2 minutes flat! This recipe is all about preference, add and omit as desired.
Veggie, Ham and Egg Breakfast Sandwiches (9 servings)
(Recipe by: Rebekah Rae)
Ingredients-
12 eggs
1/2 milk
Half of 1 bell pepper, chopped
5 whole green onions, sliced
2 cups fresh spinach
2 cups chopped ham
9 slices of sliced cheese of choice
9 English muffins / bagels / ciabatta roll / baguette / bread of choice
OTHER-
9x13 jelly roll pan
Parchment paper
Directions-
Preheat oven to 400 degrees and line pan with parchment paper.
Sauté veggies and ham, adding spinach last to cook just until wilted.
Once veggies are sautéed, spread out evenly into the parchment lined pan.
Beat together eggs and milk then pour into pan over veggies.
Cook 10-15 minutes until firm but not rubbery. Once eggs are cooked, let cool and cut into 9 pieces or more depending on what size you want. Store in a plastic container and use wax paper between layers to prevent sticking to each other.
To serve:
Toast and butter desired bread
Top egg piece with a slice of cheese and reheat in microwave 45-60 seconds
Assemble sandwich- enjoy!
About the author…Rebekah was born and raised in Washington and currently resides in Montana. She is a dance teacher, mother of 2 and creative soul. She enjoys cooking, baking and creating with fabric