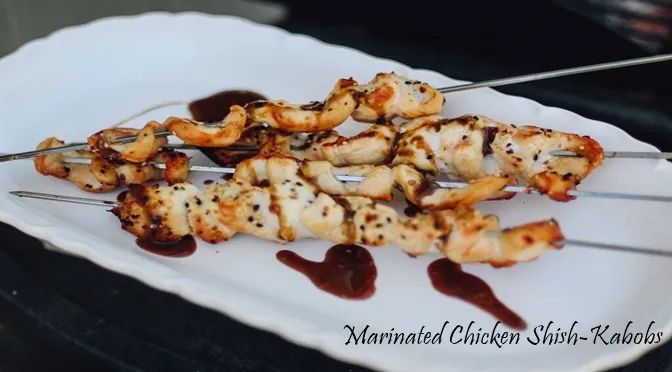 Fire up the Grill! Marinated Chicken Shish-Kabobs
BBQ meals don't have to stop just because summer vacation is over. With just a little bit of planning and prep in advance, this sure-to-please dish of Marinated Chicken Kabobs is easy to complete when you're ready to eat.  Serve with Coconut Milk Jasmine Rice, Pan-roasted Balsamic Carrots, and followed by Mini-cheesecakes with fresh fruit for dessert!
Marinated Chicken Shish-Kabobs
Recipe to feed 8 (or 4 with second helpings!)
Ingredients
4 boneless, skinless chicken breasts trimmed of fat, washed, patted dry with a paper towel, and cut into 2" long, narrow strips. (Chicken tenders may be substituted)
1 cup Asian Toasted Sesame dressing (or make your own using sesame oil, garlic, sugar, soy sauce, apple cider vinegar, toasted sesame seeds, ground ginger, salt, and pepper)
¼ cup cold water
Directions
Put cut chicken, water, and the marinade dressing into a large ziploc bag, seal and refrigerate a minimum of 4 hours. (I like to put this together the evening before, but you could easily do it in the morning, or even over a lunch break).
When you're ready to make dinner, there are only a few more steps to finish this main course dish. If there's another adult in the house, one can fire up the grill while the other prepares the side dishes.  30 minutes later the compliments roll in! (Note that this recipe easily adapts to whatever cooking method you prefer by switching to stove top cooking or even oven baking).
Skewer each piece of chicken from one end, then the other end, filling up a BBQ skewer but not packing the meat on tightly. (If you use wooden disposable skewers, be sure these have been sitting in water for a while, otherwise they will catch on fire).
The oil in the dressing will keep the chicken from sticking to the grill. Place side-by-side, but not touching, on the grill and cook over medium heat for approximately 9 minutes. Using kitchen tongs, gently turn each skewer over and cook the remaining 7 minutes or until meat is completely done inside, depending on the heat of your grill.
While chicken is cooking, place remaining marinade into a small pan slowly reaching a gentle boil. Turn to low and let simmer.
Place skewers on a platter, drizzle with heated and purified marinade.
Serve with Coconut Milk Jasmine Rice, Pan-roasted Balsamic Carrots. For dessert try my family favorite Mini-cheesecakes topped with fresh fruit. Find these original recipes all month on www.simplyfamilymagazine.com.
About the author…Carole Davenport is a Montana native, writer, cook, and owner of Bitterroot Fresh Food Styling Photography. She and her daughters are currently compiling a Fresh is Best cookbook using their original recipes.