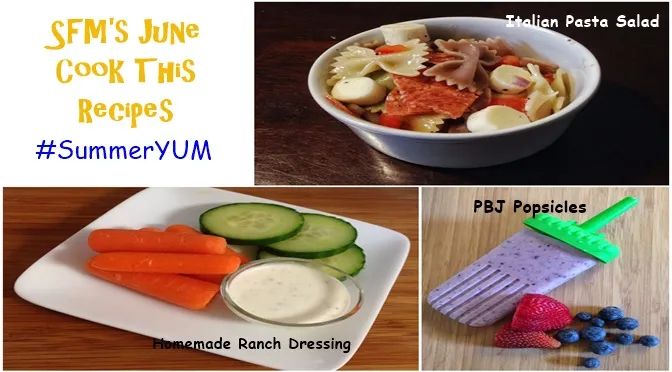 Cook This! Summer Lunch, Snack, and Dessert Recipes
Now that it's warm, the kids are
out of school
– or almost out, it's time to get outside and enjoy a picnic together! Following are three recipes that pair well with the pinwheel wraps that were featured in SFM's
June Cook This column
.
During the hot summer months nothing beats cool fresh vegetables with homemade ranch dressing.
Dry Homemade Ranch Dressing Mix
Adapted from food.com
Ingredients-
15 saltines, finely crushed
2 cups minced parsley flakes, crushed
1⁄2 cup instant minced onion
2 tablespoons dry dill weed
1⁄4 cup onion salt
1⁄4 cup garlic salt
1⁄4 cup onion powder
1⁄4 cup garlic powder
1 cup mayonnaise
1 cup buttermilk
Directions-
Put crackers through blender or food processor on high speed until powdered.
Add parsley, minced onions, and dill weed.
Blend again until powdered.
Dump into bowl and stir in onion salt, garlic salt, onion powder, and garlic powder.
Store into plastic container with tight-fitting lid or jar.
Once your dry mix is made mix together 1 tablespoon of your ranch dressing mix with the mayonnaise and buttermilk.
This Italian pasta salad recipe is one my mom made when I was a kid. This is my kid friendly version but it can be adapted to your taste by mixing up the ingredients, for example, adding in feta, chopped carrots, fresh raw broccoli, cherry tomatoes or marinated artichoke hearts…
Italian Pasta Salad
Ingredients-
1 box any type small pasta (penne, bowtie, spiral etc. My kids like Wacky Mac pasta)
1/2 red onion, minced
1 small bell pepper, any color
1 cup small cut up chunks of mozzarella (I usually use 7-8 string cheese sticks because I always have them on hand)
1 can whole black olives (drained)
1 cup chopped turkey or regular pepperoni (or use the mini size pepperonis)
1 package dry mix Good Seasons Italian dressing made by directions on package.
Directions-
While your pasta is cooking, cut up ingredients, add to a large bowl and make your Italian dressing. *Make sure to not overcook your pasta, you want it al dente. If it is overcooked, it will become mushy and break apart.
Once pasta is cooked drain and rinse with cold water and let cool.
Once pasta is cooled, add to large bowl with your other cut up ingredients, dress with half your salad dressing and stir everything together until all is combined.
Refrigerate about an hour to let the flavors marry and completely chilled.
Dress again with more dressing if you find it too bland.
NOTE: this is a "from the hip" recipe so if you find you want more of one ingredient, less of another or don't want it at all, adapt it to your liking.
What better way to finish off a picnic lunch than with popsicles?! This recipe is not only sweet, but healthy and will cool you off. This recipe is from my sister-in-law, who gave it to me years ago.
PBJ Popsicles-
Ingredients-
1/2 cup creamy peanut butter
1 cup plain (regular or Greek) yogurt
1 cup milk (almond, cow, coconut etc.)
4 tablespoons honey
2 teaspoons vanilla extract
1 1/2 cups berries (fresh or frozen)
2 cups berry type juice (grape, cranberry etc.)
(Optional) 2 tablespoons milled flax seed
Directions-
Mix together all ingredients and blend.
Pour liquid mixture into Popsicle molds and freeze until set.
NOTE: Once again, if you find this not peanut buttery enough or needs to be sweeter, adapt to your taste by adding more honey, PB or whatever.
Now get outside, share a meal and enjoy your summer break!
About the author…Rebekah was born and raised in Washington and currently resides in Montana. She is a dance teacher, mother of two and a creative soul. She enjoys cooking, baking and creating with fabric and paper.