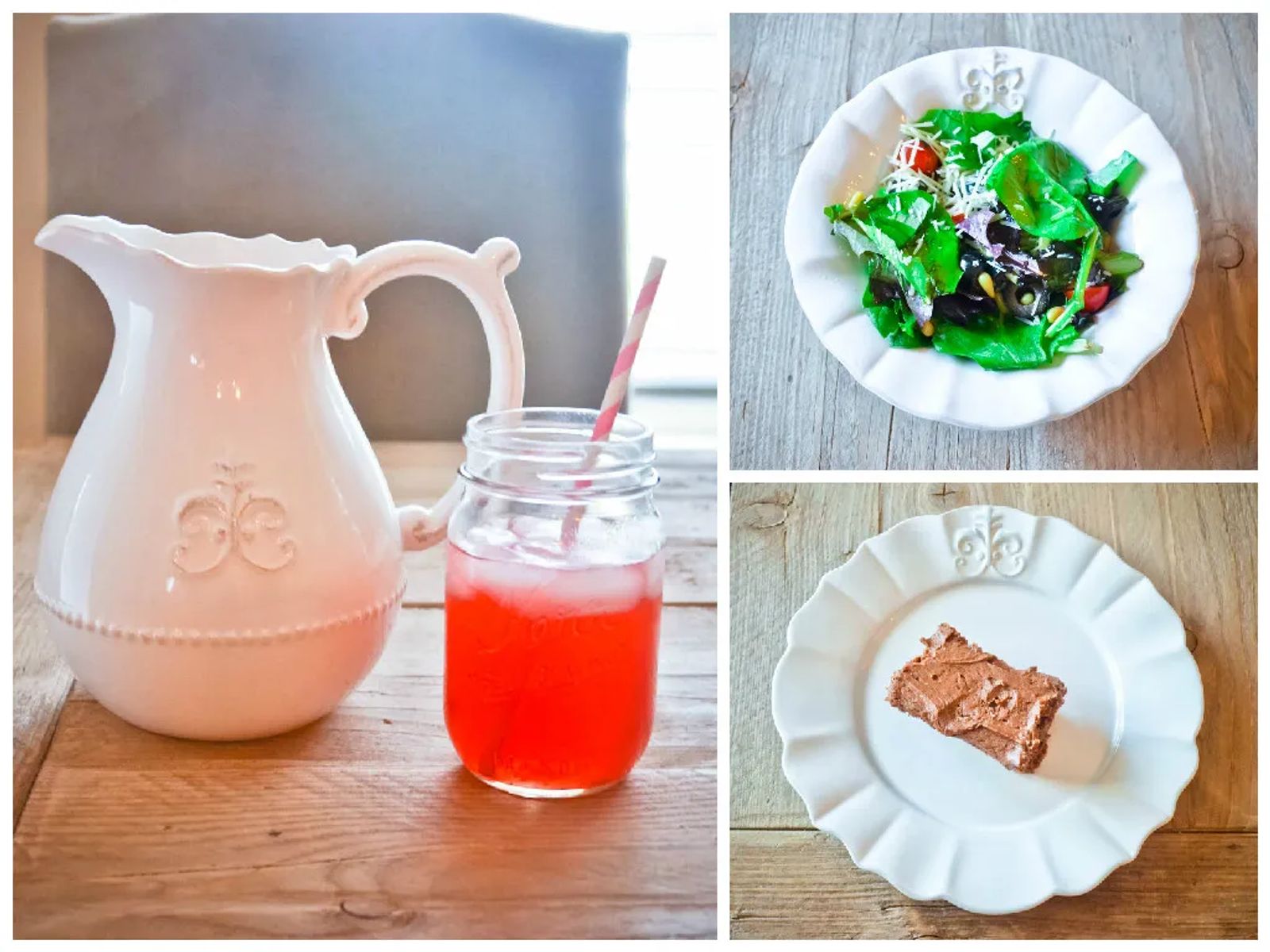 What Goes Well with Roasted Chicken?
In the pages of the
April issue of Simply Family Magazine
, we shared with you a savory Sage and Garlic Roasted Chicken with Pomegranate Glaze. Have you had a chance to try it yet? We also promised to share a few more delicious recipes with you, including a side and a dessert that pair perfectly with roasted chicken. Here they are.
Chocolate-Chocolate Brownies
Let's start with dessert first, don't you think? Preheat your oven to 325 degrees. Coat an 8-inch baking pan with non-stick cooking spray. We'll start by making the brownie batter. First, cream two sticks of butter and two cups granulated sugar in a medium sized mixing bowl. Beat in four large eggs. While it's mixing, melt four ounces of unsweetened chocolate in a microwave safe bowl, in 30 second increments. Don't burn it! Allow the chocolate to cool momentarily, then with the mixer on a low speed, drizzle in the chocolate, combining with the egg, sugar, and butter mixture. Add three teaspoons vanilla extract. Finally, add one and one-fourths cups all-purpose flour to the bowl, until just combined. But don't over mix! Pour the batter into the prepared baking pan, and spread evenly. Bake approximately 40-45 minutes, until the center is no longer soft. Allow the brownies to cool completely before icing.
While they're cooling, make the chocolate buttercream frosting. A word of warning, this recipe makes a lot of frosting. I hope you like chocolate! Add a half a cup of unsweetened cocoa and one and a half sticks of butter to a large bowl. Cream together until well combined. Add three and a half cups confectioner's sugar and a fourth a cup of milk to the bowl – one cup of sugar followed by one tablespoon of milk – at a time. After each addition, turn the mixer to a high speed for about a minute. If frosting appears too dry, add more milk a tablespoon at a time, until you reach the desired consistency. If the frosting appears too wet, do the same with sugar. Pile on the frosting, and enjoy!
Tuscan Salad
Adapted from www.jonesdesigncompany.com
A delicious salad is the perfect complement to any chicken meal, but can also stand easily on its own, especially in the warmer spring and summer months. In a large serving bowl, combine 24 black olives (pits removed), a half pint cherry tomatoes, cut in half, six ounces shredded mozzarella (more or less as desired), a third of a cup shredded Parmesan cheese (more or less as desired), a fourth of a cup toasted pine nuts (you can just sauté these in a shallow pan of olive oil), and four cups salad greens (your choice). I used Spring Mix. If desired, pour a mustard vinaigrette dressing over the salad, and mix well. This salad goes great with fresh, rustic bread.
Mixed Berry Lemonade
This recipe is seriously simple, and seriously tasty. When you're looking for something festive (and non-alcoholic) to serve, this lemonade really hits the spot. You can make homemade lemonade if you want to, but it's not a requirement. I used Country Time Lemonade mix. Prepare the lemonade as usual. Set a bag of frozen fruit (mixed berries) out on the counter to thaw – once defrosted, drain some juice off the berries, and pour directly into the pitcher of lemonade. You can add fruit as garnish, or freeze some berries in ice cube trays, for a pretty punch of pizazz. Light, fruity, and delicious!
About the author...Born and raised in southeast Texas, Jessica currently lives in Billings, Montana with her husband, her two year old daughter Savannah, and their newest addition, one year old Emma Kate. Jessica graduated from Texas Christian University with a degree in Broadcast Journalism. By day, Jessica works as a licensed Realtor, and moonlights as a freelance writer/photographer for several businesses around town.