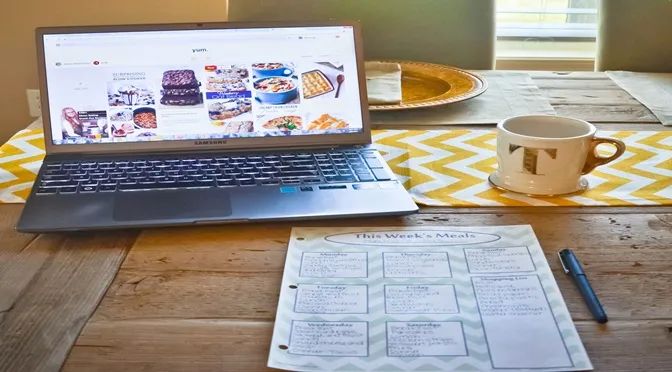 Tips and Tricks for Avoiding Meal Time Chaos
I haven't always been good at meal planning. There have been many nights (more than I care to admit) in which I've realized I had nothing planned for dinner, minutes before my husband walked in the door. He is a real meat-and-potatoes kind of guy, and would be perfectly content to eat steak, double cheeseburgers, and French fries for dinner every single night if he could. This sort of constant diet doesn't look so great on my 5'2" frame. I learned pretty quickly we would need to get on the same page. Meal planning turned out to be our saving grace – speaking from both a marriage and a sanity standpoint. Are you struggling to get dinner on the table every night? Are you just tired of eating the same three meals over and over and over? Here are some helpful meal planning tips and tricks I've picked up along the way.
Search for inspiration – spend some time looking for new recipes.
Not unlike most red-blooded Americans, I am a big Pinterest fan. Pinterest is truly a treasure trove of crafts, DIY projects, and of course, recipes. I also record every single episode of The Pioneer Woman and Southern at Heart on my DVR – my husband hails from Nashville and loves his southern cookin'. I then take notes on the recipes that look most appetizing, or least likely to repel my family from the dinner table. When it comes to meal planning, it helps to have a place from which to draw inspiration...
So, create a place to save your recipes.
And keep it simple! I love Pinterest for this as well. I have a whole board devoted to recipes for my family, and another board devoted to my second love, sweets. I also keep a long-running note in my phone and on my iPad where I store the names of recipes I see on TV or other places – then I can just Google search the names of these recipes when I'm ready to cook them. If I like the recipe, I move it to a different list. If I don't, I just delete it and move on. Consistency is crucial to meal planning success.
Develop a system that works (for your family), and stick to it.
For my family, what works best is that we sit down every Friday night and meal plan a week in advance. My husband then does the bulk of the shopping on Saturday mornings while I stay home with the kiddos. Again, this is what works best for us; you have to do what works best for you. A long time ago (probably way before I actually began meal planning on a weekly basis), I found a free printable on Pinterest, which has spaces for every day of the week, plus a handy shopping list. I made copies of the printable and keep them in a binder on my kitchen counter. It's been so long, that I can't find the exact printable. But here is something similar (and equally as cute). I learned very quickly that my husband needed to be a part of the process. If I plan on my own, he comes to the dinner table unhappy. And that's no fun for anyone.
Theme nights are super helpful.
This is another trick I picked up pretty quickly. In our house, we do Italian Tuesdays, Mexican Wednesdays, and Pizza and a Movie Night Fridays. We usually eat leftovers on Thursdays, unless I've finished them for lunch during the week. The meals themselves usually change, but the themes don't. This provides some consistency, and helps keep the meal planning process relatively simple. It's way less intimidating to look at an empty meal plan when you already have a sense of what's happening on several nights of that week. The rest of the nights are fair game, and a chance to get creative!
Prep and pre-cook components of your meal.
With two little ones under the age of three, I don't usually have a lot of time for this. I am lucky if I manage to defrost meat in time for dinner, but I think it's a really good idea. I have a friend who cooks all of her meals on Sundays, and keeps her fridge stocked for the week. (She and her husband both work full-time.) If you can make it work, I think this will save you a lot of time and energy. Which is always a good thing, right?
About the author...Born and raised in southeast Texas, Jessica currently lives in Billings, Montana with her husband, her two year old daughter Savannah, and their newest addition, one year old Emma Kate. Jessica graduated from Texas Christian University with a degree in Broadcast Journalism. By day, Jessica works as a licensed Realtor, and moonlights as a freelance writer/photographer for several businesses around town.