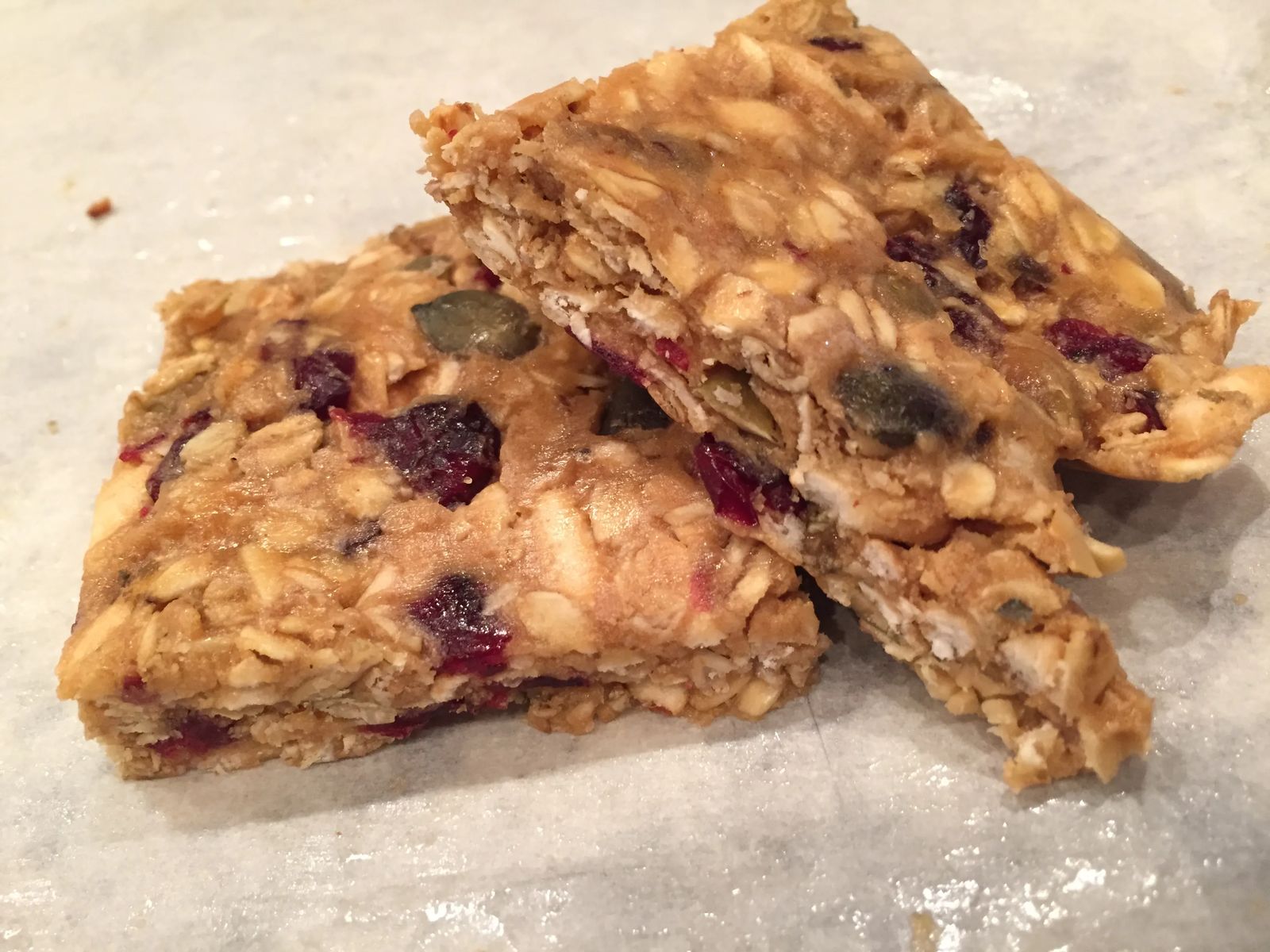 Grab 'n' Go Snacks: Cranberry Pepita Trail Bars
Purchasing ready-made snacks has a huge plus - convenience.  However, the minuses are plentiful.
Ready-made snacks
are expensive, full of preservatives, high in sugar, low in nutrients, and full of
unidentifiable ingredients
. Homemade snacks don't have to be inconvenient and because you control the ingredients, they can be healthy
and
taste delicious too.
For convenience purposes, the trail bars recipe can be easily doubled and frozen. Just pop the bars into individual snack size Ziplock bags and they are ready to go!
The Cranberry Pepita Trail Bars are delicious for adults and children. Because they are high in protein, they are perfect for a hiking trip, a before workout snack, or an any-time snack. Kids will love the nut butter, the crunch of the pumpkin seeds, and the sweetness of the cranberries.
Grab 'n' Go Snacks: Cranberry Pepita Trail Bars Recipe
from Power Hungry: The Ultimate Energy Bar Cookbook
Ingredients:
1 1/2 cups quick rolled oats
3/4 cup crisp puffed brown rice
2/3 cup lightly packed all-natural, sweetened vanilla protein powder (whey or vegan)
1/2 cup roasted, lightly salted pepitas (green pumpkin seeds)
1/2 cup dried cranberries, chopped
1/2 cup agave nectar, honey, or pure maple syrup
1/2 cup natural, unsweeted nut or seed butter
3 tablespoons low fat milk
1 teaspoon vanilla extract
Directions:
Line a 9 inch square baking pan with parchment paper and spray with a nonstick cooking spray.
Stir together the oats, puffed brown rice, protein powder, pepitas, and cranberries in a large bowl.
In a small saucepan, stir together the agave nectar, nut butter, milk, and vanilla.  Heat over medium low heat, stirring constantly, for 2-4 minutes, until the mixture is melted and bubbly.
Immediately pour the agave mixture over the oats mixture.
Pour the mixture into the prepared pan.  Use a large piece of parchment paper to flatten and spread the mixture evenly in the pan.  Firmly press on the paper to make sure the bars are compacted.
Cool completely and refrigerate for at least 2 hours until they are very firm.
Using the parchment paper, life the mixture from the pan and onto a cutting board.  Cut into 12 bars.  The bars will keep best if wrapped individually in plastic wrap or sealed Ziplock bags.
They can be stored for 3 days at room temperature and up to a week in the refrigerator. Enjoy!