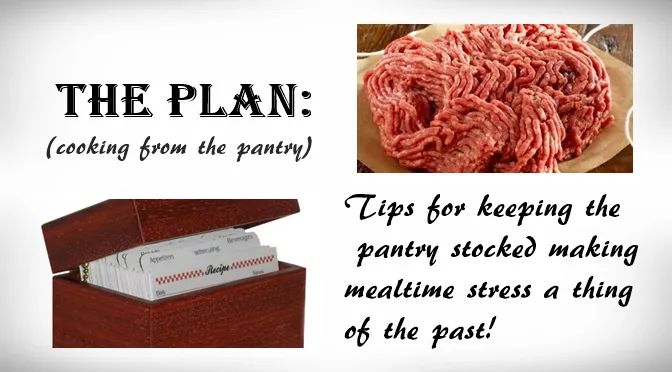 Cooking From the Pantry, part 1
One of the most killer items on any household budget is that innocuous-sounding little entry entitled: Groceries. The ever-increasing price of a carton of eggs and a gallon of milk aside, what really starts blowing zeros into that particular line item are the "everyone is starving, I've got one hour to get us fed, grab me a cart and get outta my way" mad dashes into the grocery store. Happens way more often than we would like to admit, the basket always includes more than what you went in there for, and a smiley face written in scented ink on your Costco receipt, a handful of Monopoly game cards from Albertsons, or even fun paper bags with suspect handles from Lucky's carry more of a sense of financial pain than a sense of victory, most days.
Enter The Plan. The idea behind The Plan is that you keep a solid 95% of what you need to make a tasty and nutritious meal, on hand, at any given time. Sound impossible? Let's break it down.
CURRENT MEAL ANALYSIS
The first thing you do is sit down with an open document on your device-of-choice… or, if you're old school like (ahem) some of us, you might do this with a pen and a pad of paper. (Don't judge me.) What you're going to do is write down a list of all the meals you know how to make, or like to eat. Interview your family; some of them will get a kick out of that (your teenagers either want pizza or something vegetarian, so their lack of enthusiasm won't hurt this process anyway). The list may include fast food restaurant menu items, that's ok. Just get it all down.
WEEKLY OUTLINE
Once you've brainstormed, think about how often, in an Ideal World, you would prefer to have each food type. Good with pizza every day? Simple pantry planning for that! Prefer beef (or in our home, wild game) 2-3 times a week? Chicken, fish, vegetarian? What about regional favorites – Italian, Greek (yes, please), Mexican, Cajun, French Fried American… whatever you like. We try to have a day that includes a bean dish at least every other week.
Next, consider your schedule. Have those days with a 30-minute window for meal prep? Maybe consider a crockpot meal for the day, at least once or twice a month.
Then, write up a headings menu for a one- or two-week period. A couple of examples might be:
Remember that this is a suggestion. This doesn't have to be ironclad, and if you prefer to go with the flow of what you feel like eating on any particular day, this particular planning part does not NEED to be included. But if you really need to get your grocery-buying under control, get your ducks lined up with a daily plan.
RECIPE COLLECTION
Several websites have online recipe collections, where you can keep your favorites (including personal notes) neatly organized. I have friends who rave about www.PlantoEat.com. LivingCookbook.com is another food planning website, and Food.com is a personal favorite. Check these out if fingertip access to your recipes, shopping lists, and reminders sounds like a win to you!
For old-school cooks without the ability (or maybe desire) to go online in the kitchen, printed recipes also work well. The storage cabinet above my stove is full of binders with labels like: Main, Sides, Desserts, Breads and Canning/Preserving.  The recipes are 3-hole punched and stuck in a general area for meat type (easier if I've got a pound of burger meat thawed and need to find something to do with it pronto)… when they hit 4-thumbs-up in our house, they graduate to a heavyweight sheet protector to protect from splatters and tears. Favorite cookbooks, complete with post-it-tagged pages, also await a hasty grab.
Your family have some favorite fast food items? Many knock-offs can be made at home, and even healthier, with simple recipe searches.
BULK PREPARATION
Next, we are going to identify some common themes in your recipes, with the idea of bulk buying. Do you regularly go for spaghetti, DIY tacos, stuffed potato "bar", and Hamburger Helper type meals? Some bulk items to consider buying would include burger meat, jars of minced garlic, salsa, and shredded cheese. These are all available at stores like Costco or Sam's Club; check with local meat markets for good prices on bulk hamburger meat.
Frozen bags of boneless skinless chicken breast strips or chicken thighs are a busy Mom's best friend (well, after a triple-shot latte or a large, cold iced tea). These real-food items can go from the freezer to the table with no thawing before cooking necessary. While they aren't the cheapest way to buy chicken (that would involve bones, actually), they are much less expensive than bags of pre-made food that only requires a quick stovetop or microwave… and they are practically as fast. Likewise, frozen veggies are helpful to throw into a stir fry or add a colorful and healthy side dish.
Next time, we'll look at more tricks and hints to reduce the grocery bill while maximizing your kitchen production! Stay tuned!