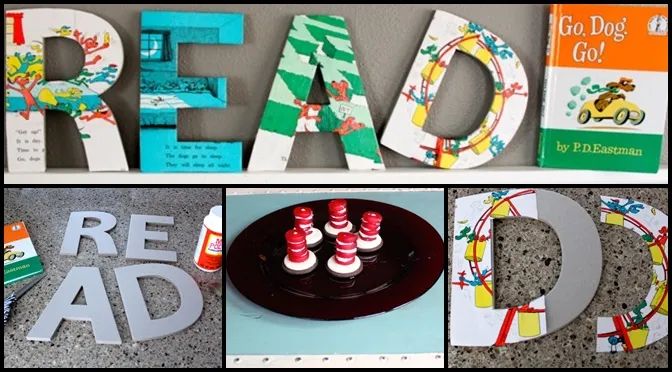 Celebrate Dr. Seuss with Crafts and Snacks
March 2nd is
Dr. Seuss' Birthday
and what better way to celebrate the beloved children's author than creating things whimsical and wonderful. Come along as we celebrate
Dr. Seuss with crafts and snacks
...
R-E-A-D: Seuss letters
What you need:
Dr. Seuss book. Check out a thrift store if you can't bring yourself to destroy one from your kid's library.
Paper Mache or cardboard letters. R-E-A-D
Scissors
Mod Podge and foam brush
Pencil
What to do:
Cut out colorful pages from the book.
Trace your letters on the book pages in pencil.
Cut the shape of each letter out of the book pages.  I had to split the letter D between two book pages. (See slideshow)
Apply a generous layer of Mod Podge to each letter and press the book pages firmly to each letter. Make sure to rub the bubbles out.
Apply another layer to the top of the letters to seal the book pages to the letters.
Let dry and apply a second topcoat to each letter.
I love reading with my children and now that they're getting older I love listening to them read to me. Dr. Seuss books are fun for ages 0-100! Display your letters proudly in a reading nook to serve as a wonderful reminder from Dr. Seuss himself that

The Cat in the Hat knows a lot about snacks. This super simple sweet (Seussical) snack is sure to be a hit with your kids!
Ingredients:
Oreos
Gummy Life Savors
White frosting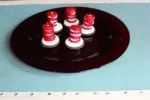 Assembly:
Separate the Oreos
Use frosting to glue the gummies to the cookie and in between each gummy.
Enjoy!