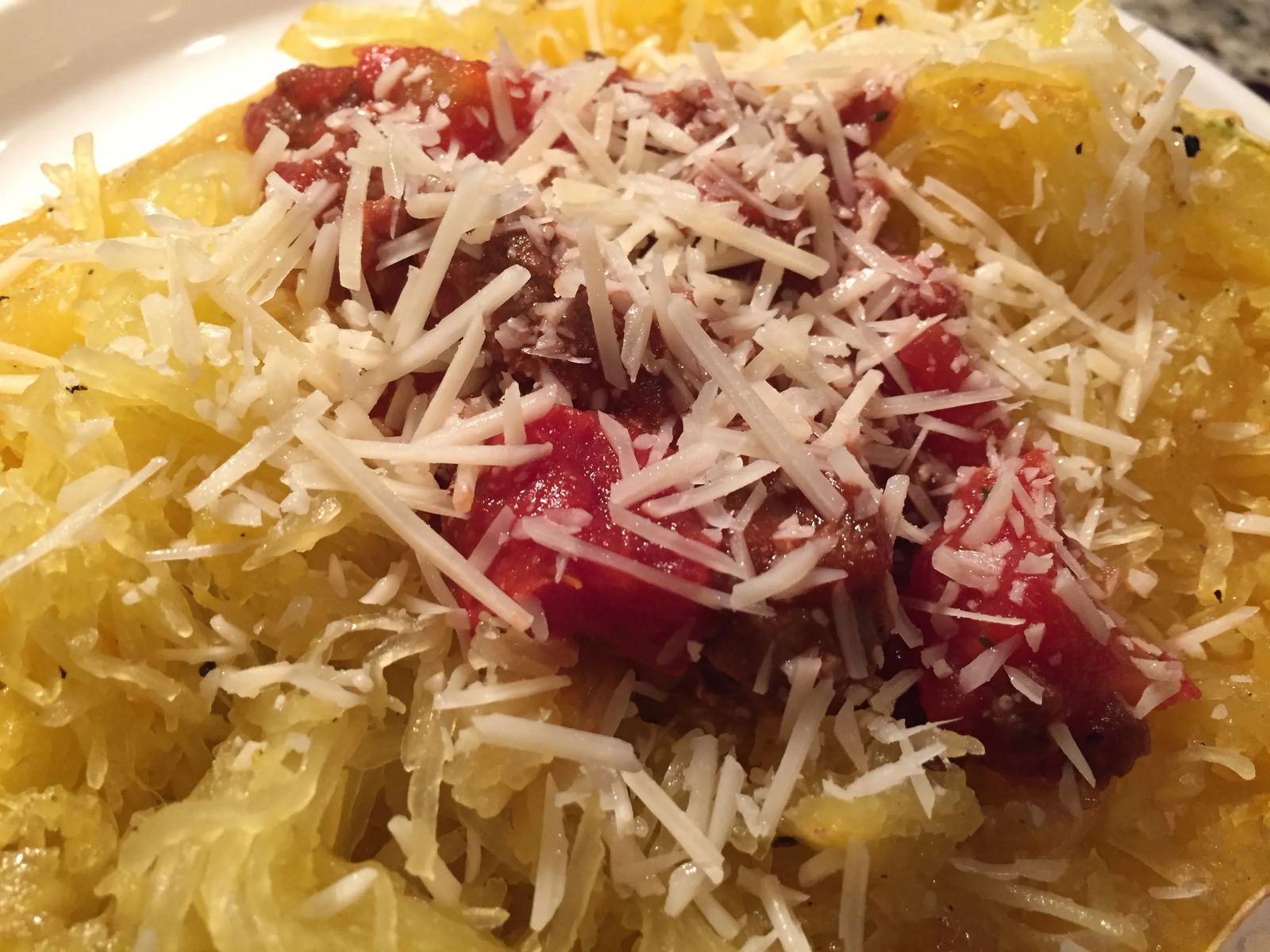 Healthy Recipe: Spaghetti Squash with Meat Sauce
Knowing that many of us begin a new year with all kinds of great intentions for healthier living, we wanted to support you in that goal by offering you a variety of simple, healthy, family-friendly recipe ideas from Simply Amanda. In the January 2015 issue of Simply Family Magazine she began with a recipe for Cilantro Lime Seafood with Coconut Butternut Squash Rice. She's followed up throughout the month with recipes for Kung Pao Chicken and a quick and easy Lemon Chicken with Kale and Zucchini. She'll round out this series of healthy dinner ideas with a recipe for Roasted Spaghetti Squash with Meat Sauce. Enjoy! 
Roasted Spaghetti Squash with Meat Sauce
Roasting spaghetti squash results in a delicious caramelized squash and it brings out a rich flavor that cannot be found in steamed squash.
Eating spaghetti squash instead of pasta is a wonderful way to cut calories, add nutrients, and avoid overloading on carbs.  Skip the added sugar often found in prepared marinara sauce and make your own with a few simple ingredients.  Serve the dish in the squash shells for a fun and kid-friendly presentation.
Ingredients: 
2 whole spaghetti squash
1/4 cup extra-virgin olive oil
Gray salt and freshly ground black pepper
1 can tomato sauce
1 can diced tomatoes
1 pound ground beef or turkey
2 Tbls Italian Seasoning
Parmesan Cheese, grated
Directions
Preheat the oven to 450 degrees F.
Split the squashes in half and scrape out seeds.
Line an oven tray with parchment paper. Season the spaghetti squash with olive oil, salt, and pepper. Place flesh side down and roast for 30 to 40 minutes until fully cooked (when the squash is easily flaked with a fork). Remove from the oven and let rest until cool enough to handle.
Meanwhile, brown the ground beef in a skillet over medium high temperature until it is cooked through.
Add the tomato sauce and diced tomatoes and season to taste with the Italian seasoning.  Heat over a low temperature to incorporate the flavors into the sauce.
When squash is cool enough to handle, using a large kitchen spoon scrape the strands of squash from the inside of the skin.
Top each squash half with the meat sauce and garnish with parmesan cheese.