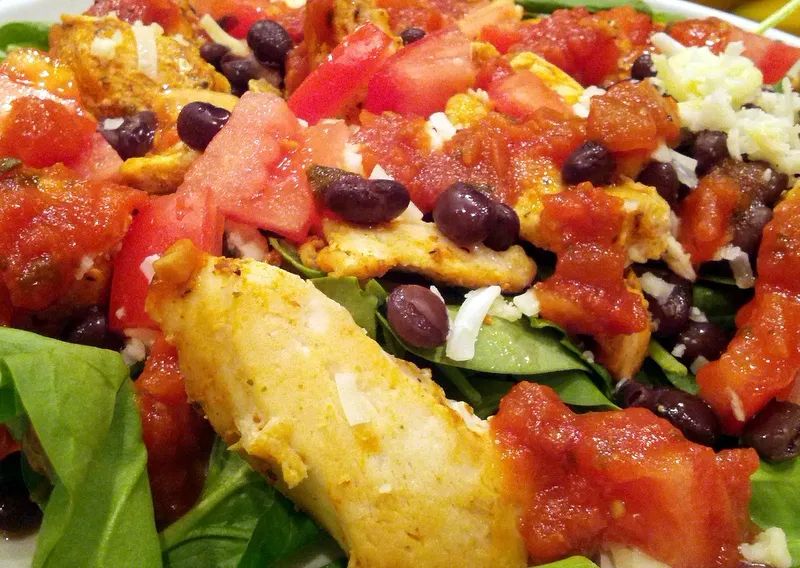 Fall Salad Recipe: Southwest Salad
November is all about Thanksgiving and the beautiful fall harvest of vegetables. Salads are a perfect way to utilize all of the leftovers and delicious vegetables to create a healthy meal. Spice up your salad plate with fresh fall additions and revamped recipes. In the November issue of Simply Family Magazine we shared a recipe for a Roasted Butternut Squash Salad, so far this month we've shared the recipe for an Apple Bacon Salad, now we bring you the delectable Southwest Salad. Check back in next week for Simply Amanda's final fresh salad recipe for November!  
Southwest Salad
The Southwest Salad is a delicious way to dress up a plain chicken breast. Add juicy tomatoes to brighten up the salad and black beans to add more protein.   Save calories and fat by using salsa as the salad dressing!
Ingredients/Directions:
Chicken breast, cubed
Tomato, diced
Monterey Jack Cheese, grated
Black Beans, from a can and rinsed
Romaine Lettuce
Salsa
Simply Amanda's Tip for Cooking With Kids – Arrange the salad toppings into individual containers.  Kids love to prepare their own food and be in charge of their meal.  If lettuce is a definite no, prepare rice instead and let the kids choose their own healthy toppings.