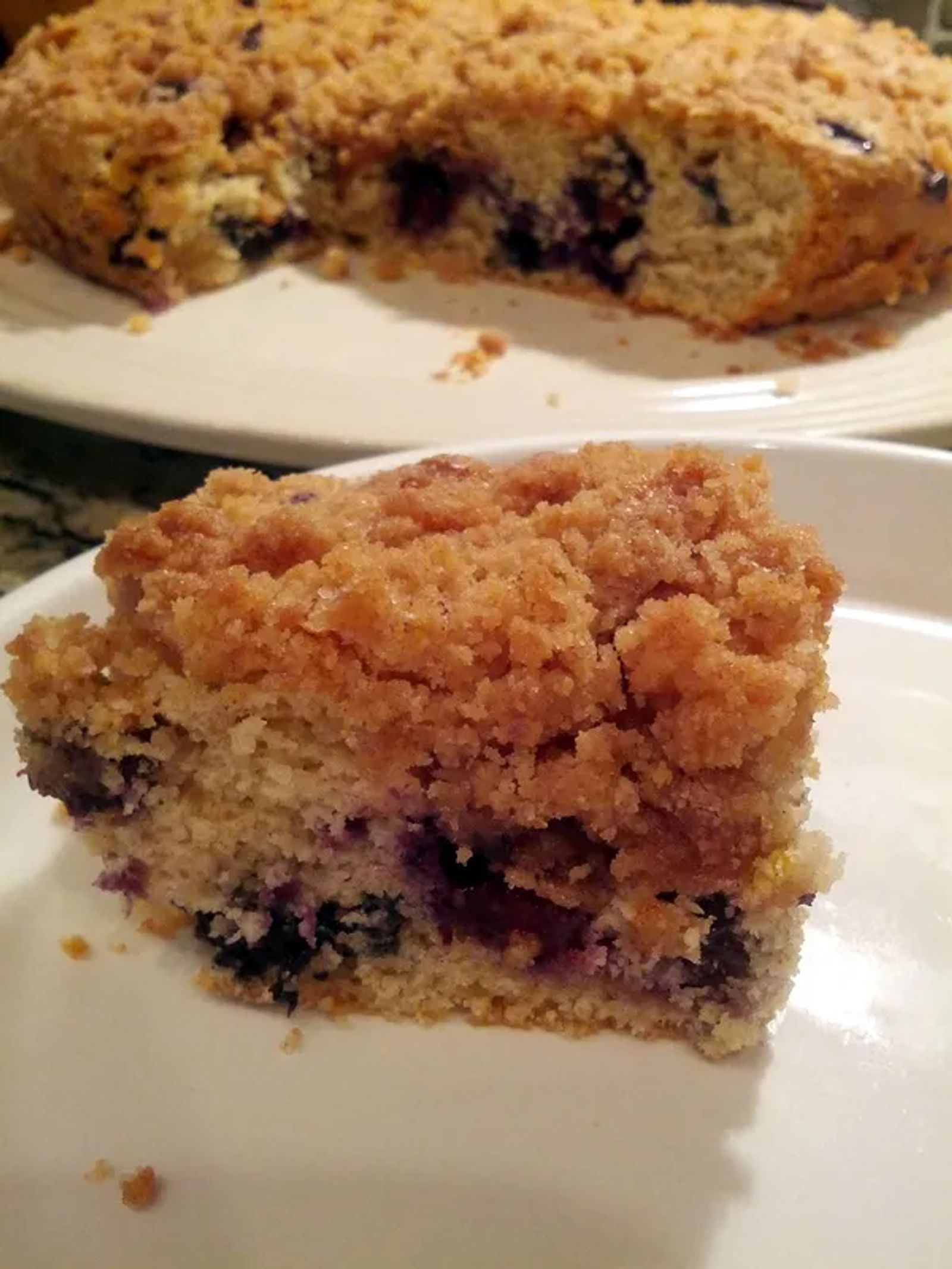 Summer in September: Blueberry Crumb Cake
This recipe is heavenly.  The crunchy crumb topping is the perfect contrast in texture to the juicy blueberries.  This blueberry crumb cake is not too sweet but just right and is delicious with a cup of coffee over breakfast.
Adapted from the Smitten Kitchen blog
Blueberry Crumb Cake
Topping:
5 tablespoon all-purpose flour
1/2 cup granulated sugar
1 teaspoon ground cinnamon
1/4 cup unsalted butter
Pinch of salt
Cake:
2 cups minus 1 tablespoon all-purpose flour
2 teaspoons baking powder
2 teaspoons cinnamon
1/2 teaspoon table salt
1/4 cup unsalted butter, softened
3/4 cup granulated sugar
Zest of 1 lemon
1 large egg
2 teaspoons vanilla extract
1 pint fresh blueberries, clean and dry
1/2 cup milk, whole is ideal, any kind should work
Directions:
Heat oven to 375°F. Butter a 9-inch round baking pan (with at least 2″ sides) and dust it lightly with flour; line it with a round of parchment paper.
Prepare the topping by mixing the flour, sugar, cinnamon and salt, then cutting the butter in with a pastry blender, fork or your fingertips until the mixture resembles coarse crumbs. Set aside.
In a medium bowl, whisk flour, baking powder, and salt until combined. In a large bowl, beat butter, sugar and zest together until light and fluffy. Add egg and vanilla and beat until combined. Beat in 1/3 of the dry ingredient mixture until just combined, followed by 1/2 the milk; repeat with remaining dry ingredients and milk, finishing with the dry mixture. Fold blueberries into cake batter until evenly distributed.
Scoop cake batter into prepared pan and smooth so that it is flat.  Sprinkle with prepared streusel. Bake in heated oven for 40 minutes, or until a toothpick inserted into the middle of the cake comes out batter-free. Let cake cool in the pan on a rack for 20 minutes before flipping it out onto a cooling rack, removing the parchment paper lining, and flipping it back onto a plate.  (This last step seems scary but only a tiny bit of streusel will fall off.)  Enjoy!
You might also want to try these recipes from Simply Amanda for:
Watermelon Feta Salad in the September pages of Simply Family Magazine
Come back next week for BBQ Chicken Quinoa Salad