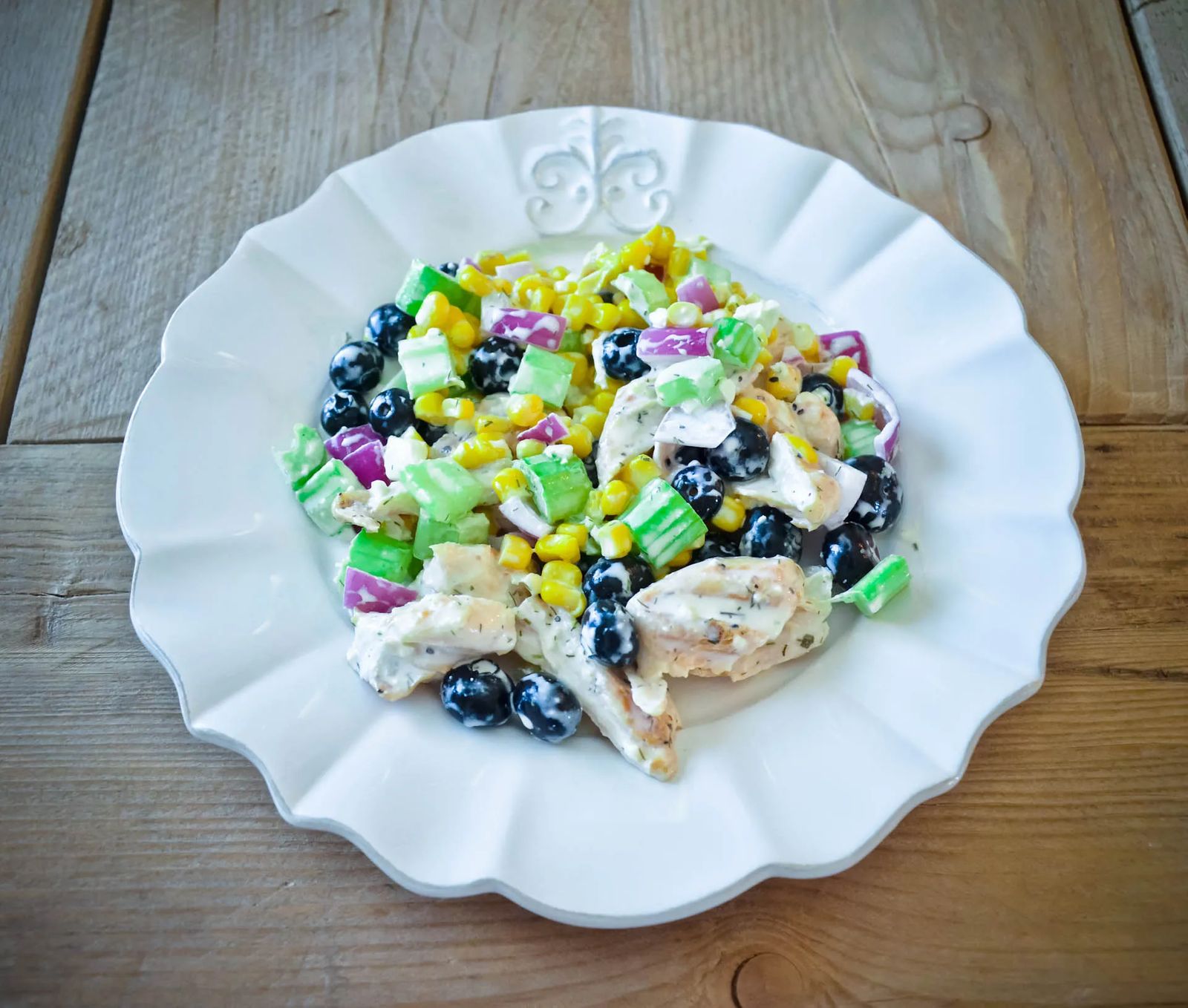 Recipe: Grilled Chicken Salad with Feta, Corn, and Blueberries
Summer meals are the perfect occasion for lighter dishes, full of colorful fruits and veggies at the peak of freshness. In the pages of the August issue of 'Simply Family' magazine we shared with you a Savory Summer Pasta recipe from Simply Jessica. Last week we went with dessert first and shared with you a recipe for homemade strawberry ice cream, next week we'll share the perfect summer side dish, but this week it's the perfect foil for a hot summer day when you just don't want to turn on the stove...   
Adapted from www.thepioneerwoman.com
This chicken salad is everything I love about summer: light, fresh, and delicious. The combination of ingredients is unlike anything I have ever tasted before. The fresh dill really takes this dish to another level. This meal is perfect for The Ladies Who Lunch.
Salad Ingredients:
4 whole boneless skinless chicken breasts
Olive oil (for drizzling)
3 stalks of celery finely diced
2 ears of fresh corn (or one can of corn to substitute)
¼ red onion finely diced
1 ½ cup fresh blueberries
3 tablespoons fresh dill minced
Salt and pepper to taste
Dressing Ingredients:
4 tablespoons mayonnaise
4 tablespoons sour cream
¼ cup Half-and-Half
1 whole lemon
1 teaspoon sugar
¾ cups crumbled Feta cheese
Salt and pepper to taste
Directions:
Heat up the grill, and season the chicken breasts with salt and pepper. Drizzle the chicken with olive oil. Grill the chicken on both sides until done, about seven minutes.
Using a very sharp knife, shave the corn kernels off of the cob. (This may get a little messy!) Combine with the diced celery and onion. OR: Prepare the canned corn per the instructions on the packaging. Set aside.
Mix together the mayonnaise, sour cream, feta, and Half-in-Half in a separate container. Add the sugar, the lemon juice, and some salt and pepper (to taste). Stir together thoroughly.
Chop the chicken into bite size pieces, and then toss into the bowl with the celery, red onion, and corn. Stir to combine. Pour half the dressing into the salad and toss gently. Add more dressing as desired, but don't drown the salad!
Toss in the blueberries, lightly coating them in the dressing, and serve with individual sprinkles of Feta cheese.
Come back next week for another summer delight by Simply Jessica!