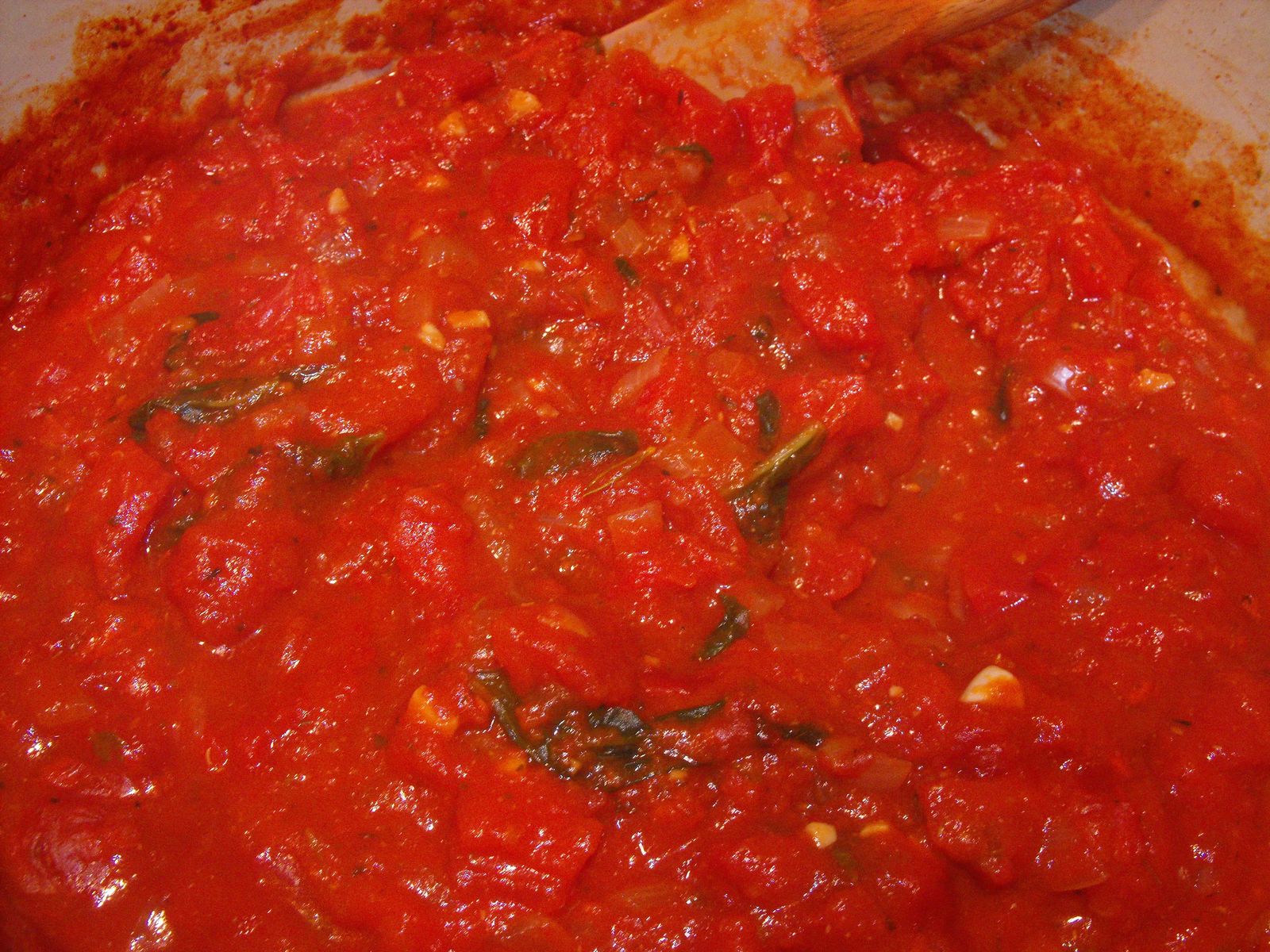 Slow Cooker Marinara and 3 Easy Ways to Use It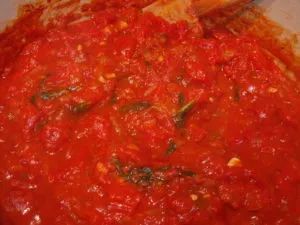 My slow cooker and I are very good friends.  In the fall and winter, I love the amazing smells that waft through my house on a slow cooker dinner day.  In the summer, I typically use my garage for slow cooking to help keep my house nice and cool. No matter what the season, I'm always glad to have easy meals without resorting to take-out.  To make it even simpler, I like to make slow cooker concoctions that I can use in multiple meals throughout the week.  This recipe for slow cooker marinara can be used a million ways (maybe even a million and five), and I've included just a few for you to try.
Slow cooker Marinara
8 large tomatoes, peeled and crushed (I use a food processor to do the crushing)
5 cloves of garlic, minced
1 large onion (yellow or white), diced
2 TB fresh oregano, finely chopped
2 TB fresh basil, finely chopped
1 lb fresh mushrooms, chopped
1 large bell pepper, finely chopped
1/2 cup red wine
1/4 tsp salt
1 tsp black pepper
1 TB brown sugar
Saute onion and garlic on stovetop for about 5 minutes, until onions turn clear.  Add all ingredients together in slow cooker, cook on low for at least 8 hours.  You can add ground beef, ground turkey, or italian sausage to this recipe, just brown it on the stovetop and add it with the other ingredients.  This sauce can be used immediately, placed in sealed containers in the refrigerator for up to a week, or frozen in freezer safe containers for up to 6 months.  If you're freezing it, be sure to label and date it.  I speak from experience, as I've played the "what in the world is this" freezer game a few times too many.
And here are a few of my favorite ways to use this sauce:
Italian Burritos
I'm giving away my age by posting this, but this is my take on a recipe that used to be available at a fast-food restaurant when I was a kid.  I don't even remember what restaurant, but I know they were called Pizzarias, and I have fond memories of them.  This is a favorite in my house, and it is so, so easy.
4 large flour tortillas
2 cups (approximately) of marinara
1 cup shredded mozzarella cheese
Spread 1/2 cup marinara sauce on each tortilla.  Sprinkle with 1/4 cup of mozzarella.  Roll like a burrito.  Place on a cookie sheet and bake at 350 degrees for about 20 minutes.  Place under broiler for 5 additional minutes to crisp the tortilla.  I usually serve these with whatever fresh fruit my basket contained that week and I particularly like it with sliced melon.
Lasagna Casserole (also known as Lazy-Mom Lasagna, in my house)
1 lb Penne
16 oz cottage cheese or ricotta cheese
1 1/2 + 1/2 cup shredded mozzerella cheese, divided
1/2 + 1/4 cup parmesan cheese
1 TB fresh oregano
1 TB fresh basil
2 cups marinara sauce
Cook pasta according to directions and drain well.  Mix cottage cheese, 1 1/2 cup mozzarella, 1/2 cup parmesan and herbs.  Mix pasta and cheeses, pour into a 9 x 11 casserole dish.  Pour marinara over the top.  Cover and bake at 350 degrees for 35 minutes.  I'm a big fan of this with garlic bread and fresh veggies.
Simple Sausage Ratatouille
*This recipe can be made using the meatless marinara, as well.  My family prefers it with fennel sausage, so that's what I usually use.
4 cups thinly sliced zucchini, eggplant, yellow or summer squash, in whatever combination you happen to have or prefer.
1 onion, thinly sliced
2 cups marinara
1/2 lb fennel sausage, cooked and drained
1 tb olive oil
Heat olive oil on stovetop.  Lightly saute squash mixture.  Pour into greased 9 x 11 casserole dish.  Add sausage to marinara, pour over top of squash mixture.  Bake covered at 350 degrees for 40 minutes.  Remove cover, sprinkle mozzarella cheese on top and bake uncovered for an additional 10 minutes.  This recipe is worth trying even if you're not a zucchini fan, it completely changes the flavor and the texture is amazing with the sausage and sauce.  My husband supposedly hates zucchini, but he loves ratatouille.  I'm not going to burst his bubble by telling him what's in it, so shhh!